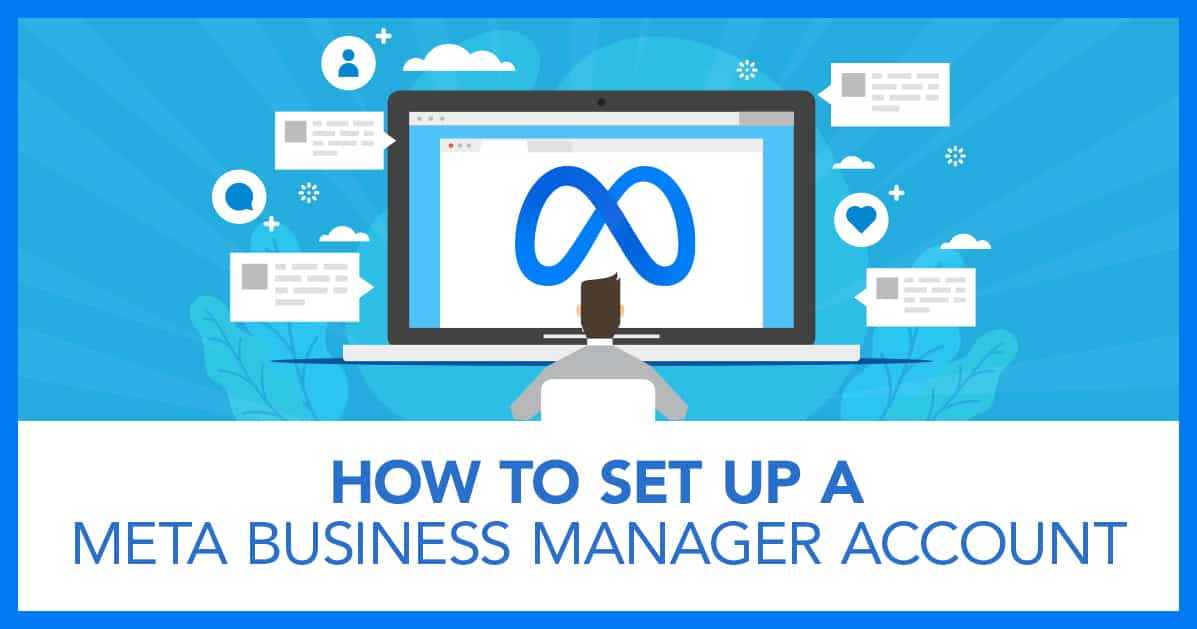 How to Set up a Meta Business Manager Account
In this post, I'm going to show you how to create a meta business account – this used to be called a Facebook business manager. If you are going to be advertising on Facebook or Instagram at all, it's important to get a business account and not just rely on post boosts.
A business account lets you access a central hub where you can organize all of the assets you have in meta very easily and efficiently. That's things like your:
Facebook page
Ad account
Pixel
Instagram account
Access permissions to all of those elements for people on your team
When you have this set up, it's also less likely that your ad account gets hacked or disabled. That's why it's far better to set your Meta business account up earlier rather than later.
Don't worry though if you've been running ads for a while and haven't done this. Just get started now! It's easy to do and I'll walk you through every step.
Create Your Meta Business Account
Getting started is easy. You just need to go to the Facebook Meta Business Account Creation Page and click the create an account button.
Make sure you are logged into your personal Facebook Page before you click the button. Meta needs a personal Facebook account to start this process.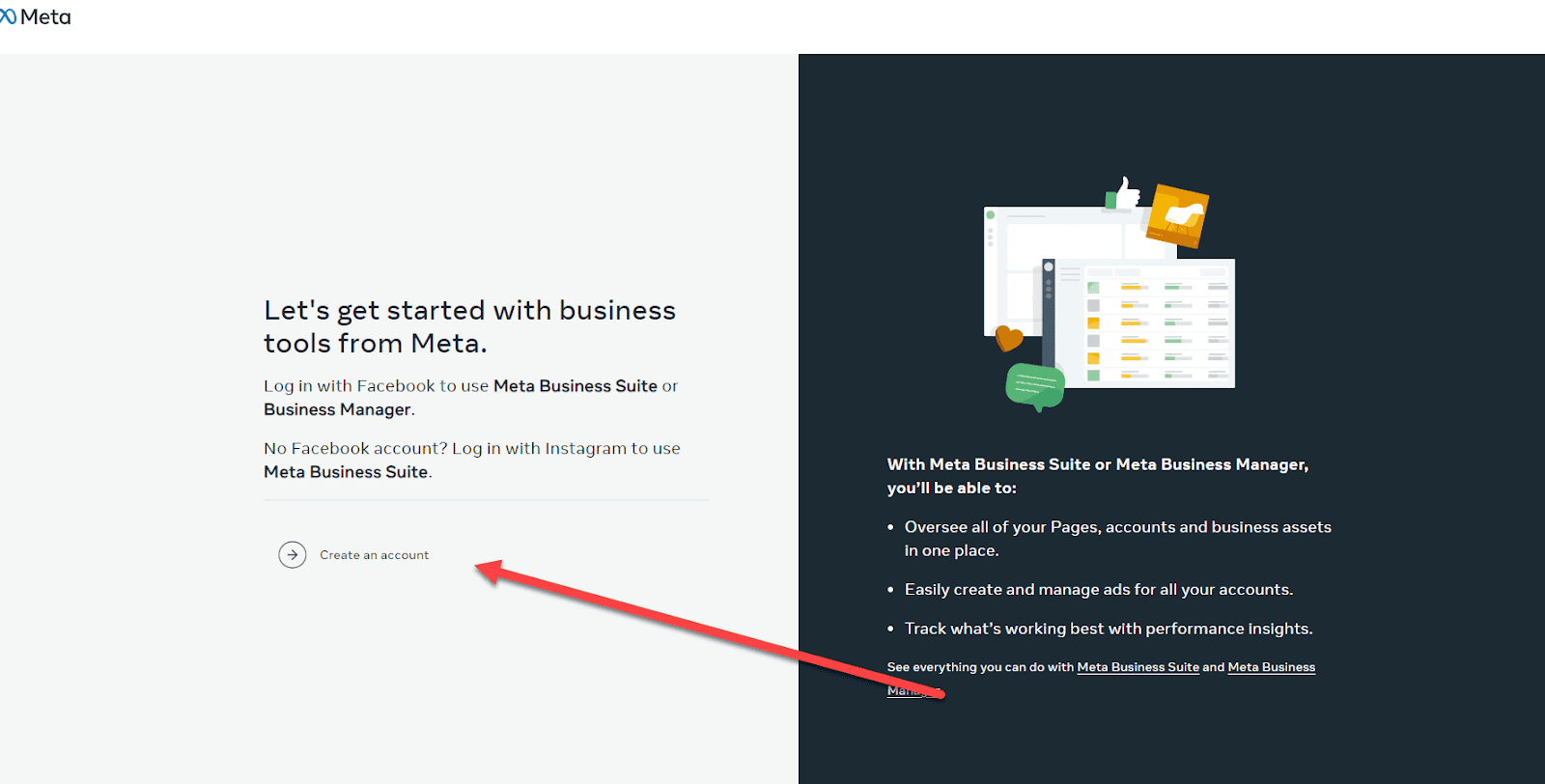 This will take you to a popup screen where your name will be prefilled and you will need to fill in your business name and business email.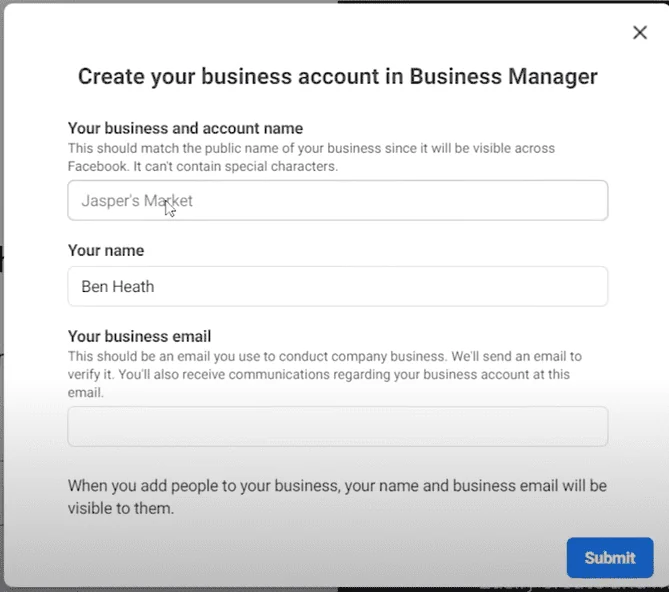 When you press submit you'll get taken to a page that looks a lot like this.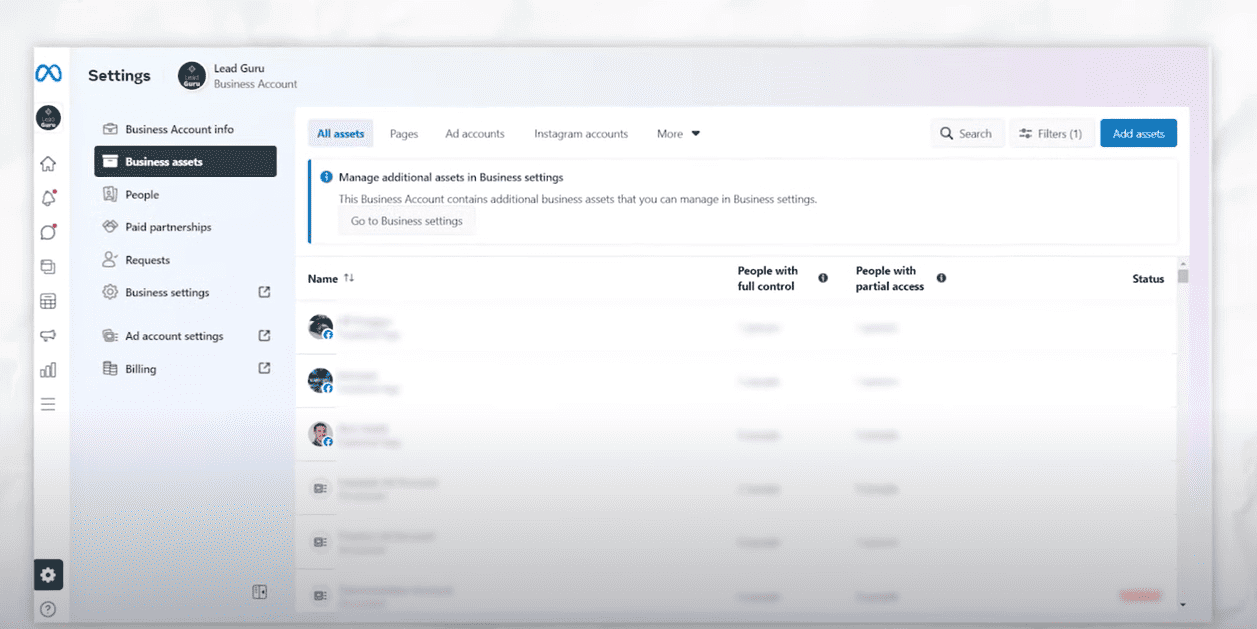 You will be able to start here to add in a Facebook Page, an Instagram account, and an ad account. I'll show you how to do it in this tutorial.
Creating or Adding a Facebook Page
In Meta Business Suite the first thing you should do is either create or add a Facebook page to your account.
You can see the pages section here. That's where you'll see the pages that are in your account.

Click on the add assets button.


Then find the social section and click on Facebook Page.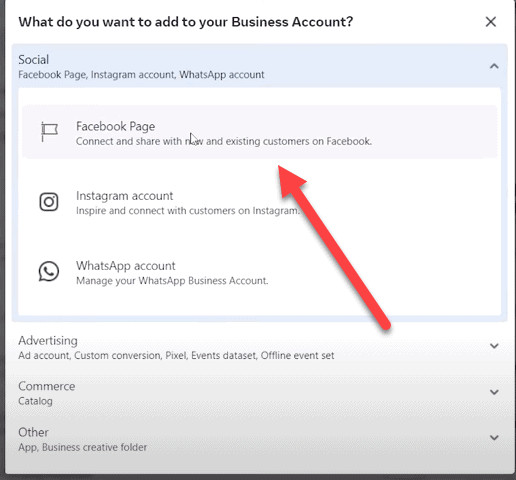 You'll see here that you have several options. These include:
Create a new Facebook Page
Claim an existing Facebook Page
Request to share a Facebook Page
If you don't already have an established Facebook Page, choose the create a new Facebook Page option.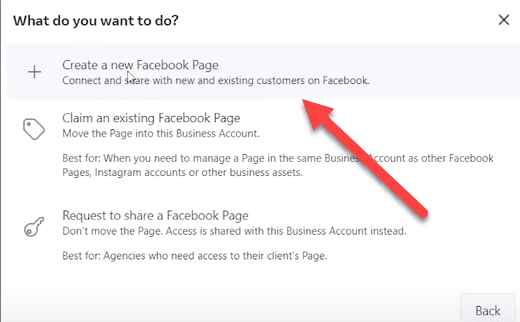 This will take you through a few questions to create a new Facebook Page and you'll have the shell of your page set up. You'll need to go back in and add information, your cover photo, logo, and posts.
If you already have an existing Facebook Page, then choose the claim an existing Facebook Page option.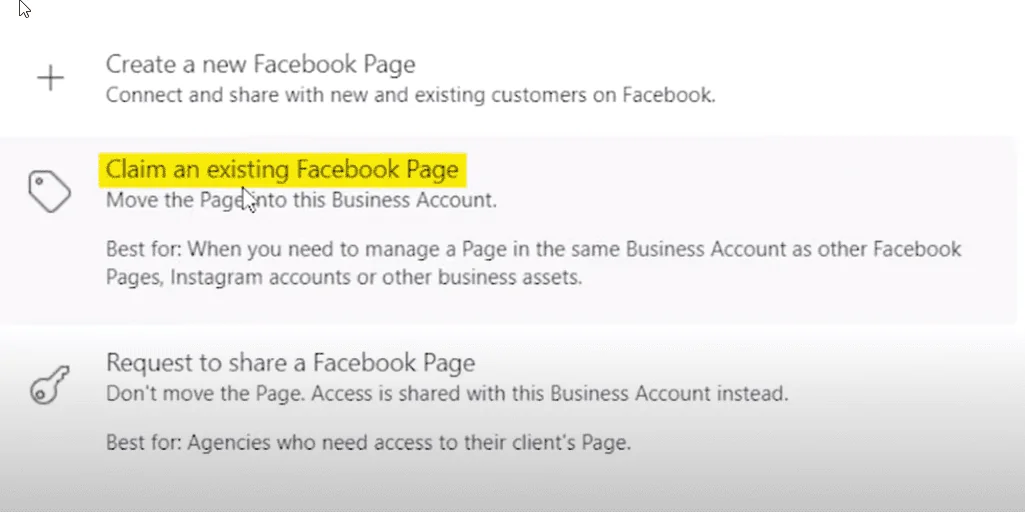 You can either type in the page name or copy and paste the URL of your Facebook Page into the box.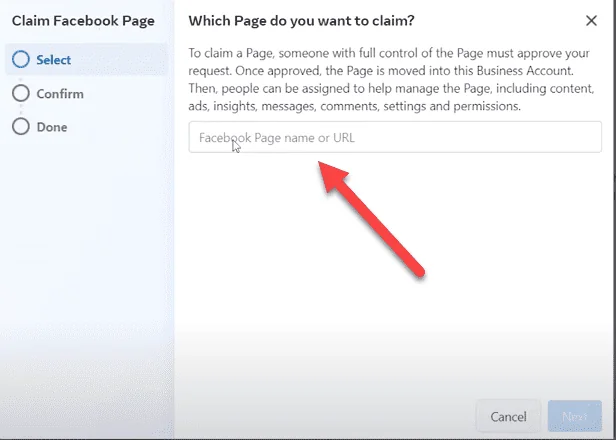 Finally, if you have clients and you are managing their Facebook Page then you will want to select the option to request to share a Facebook Page.

Adding and Creating Ad Accounts
After you add your Facebook page it's time to create or add an ad account. You can see any ad accounts associated with your Meta Business Suite here.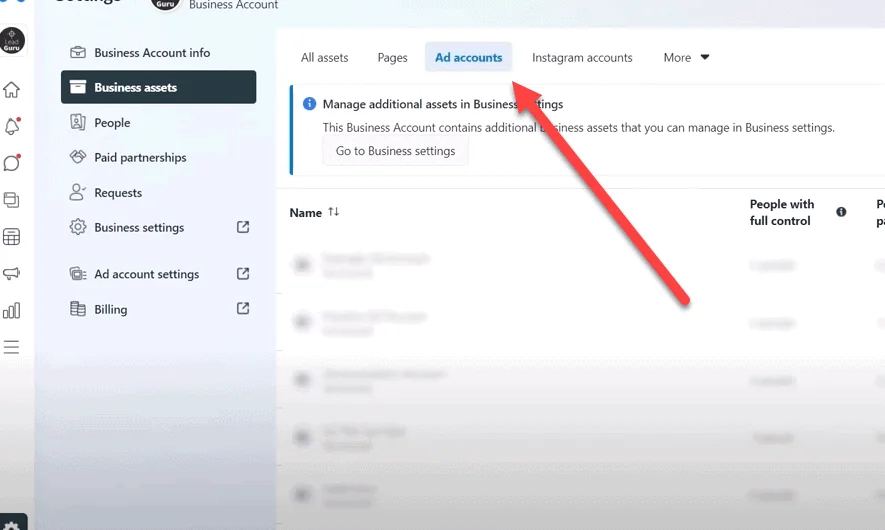 Click on add assets.

Then scroll down in the pop up to advertising => ad account and click.
This has similar options to the Facebook Page you can:
Create a new ad account
Claim an existing ad account
Request to share an ad account
If you don't currently have a Facebook ad account then you can create an ad account by choosing that option.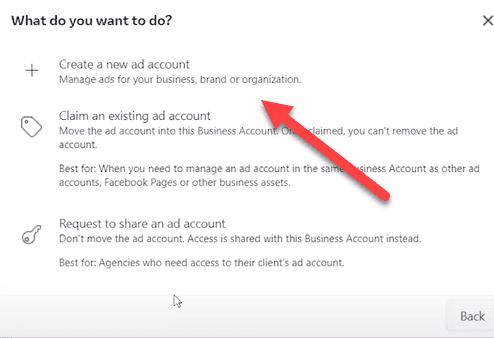 It will walk you through a simple set up process and your ad account will be created.
If you already have an ad account then you should choose claim an existing ad account.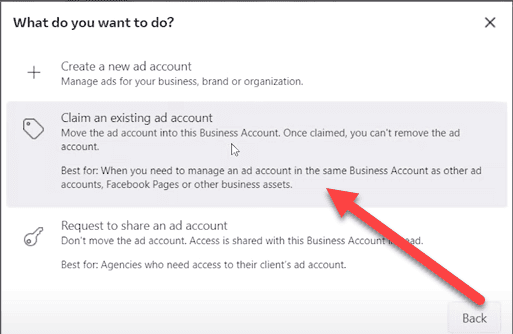 You will need your ad account id which is found in your Facebook ads manager next to your name.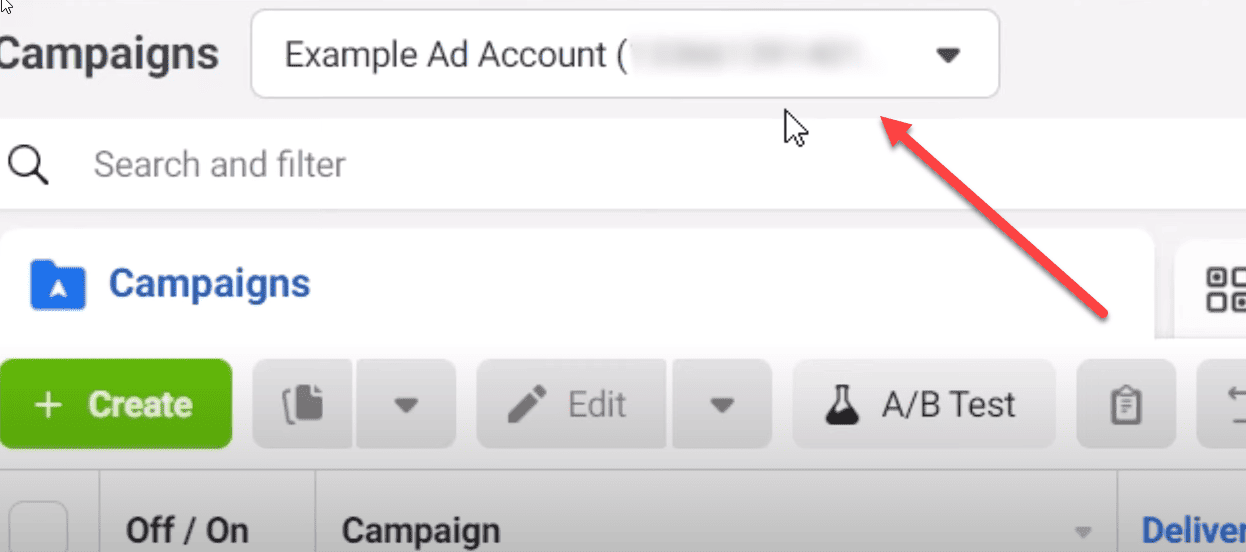 Put the account ID in the box and claim your account.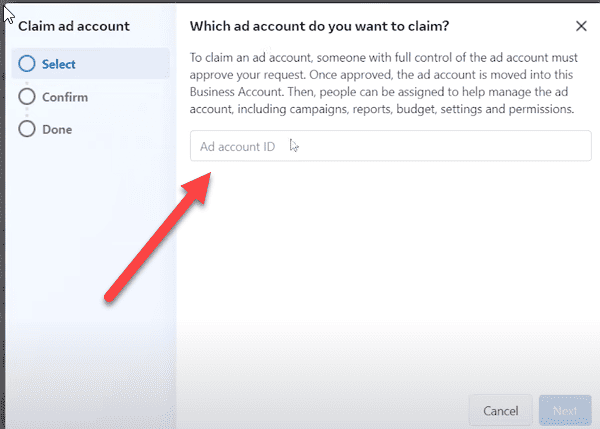 The last option is very similar to the request access option on a Facebook Page. If you have clients that you are managing Meta ad accounts for then you use this option to request access.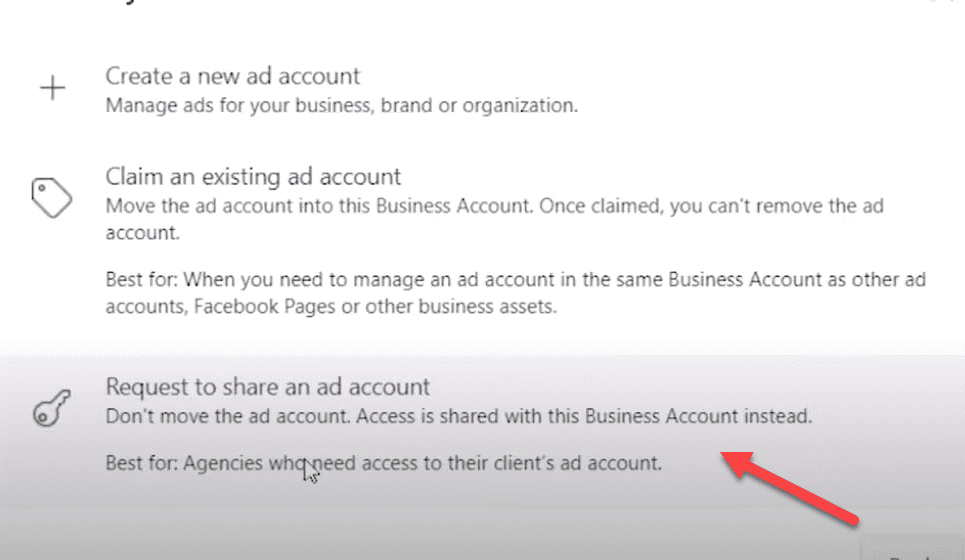 Adding Your Instagram Account
If you have an Instagram account I strongly recommend that you take a few moments to attach it to the account now.

The tab below is where you can see any attached Instagram accounts in your Meta Business Suite.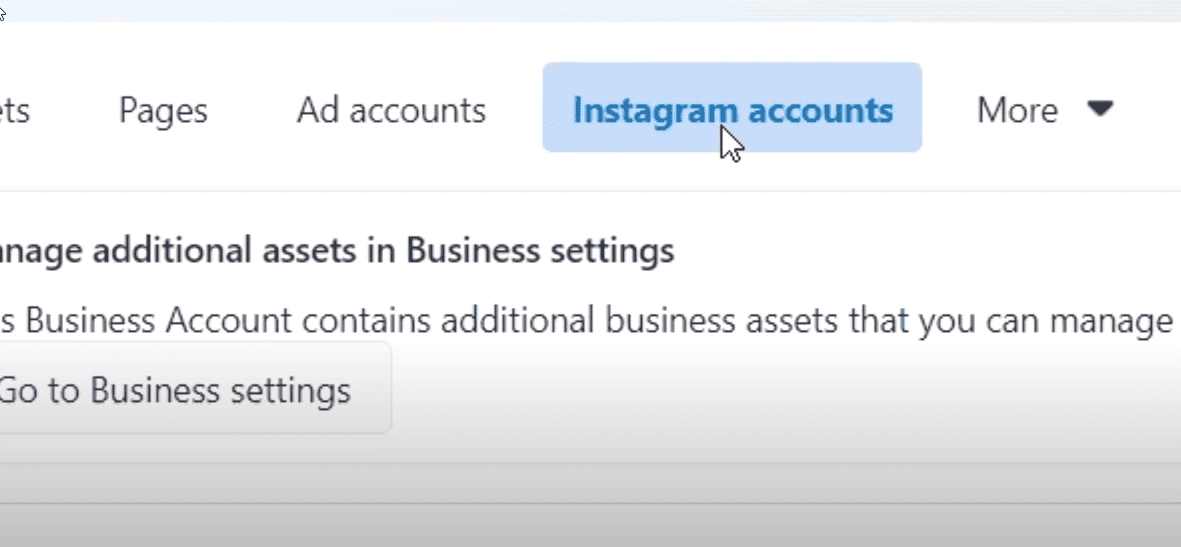 Click the add assets button.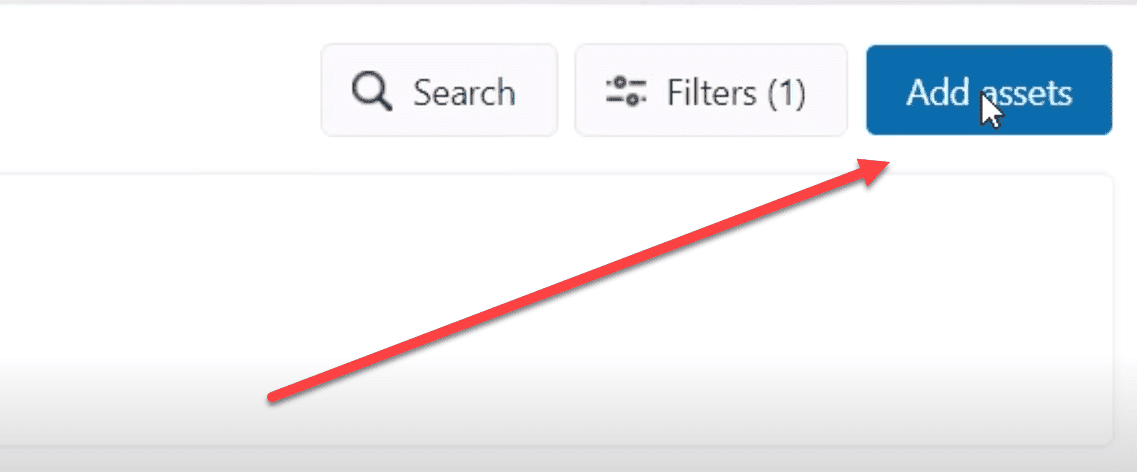 Select Instagram account.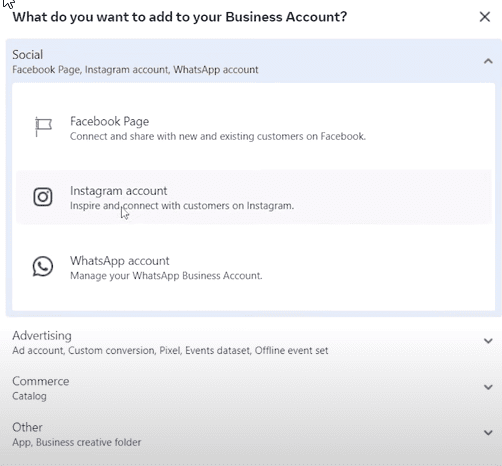 There is no option to create a new Instagram account in Meta, so if you want to do that you need to login to Instagram to create an account.
Once you have an account you need to agree to the terms and service and then Meta will walk you through connecting your Insta account.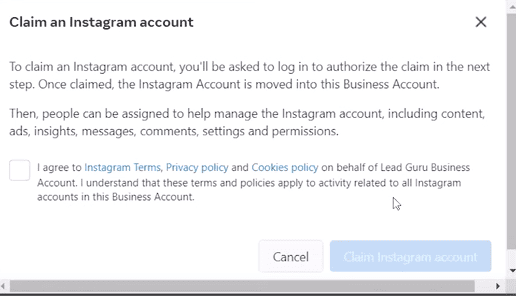 Adding People
This is one of the most important features of the Meta Business Suite. When you have the Business Suite you can add people and define the roles they play in your business.
That means they have limited access for what they need and not everything else. You can also easily remove people from your business.
To add people go to the people menu item.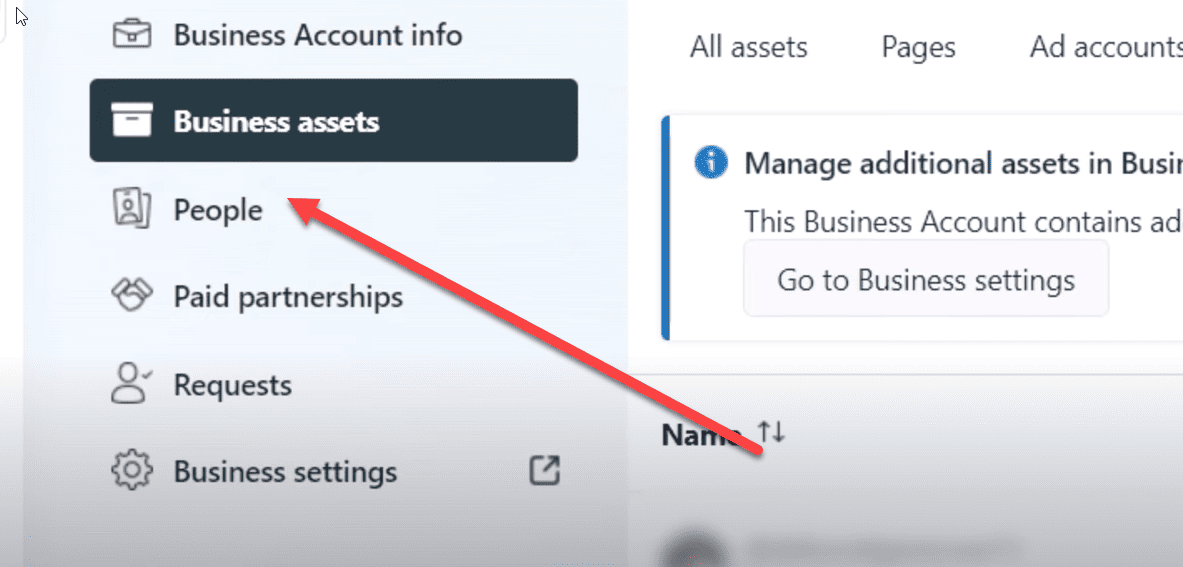 Then click add people.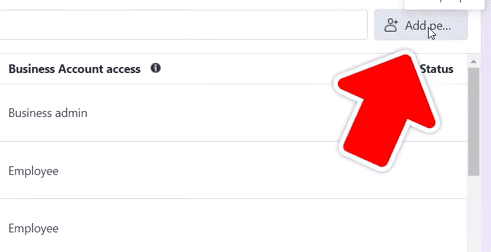 You can request people by their email address and then they will get an invite the next time they are logged into Facebook.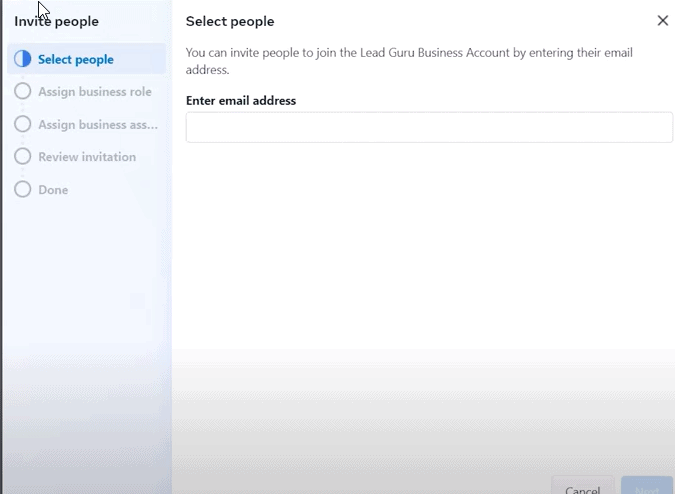 Most people will be added as an employee with limited roles. Only ad admins that you trust 100% as they have as much power over your account as you do.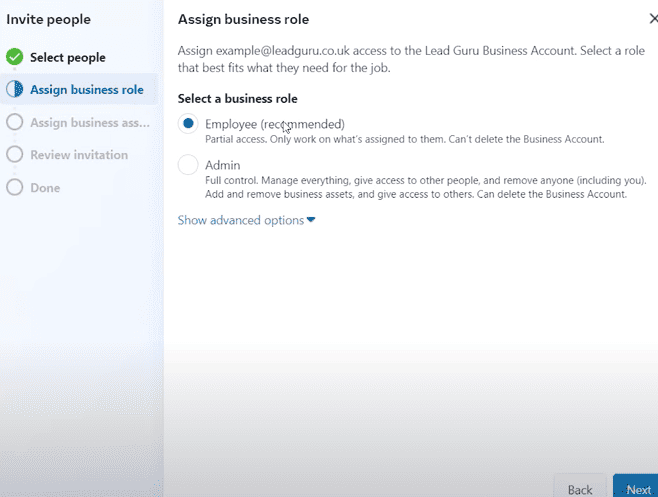 Once you assign the role, then you can assign specific assets to that person. You might assign them your Instagram account, your Facebook page, your ad account, or any combination of those things.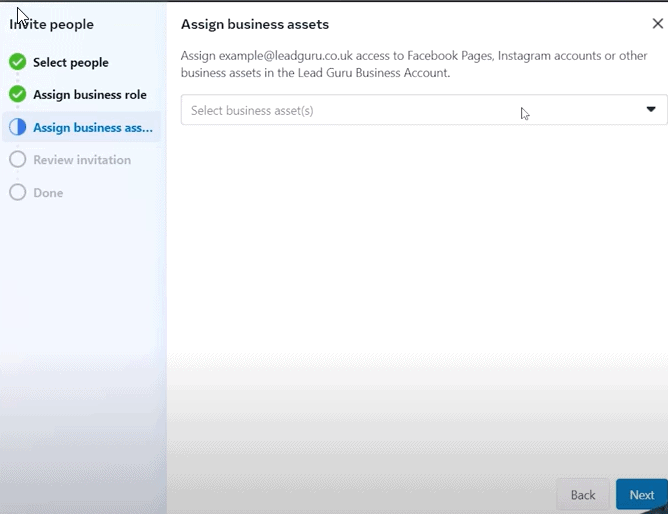 Adding Billing Information
The last thing I want to show you how to add is your billing information. Meta will not run ads without confirmed billing information on file, so it's a good idea to add this now.
Click on the billing button.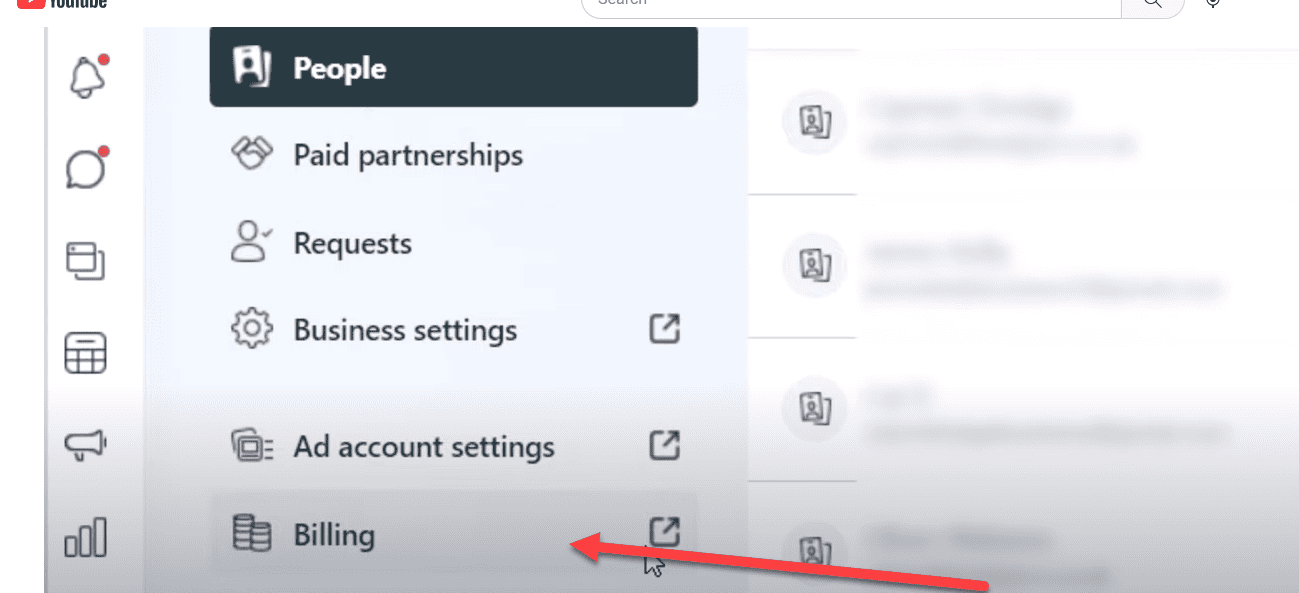 Then add in your information. Meta will walk you through it.
More Free Facebook Ads Training
I'll get to the other myths of Facebook advertising in a moment, but first I want you to know about a FREE resource that I've put together that can really help.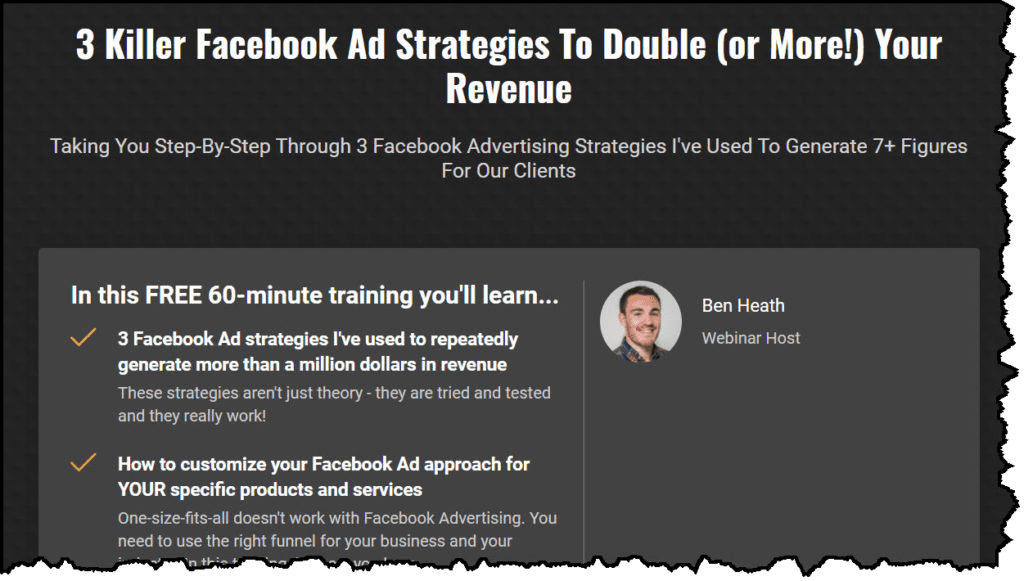 When you attend this webinar you'll learn:
3 different Facebook ad strategies that we use every day. These strategies have generated millions of dollars in revenue and are tried and proven to work.
How to customize the Facebook ads strategy to your particular business. There is no such thing as a one size fits all approach to Facebook ads.
How Facebook and Instagram have changed and how to adjust your ad strategy to what works in 2023.
Video Training on Setting Up the Meta Business Suite
In this video I show you step by step how to set up the Meta Business Suite.
The Bottom Line on Why You Should Set Up Meta Business Suite
Setting up Meta Business Suite is an easy and straightforward option that will allow you to have more options across Meta products, keep your add account more secure, and create less risk that your ad account will be deactivated.