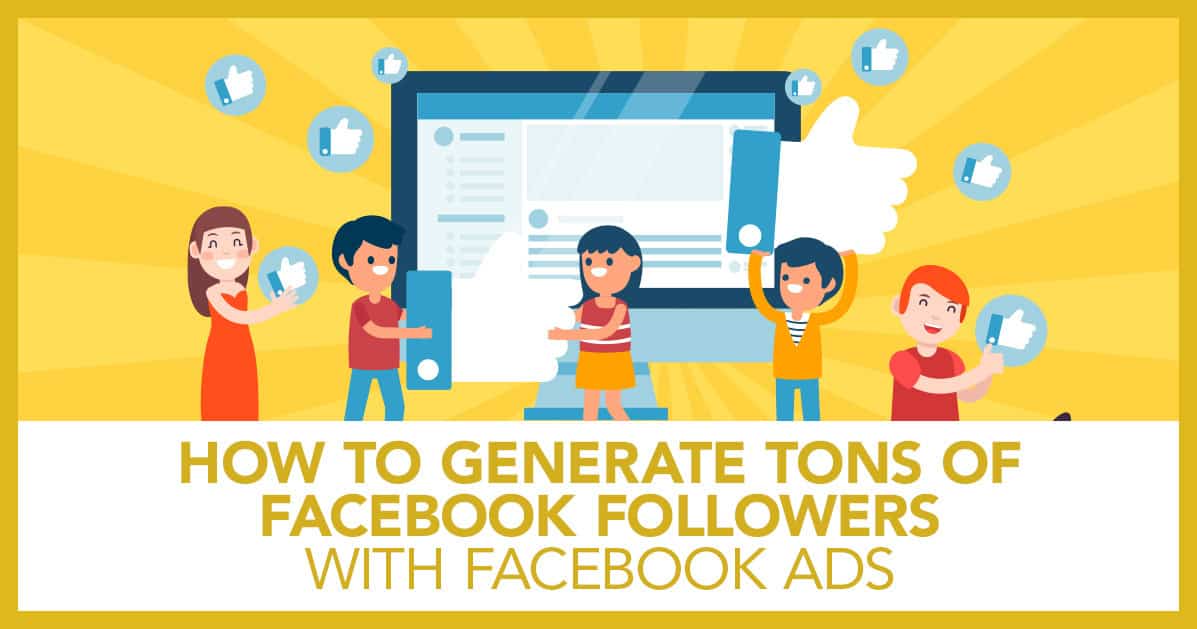 How to Generate TONS of Facebook Followers with Facebook Ads
It's still very useful to have a large amount of Facebook followers.
Facebook followers can help you be perceived as a more established business, open up media opportunities to you, and create the ability to add people to a Facebook group. I'll go over more of why Facebook followers are still important and how to use them at the end of the article. I'll also be very blunt about what you SHOULDN'T expect from Facebook followers.
In this article, I'm going to show you how to generate 1000s of Facebook Followers cheaply using Facebook ads.
This is MUCH easier than most people think, and it doesn't have to cost a lot of money. Just follow the steps that I'm about to show you and you can add followers just like I have on my page.

Setting Up Your Page
Before you run any like campaigns on Facebook you need to make sure that you have a proper page set up.
You need a decent cover photo – you can use Canva or hire someone on Fiverr, It doesn't have to be complicated or expensive. But it's important to look professional.
Next you want to make sure that you have your basic info filled out. A short bio, the link to your website, and what type of company you have are good places to start.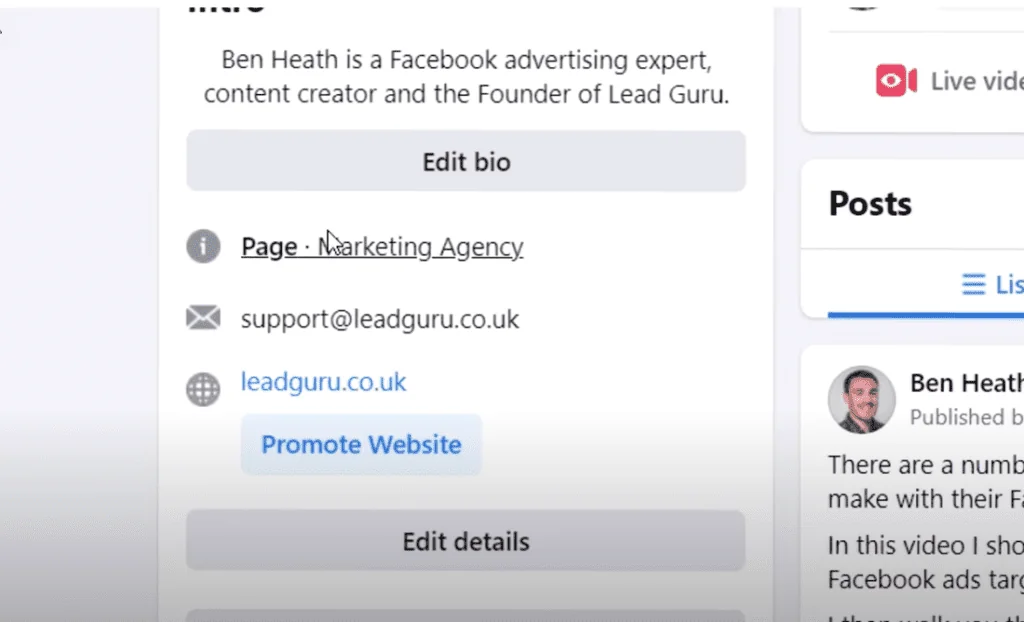 Finally, you want to make sure that you have regular content going out and that your page looks active. You don't need to post 5 times a day, but regular content can really help.
Organic vs. Paid Facebook Likes
We're going to use a paid campaign to get Facebook likes because organic (free) methods aren't very effective.
You can post good content all the time and barely grow your likes. You could also try spammy techniques, but that will only result in your account getting banned or restricted.
Facebook has developed into a pay to play platform, and that's OK. I'll show you how to get likes pretty inexpensively and I'll show you how to leverage those likes in your business.
Setting Up Your Facebook Likes Campaign
If you've set up a likes campaign before, but haven't done it in a while make sure you pay attention to this section. There have been some things that have changed in the Facebook interface.
Campaign Level Setup
Your first step is to go into the ads manager and click the create button.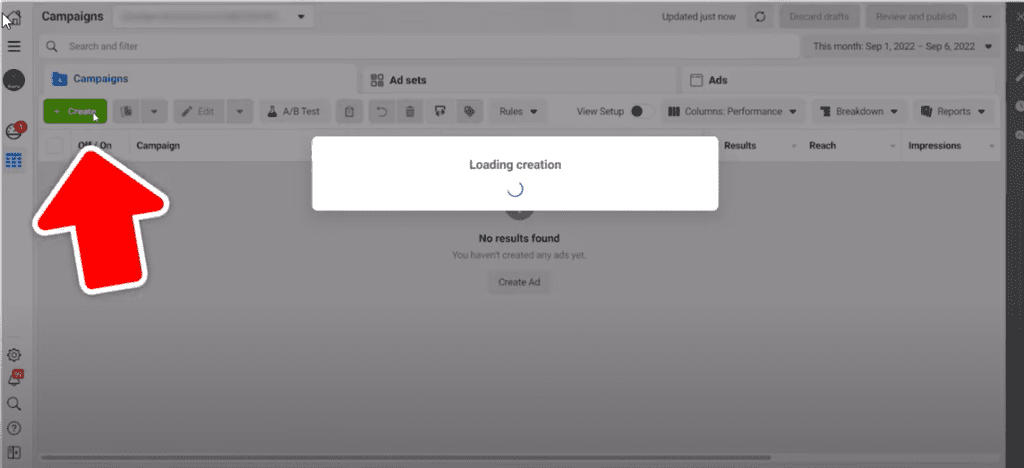 Selected the engagement campaign objective and click continue.
That's all we need to do at the campaign level.
Ad Set Level Setup
The next thing that we need to do is jump over to the ad set level. Select the conversion objective as the Facebook Page.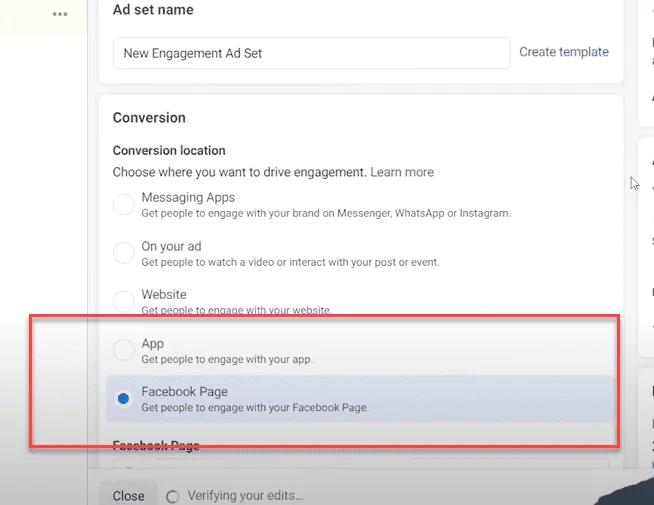 The Facebook Page conversion location is going to effectively make this a page like or a page follow campaign that's design to get more followers to your page.
Important! If you manage multiple Facebook campaigns make sure you have the right Facebook page selected.
Setting the budget comes next. You want to be very modest here. Facebook like campaigns are part of an overall strategy to improve your business, but they aren't going to get you amazing results immediately. Start nice and small.
What a small number is depends on your business. You can start at just a few dollars a day or run your campaign at ten or twenty five dollars a day.
The key is to run a likes campaign that is very affordable for you.
For targeting, I'm going to recommend something that I wouldn't recommend for any other type of Facebook advertising campaign. For the initial Facebook likes campaign you want to select a worldwide audience with no specific detailed targeting.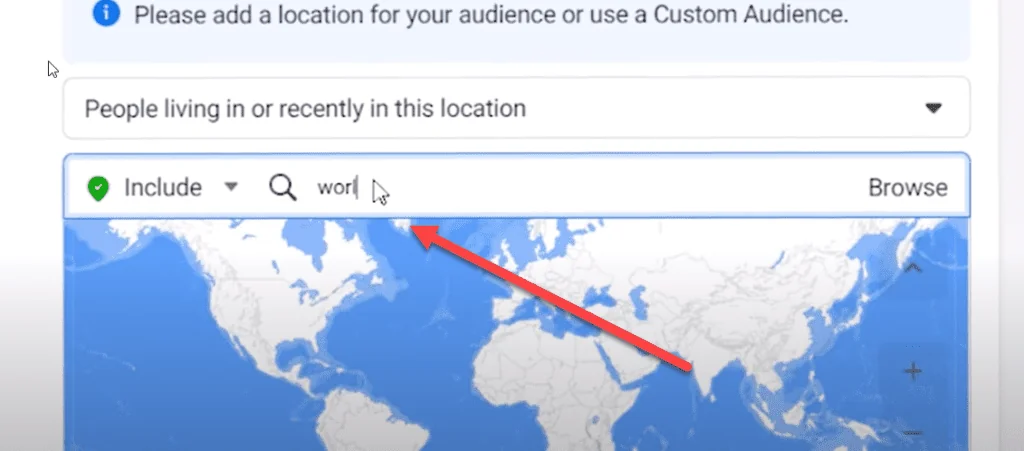 In other campaigns you will want to target people much more specifically, but for the likes campaign it's important that you just start getting some followers at the best possible price, which is what broad targeting will get you. Followers give your page some authority and establish credibility in your space.
When people come and check you out from your other advertising they will be more likely to think that you know what you're talking about if you have a bunch of followers.
Don't worry! Facebook will work out what your page is about and show it to the right kind of people who might be interested in a page like yours.
Remember, the more detailed targeting that you put in, the more expensive your page likes are likely to be. That's why I nearly always start with a worldwide campaign and no interest targeting options for a likes campaign.
Pro Tip: These broad settings work great for a Facebook likes campaign, but they don't work for other types of campaigns at all. Here is a post about how to structure other types of Facebook ad campaigns.
On this type of campaign Facebook will only be showing your ads in appropriate places for Facebook likes, so you can use the Advantage+ placements in this campaign.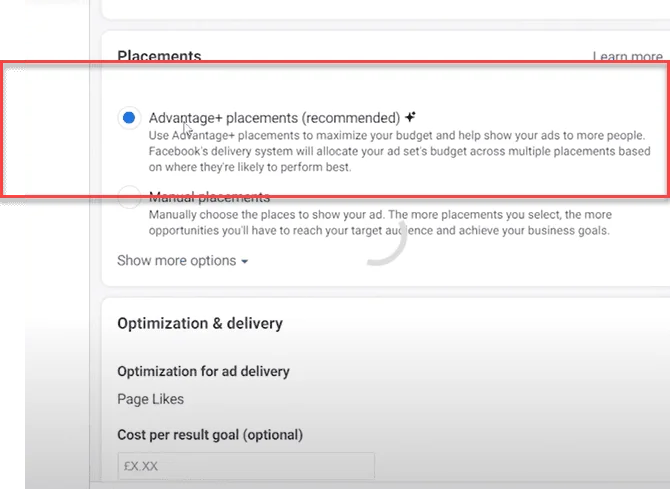 That's everything that you need to do at the ad set level.
Ad Level Setup
The next step is setting up your ads. This is very easy in a Facebook likes campaign.
You'll want to enter your primary text. This should be the reason why someone would follow your page. Keep this VERY simple and straightforward. There is no need to overcomplicate it.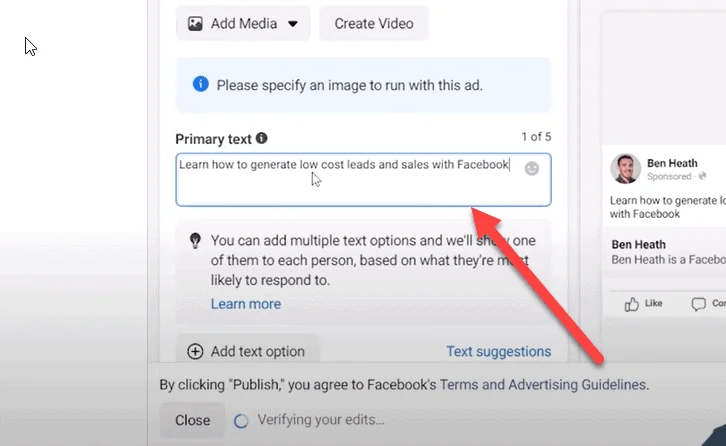 Next you want to add a simple image. In this case I'm using the cover of my Facebook page, but you can use whatever works best for your business. Just remember that liking your page is a simple, low commitment ask so you want to make sure that you are using a simple image.
An image of your product or service can work well. If your brand is a personality based brand you could also use a picture of yourself.
Results
When you are targeting page likes with a worldwide audience you should get them for a low cost – often 3 or 4 cents a piece. Once you get the data that tells you how much your page likes are, then you can figure out how much you want to spend to get the minimum of page likes that you are looking for in this initial push.
It's better to keep your budget small and run this type of campaign over a period of time, rather than try and scale it.
The Value of Facebook Followers
Having Facebook followers is something that will no longer help you with your organic reach. Facebook doesn't work like that anymore, but followers are still worth having for several reasons.
Credibility: Having Facebook followers gives your page a lot more credibility. If someone sees your conversion ad and comes to your page having a whole bunch of followers helps people feel comfortable with your business and makes you seem real.
Media Opportunities: When people who do podcasts, write magazine articles, newspaper articles, or do YouTube videos look for people and companies to feature and interview they will look at the social media pages of the companies that they are thinking about profiling. Having a lot of followers will help to open up media opportunities that may not be available otherwise.
Grow Your Group: Organic marketing is MUCH more likely to successfully happen in a Facebook group then on a Facebook page. If you have a lot of Facebook followers then you can ask them to join your group and many of them will. This gives you another potential marketing channel.
More Free Facebook Ads Training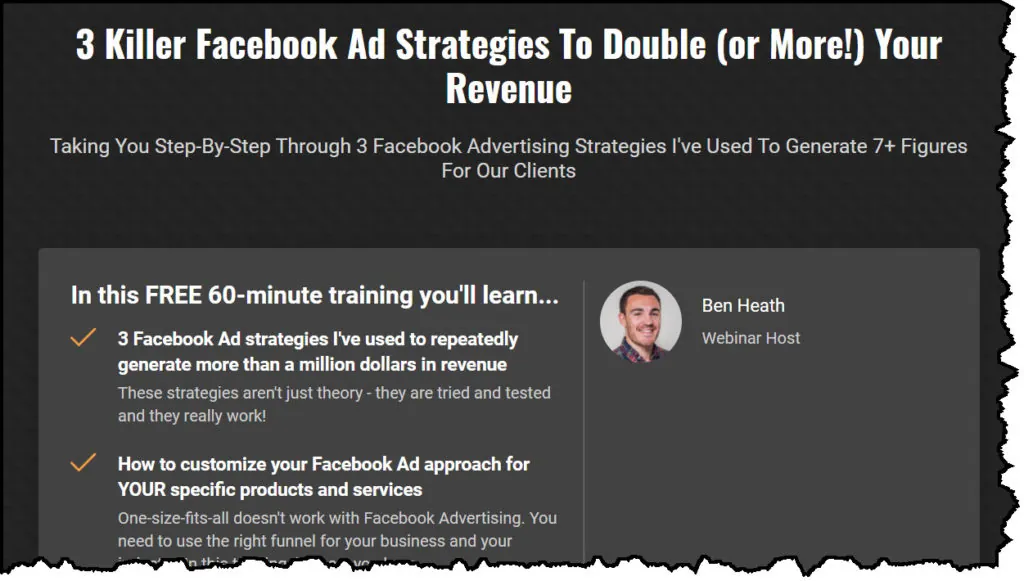 When you attend this webinar you'll learn:
3 different Facebook ad strategies that we use every day. These strategies have generated millions of dollars in revenue and are tried and proven to work.
How to customize the Facebook ads strategy to your particular business. There is no such thing as a one size fits all approach to Facebook ads.
How Facebook and Instagram have changed and how to adjust your ad strategy to what works in 2021.
Video Tutorial on Running a Facebook Likes Campaign
In this video I go over campaign structure for a Facebook likes campaign and the reasons why you should care if you have Facebook likes.
The Bottom Line on Getting Facebook Likes
Facebook likes are important for credibility and group building. It's easy to get Facebook likes through a simple Facebook likes campaign. By using the right targeting you can get inexpensive likes and grow your businesses trust factor with your audience.