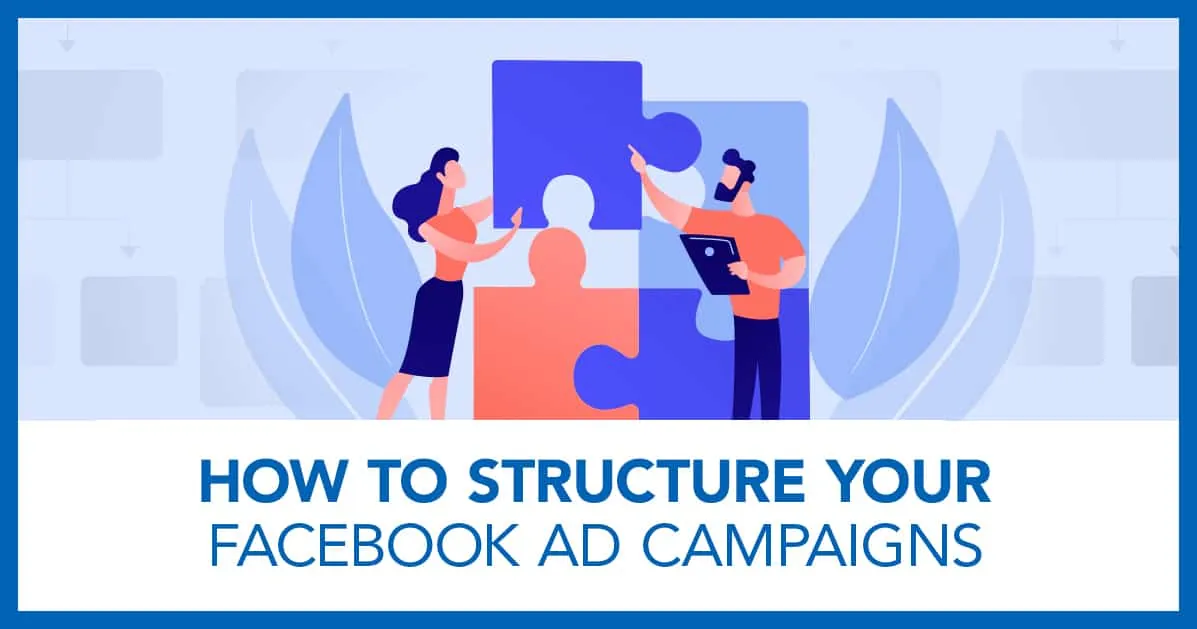 How To Structure Your Facebook Ad Campaigns
There are right ways and wrong ways to structure your Facebook ads campaign. If you structure your Facebook ad campaign in the wrong way then it can create poor results for your campaign.
My agency has spent tens of millions of dollars on Facebook ads over the last six years and we know that our campaign structures work really well.
In this post I'm going to show you how to structure three different types of Facebook ad campaigns – conversions, lead, and omnipresent campaigns – so that you have the best chance of success.
I also want you to remember that while campaign structure is very important, the most important thing in any advertising campaign is your offer. If you are struggling with your offer, check out my article on why offers are so important and the 7 types of offers that will help you stand out and be profitable.
Conversion Campaigns
You will use a conversion campaign when you want someone to buy directly from your Facebook ad. Conversion campaigns are most often used in e-commerce businesses where you have physical products that you can display directly in the ad and people buy them from you after they click on the ad.
Let's take a look at what this looks like in a Facebook ad account. I'm going to show you in my example account.
The first thing you need to do is set up a new campaign. I'm going to call this one the "direct to offer campaign," but you could call your campaign "spring sneakers" or "fall sweaters" or whatever it is that you are selling. Select the sales campaign objective.

When you are setting up conversion campaigns you want to use one campaign for each product range so that similar products within the same range aren't competing with each other.
For example, if you are selling multiple types of sneakers then you will put them into a single campaign.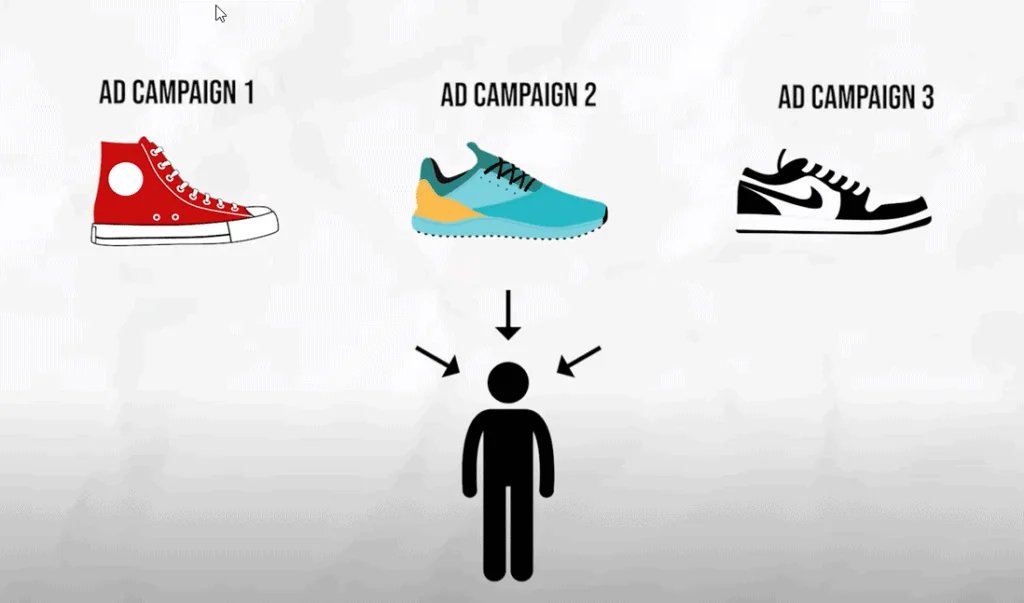 However, if you are selling something else like hats or socks those could go in a different campaign because we aren't going to run into the same overlap issues even if we are selling to the same people.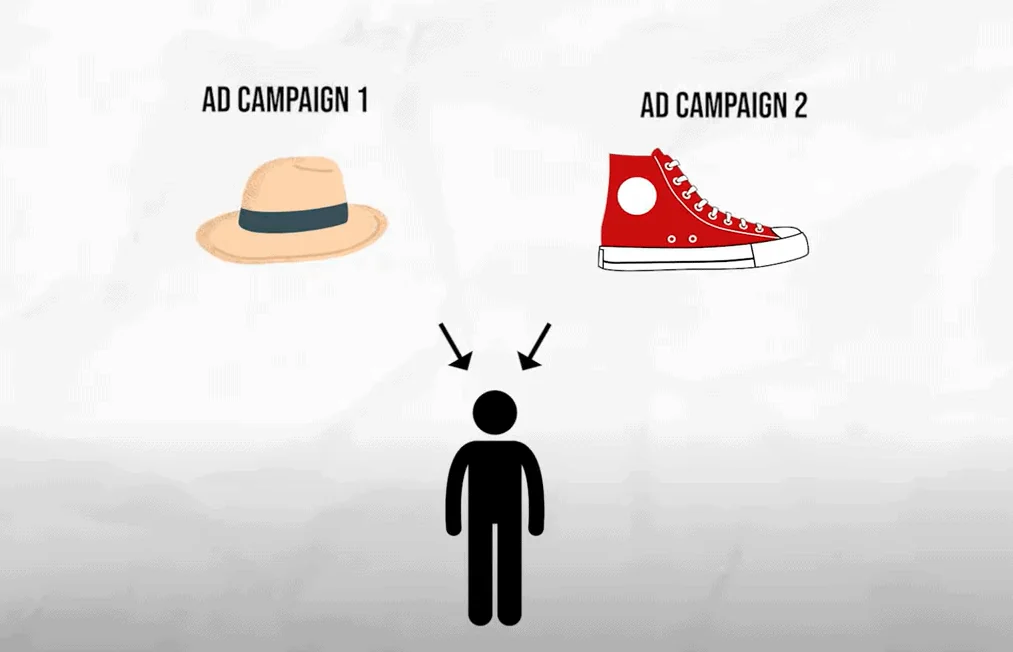 Now that I've explained how to handle product ranges and we have the conversion campaign set up at the campaign level, let's jump on over to the ad set level.
I'm going to call this our warm audience ad set and duplicate it four times.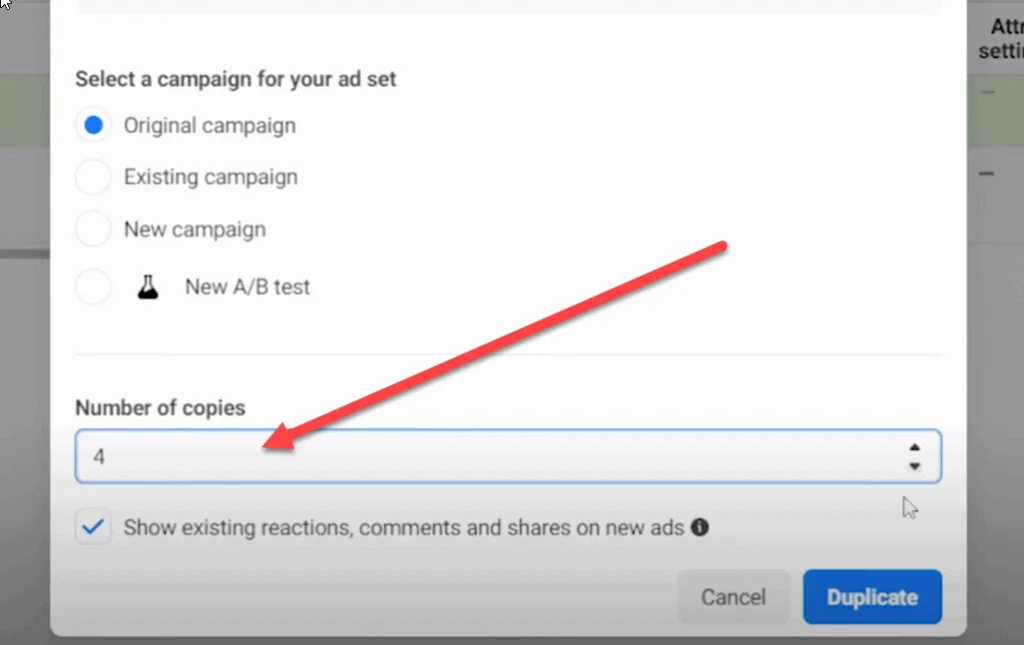 Now we have five ad sets under this campaign. The next step is to rename these ad sets so that you have four cold audiences and 1 warm audience.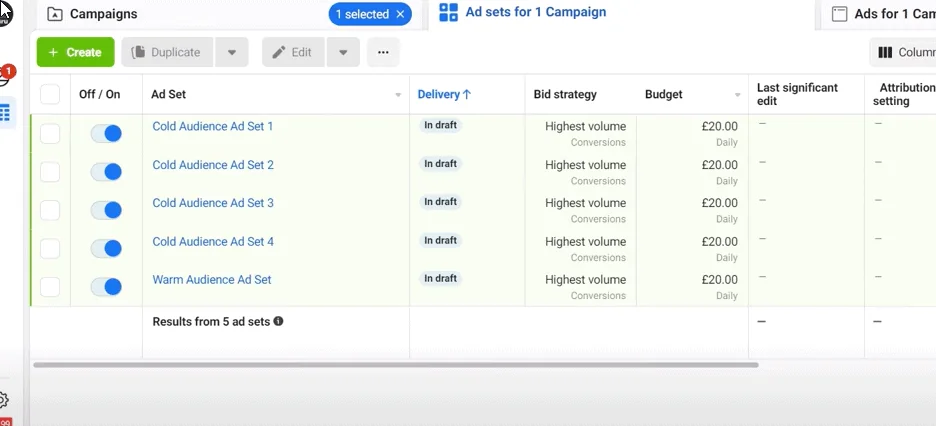 I find that testing 4 cold audiences at a time is a sweet spot. It's important to test new targeting options, but not to give Facebook so many options that it takes forever for any money to be spent on the different elements of your campaign.
In this example we might have two audiences under the cold audiences that are look a like audiences and two that are interest targeting. Look a like audiences often perform very well, but are in most cases still cold audiences who have never seen you or your offer before.
After a week to 10 days we'll evaluate what's going on and pause the underperforming ad sets and possibly create new ad sets to test against the best performing ones. This is a process that gets repeated until we have core audiences that work well for our offer.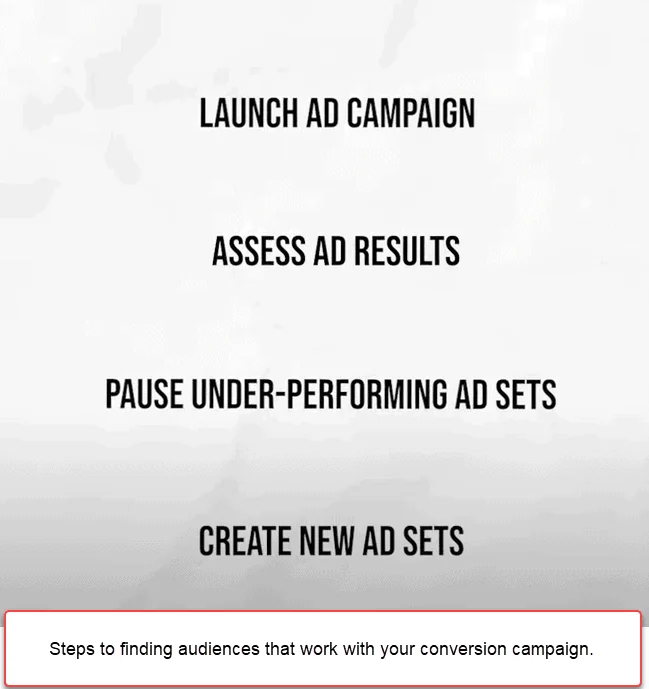 The reason that I put the warm audience in with the cold audience is that we're going to turn on the advantage campaign budget (this used to be called campaign budget optimization). You do this at the campaign level.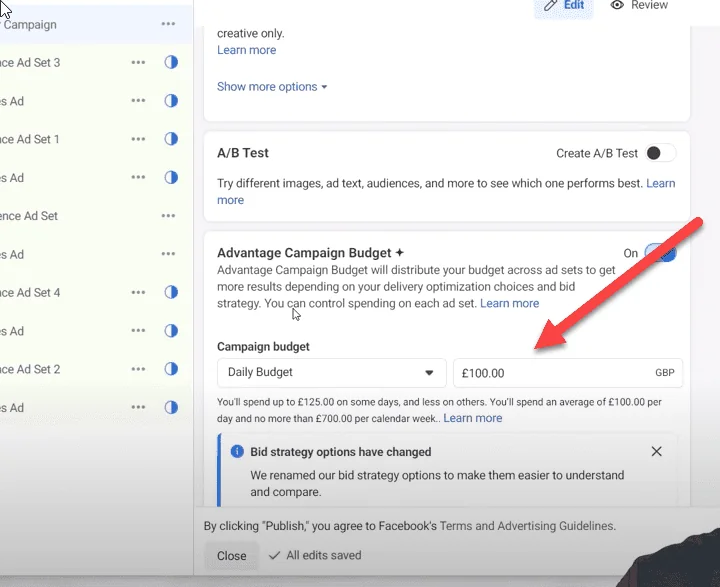 When you choose the advantage campaign budget the money for the campaign is going to be automatically allocated by Facebook across the various ad sets in the campaign according to how ell they are performing. The right amount of budget will automatically be calculated and assigned to that warm audience. The reason that this is helpful is that if we had a separate retargeting campaign specifically targeting our warm audiences, it's very difficult to get the budget level right and many advertisers will overspend on their warm audiences and burn them out.
Using campaign level budgets avoids this problem.
As you have successful campaigns and your warm audience grows then more of your budget will automatically be assigned to this group of people. You can assign all your warm audiences in to this one ad set.
Resources: Here is an excellent article on when you should use campaign budgets or ad set budgets in your Facebook ad campaign. I also have an in depth article on Facebook retargeting to help you develop your warm audience.
In the testing phase you also want to test one interest per ad set to see what interests work the best in your campaign. This is different than the warm audiences, because warm audiences will almost always perform better than cold audiences right out of the gate.
Now that you have your audiences set up – it's time to set up ads. Typically what I recommend is that you set up 4 to 5 ads in each ad set so that you can test and still get quick results. I like to test a few image ads against a few video ads and see what gets the best results.

Then you'll do the same process that I described with the ad sets until you get a core group of ad creatives that's going to drive sales at good ROI.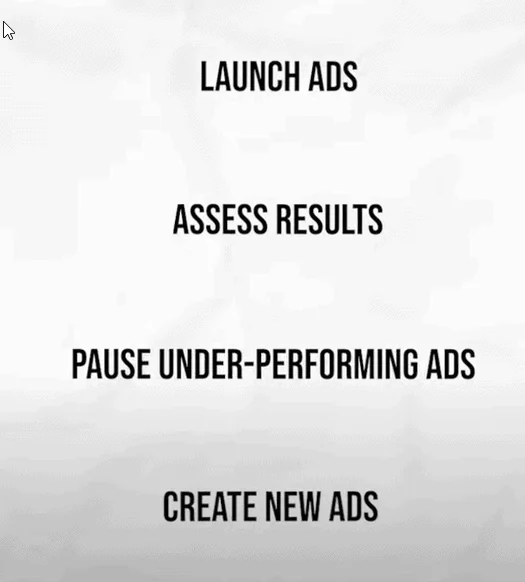 Once you have your first four ads set up, you'll duplicate them into the other ad sets. Different ads can work differently in different targeting options so you want to make sure you are testing ad creatives throughout each ad set/ audience.
Another important note is that you should use the EXACT same ads in your warm audience as your cold audience. People get creeped out by ads that say things like "hey you visited my website." People know this kind of retargeting happens but they don't like to be reminded of it by an ad that is too direct.
Lead Campaigns
If you have a service or expertise based business then a lead campaign is probably what you'll be using as your advertising vehicle. A lead campaign allows you to offer something for free in exchange for their name and email address.
Once people sign up with you, you can then retarget them with the next step of your sales funnel and get a percentage of them to purchase your main offer.
For example, if you create kitchen worktops then you might have a lead magnet that's a guide on how to choose the right worktop for their property. Then you would retarget those people with your actual products and services so they can click through and buy from you.
In my business – which is a Facebook ads agency – we advertise two lead magnets. One is the free Facebook ad template and the other is a free webinar Once people get one of our lead magnets we retarget them and let them know that we can do the whole process for them as their ad agency and that they can book a call with our team members to explain it.
Because this is a more complicated sales structure than going straight to the offer you do need to do the Facebook ad set up a little bit differently.
The first thing you need to do when you create a lead campaign is to use the leads campaign objective in Facebook.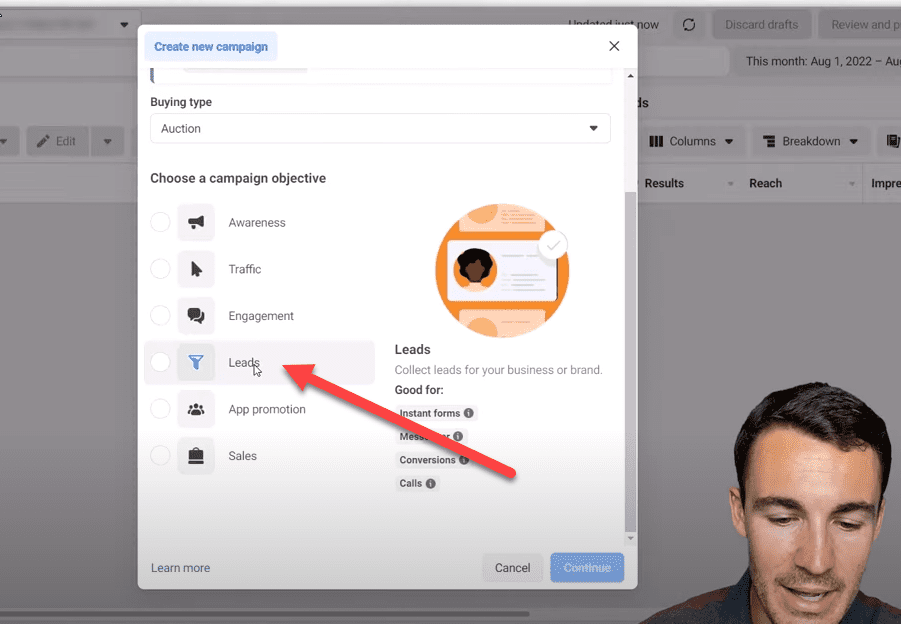 Then you'll name your campaign. In this example I'm goin go name the campaign the lead magnet campaign and then move on to the ad set level.
The initial set up will be the exact same offer as the conversion campaign with a warm audience ad set and 4 cold audience ad sets.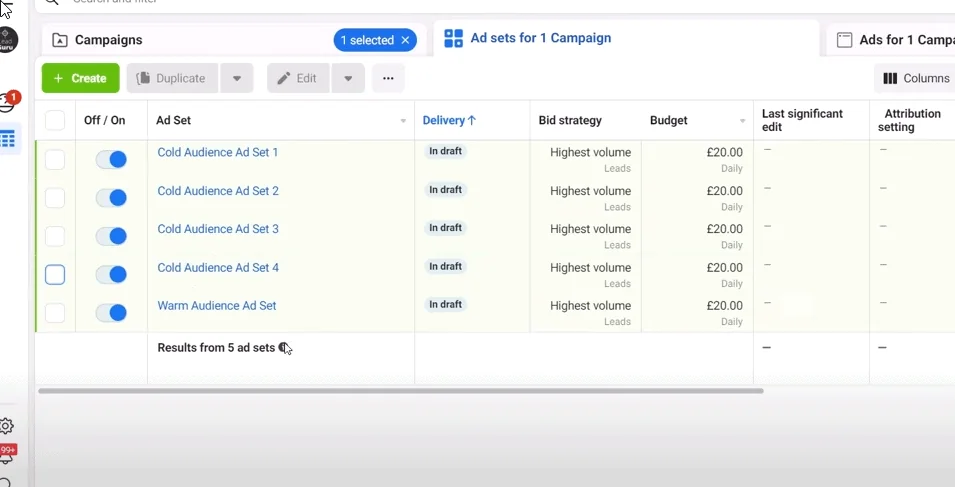 After you have this set up you want to make sure that you exclude people who have already signed up for your lead magnet from your warm audience. You can do this by creating a custom audience out of people that have already opted in and then just excluding that audience at the ad set level.
Resource: I have a great article on how to create custom audiences that can really help with this step.
The ads will also be very similar to the conversion campaign set up. You will want ad creatives that encourage people to sign up for your lead magnet or giveaway offer. These ads will go in all of your ad sets.

This is where things start to get a bit different in a lead magnet campaign. You need a second campaign where you'll be targeting people who have filled out the lead magnet form and have not moved onto the next step. The next step might be booking a free call, getting a quote, or making a purchase. It depends on your business model.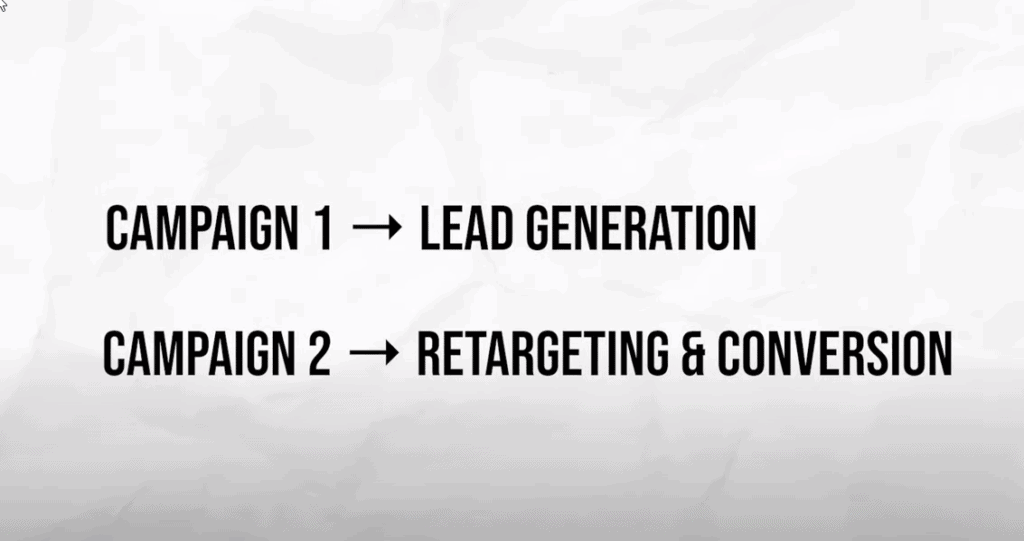 This second campaign may be a leads campaign or it might be a conversion (sales) campaign. What you choose will be determined by what the next step in your sales funnel is.
In my business model, we book a free call as the next step, so that is also going to be a leads campaign. I'll call this one retargeting campaign.

In this campaign we'll be targeting people who have opted in for the lead magnet and who have not yet taken the next step in the funnel. What you are looking to do is to catch people in that middle bracket with your campaign. These are the people that you want to book a call, get a quote, or make a purchase.
In this campaign we aren't going to test different ad sets. We know that these are the people we want to target, and we're going to do a very similar process to what we've done before with ad creatives. You'll want to test different ad creatives and ad formats with the NEXT step in your offer.

I want to go over something here that many people find confusing, In the leads structure on this Facebook campaign we have two different ways of retargeting.
The first way of retargeting is in the warm audience in the lead magnet campaign. This is where you show your lead magnet to your warm audience. This may be people who have visited your website, watched one of your videos, or follow your page. They should also be people who have not opted into your lead magnet yet.
The second way of retargeting is in the retargeting campaign. This campaign will have a single ad set that has an audience of people who have opted into your lead magnet, but have not taken the next step in your funnel.
By doing both types of retargeting you will produce better overall results and have more people moving through your funnel.
Omnipresence Campaign
The omnipresence campaign is a long term Facebook strategy that is used in conjunction with a conversion or leads campaign. These campaigns are excellent at helping you dominate the marketplace – especially if you have a service or expertise based business. You can read more about omnipresence campaigns here.
In this type of campaign you'll be putting different pieces of content in front of a small group of people over and over again. This will help you build trust with people and become the only business that they want to buy from or work with. This is an extremely effective long term strategy. You have to be patient with it.
Since this has a very different goal than other campaign types, the structure is going to look quite a bit different than other campaigns.
You'll pick awareness as your campaign objective.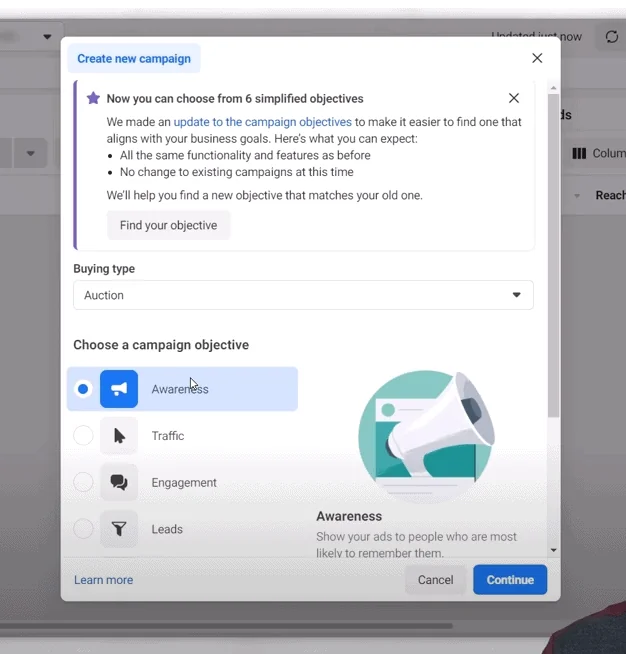 Then you'll want to make sure you DON'T turn on Advantage Campaign Budget Optimization, because in this campaign you will want to control your budget at the ad sset level.
When you are ad the ad set level in this campaign you want to create your first ad set and then duplicate it 9 times. This gives you a total of 10 ad sets.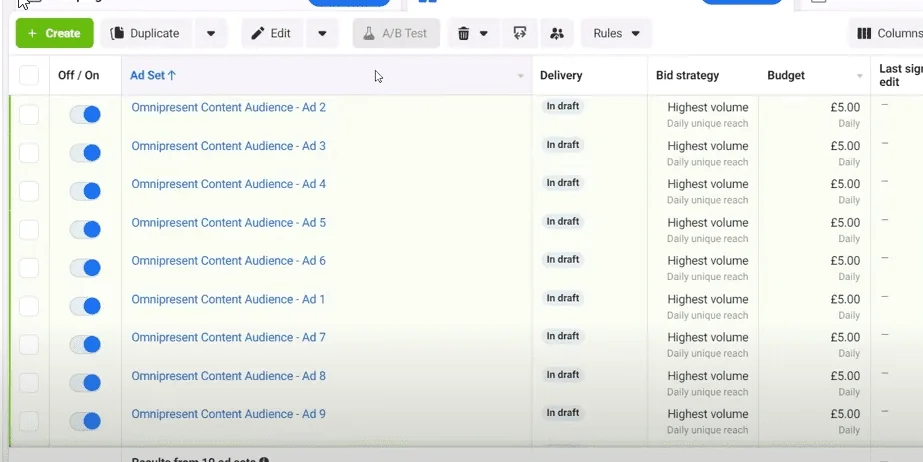 Then you put a different ad creative in each ad set so that you are serving different ads to the same people.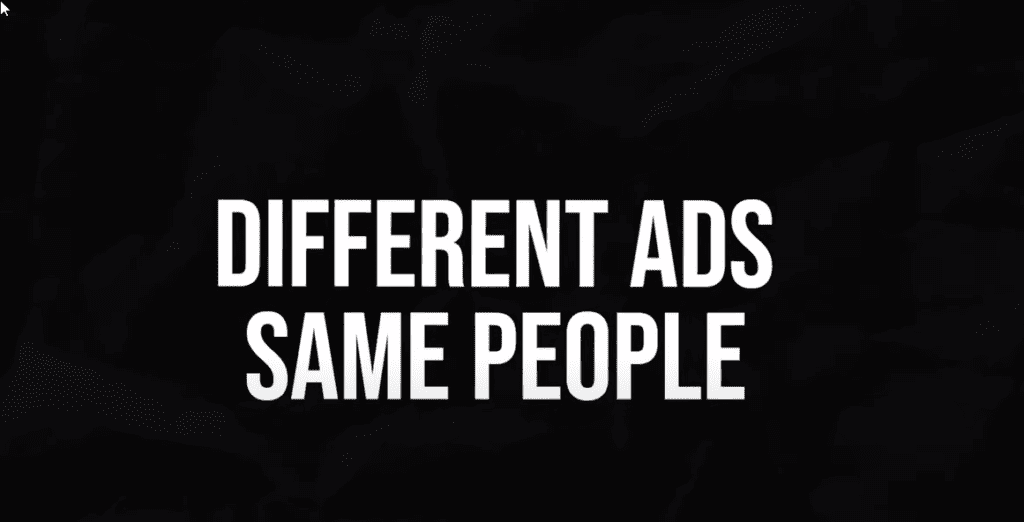 Each one of these ads is going to have the same audience at the ad set level. You won't be testing different audiences. The goal here is to develop trust with a specific group of people. Generally speaking you will either use a warm audience or a geographically constrained audience (if you are a local business).
Ideally, this audience should be around 30,.000 to 60,000 people.
You'll be setting up different ads in each adset.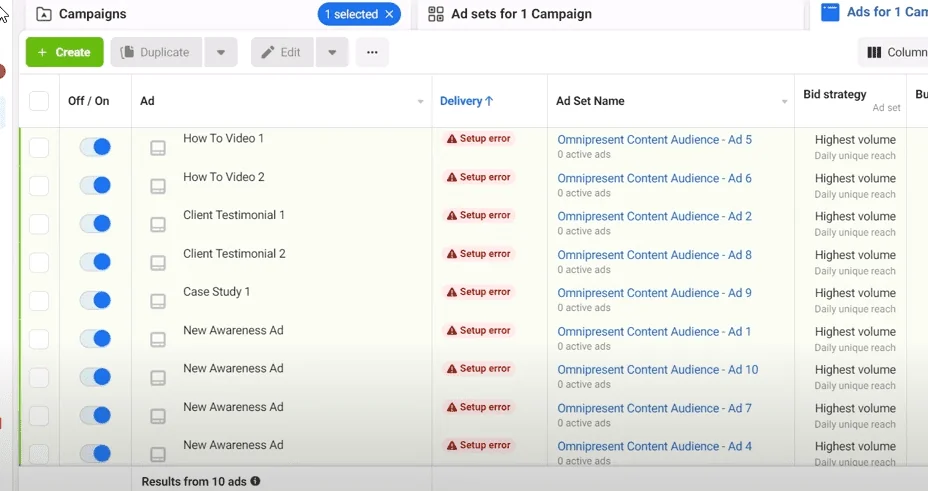 And you'll be setting very small budgets of 1 dollar or 1 pound each for each different ad set that you have – for a total of $10 a day spent on the entire campaign.
The goal is to have each person in your audience see two different ads per day. You can do that by changing the frequency cap to each ad being shown every 5 days. This won't be a perfect system, but it will get you pretty close to the goal of having most people see 2 ads from your business per day.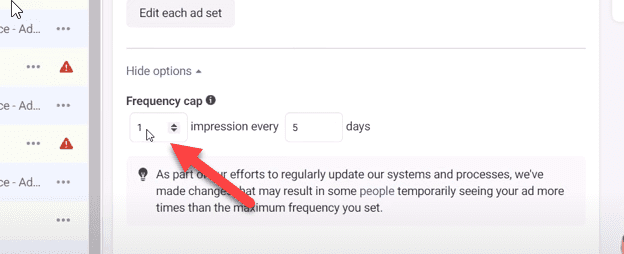 By having a lot of rotating ads you will significantly reduce ad fatigue in your audience, and you should only have to create new ads every three to six months.
More Free Facebook Ads Training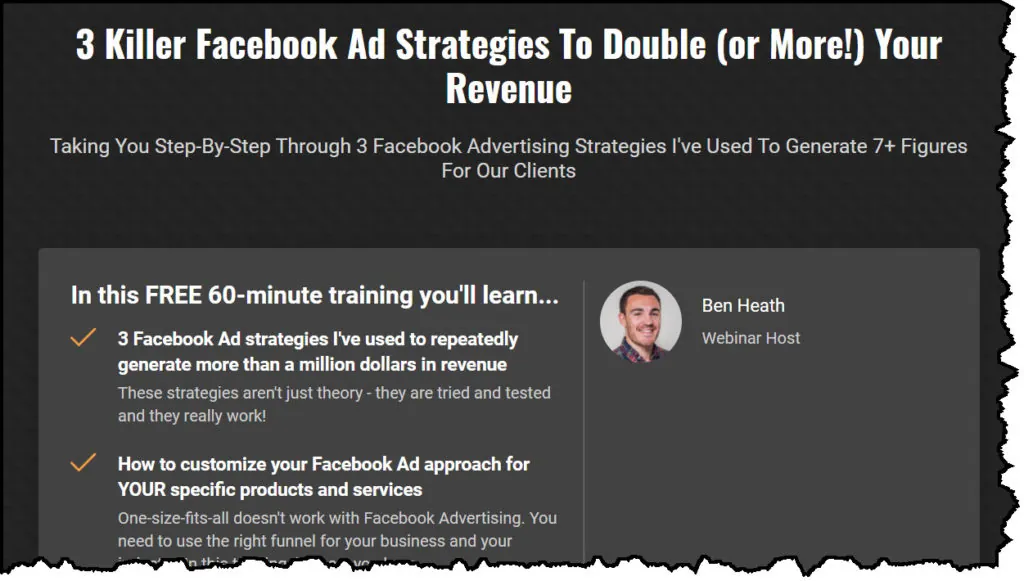 When you attend this webinar you'll learn:
3 different Facebook ad strategies that we use every day. These strategies have generated millions of dollars in revenue and are tried and proven to work.
How to customize the Facebook ads strategy to your particular business. There is no such thing as a one size fits all approach to Facebook ads.
How Facebook and Instagram have changed and how to adjust your ad strategy to what works in 2021.
Video Tutorial: The BEST POSSIBLE Campaign Structure for Facebook Ads
In this video I go over three types of campaign structures. You'll see how to set up conversion campaigns, lead campaigns, and omnipresence campaigns.
The Bottom Line on Facebook Campaign Structure
The most important part of your campaign is the offer, but after the offer campaign structure is one of the most critical elements of your campaign. Different types of campaigns require different structures in order to be successful.