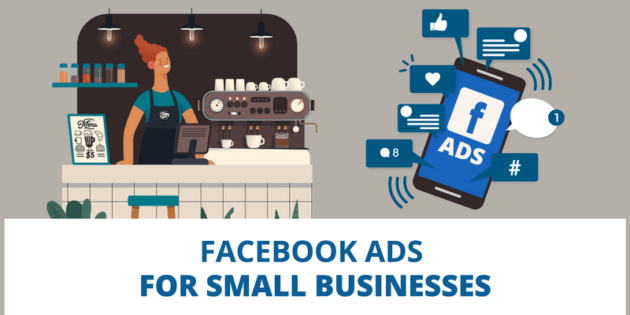 Facebook Ads for Small Businesses
There are lots of BIG businesses advertising on Facebook. These folks have large budgets to test with and can spend a lot of money to get to success.
Because big business is so visible on Facebook, if you are a small business owner, it's easy to want to copy that.
But it's also a REALLY bad idea. The strategies that work for large businesses don't work well for small business. Small business owners need different strategies on Facebook.
In today's tutorial, I'm going to show you my favorite strategy for Facebook ads for small business. This strategy works well to generate both leads and sales.
I'm going to create an example Facebook ad campaign and show you exactly how to do this.
How to Set Up Facebook Ads for Your Small Business
The first thing you need to know about setting up ads for small businesses is that you don't want to use the boost button on your Facebook business page.
Boost buttons are a stripped down version of what Facebook ads can actually do. They are meant to be easy, and they are. But they also take out many of the functionalities that will actually get Facebook ads to work for you.
Instead, what you want to do is go to the ads manager for your Facebook business page. It helps if you have a business manager account already set up with Facebook. If you don't, you can learn how to do that here.
Once you have your business manager account set up, it's time to hit the "create" button in your ads manager. This will start a new Facebook campaign.
Important! All Facebook ad campaigns have three levels: campaign, ad set, and ad. You need to set up each level to create a campaign. I'll show you how in this Facebook ads guide.
Setting Up Your Small Business Facebook Ad – Campaign Level
You'll need to name your campaign at this level. You are the only one who sees this name, so make it something that is easy to recognize in your ads manager.
The most important part of the campaign level set up is the objective. The objective tells Facebook the action you want people to take when they see your ads. This will help the algorithm to decide WHO to advertise to.
Note: Lots of small business owners want to choose traffic as their objective here. It's seems appealing, but it's not a good idea. To see why check out my Traffic vs. Conversion Facebook Ads Case Study.
When you are running a small business then cash flow and making sure you are getting the ROI you need are very important to staying in business.
That means that when you are running Facebook ads to benefit your small business you should go for either conversions (sales) or lead generation as your objective.
Pro tip: To use conversion ads you will need to place the Facebook Pixel on your website. This sounds intimidating, but is really fairly easy. Here's a tutorial to show you exactly how to install the Facebook Pixel. Make sure you set up your Facebook Pixel BEFORE moving onto the ad set level step.
Once you've picked your campaign objective, all you need to do is name your ad set and ad levels of your campaign. You can name them the exact same thing you named your campaign.
Then you can leave all the other settings alone at the campaign level and click on "save draft."
That will then take you to the ad set level.
Setting Up Your Small Business Facebook Ad – Ad Set Level
Normally when you save your draft at the campaign level, Facebook takes you directly to the ad set level. But if that doesn't happen or if you need to get back to the ad set level, just click the four squares on the left hand side.
When you are in the ad set level, the first thing you need to do is select the conversion event location.
What you want to do here is more straightforward than it sounds. You pick the conversion event that matches the action you want people to take
That means that if you chose conversions at your campaign level, and you want people to buy products from your website, you should choose purchase here.
Make sure you have your Facebook pixel installed, with event code set up, or this won't work.
Next you set your budget. An appropriate starting budget for you really depends on your current circumstances.
It's important that you set your budget low enough that your campaign can run for at least 3 to 4 days (ideally 7) before you make decisions about it. This gives Facebook time to go through the learning phase which helps you get the best results.
Tip: Setting a budget for a small business ad campaign can feel daunting. I have put together a guide for How to Set a Facebook Ad Budget here. If you don't quite know what to set your budget at, this is a great reference.
The next section in the ad set level is audiences. There are two ways I like to approach audiences for small businesses. The first is for small businesses that operate on a local level. The second way is for businesses that operate on a national or international level.
Let's look at local level targeting first.
If you run a local small business then you will want to set the demographics and geography specifically for your business area.
For example if you serve mostly men from ages 35 to 50 and operate in and around Bristol, then you will want to select those parameters.
Note: When selecting a city to target, Facebook makes the default range a 25 mile radius around the city. For many small businesses this is too big. You can adjust that range to 10 miles, 15 miles, or just the city itself. I find that 15 miles is a sweet spot for many local small businesses.
You want to aim for an audience of at least 250,000 people. You can go as smaller than that and some local business simply don't have enough people in their area to meet that number. But if your audience is below the 100,000 mark consider opening up demographics, like gender or age or making your geo-targeting broader.
If you run a business, like we do, that operates on a national or international level then your targeting is going to be slightly different.
We have clients in many different countries, but for demonstration purposes I'll select the UK here.
This is a very large and undefined audience. In this case I want to give Facebook some more direction and narrow this down to a group of people that are more likely to buy or become a lead.
To do this, I like to use lookalike audiences.
What are lookalike audiences?
Lookalike audiences are audiences that Facebook creates from data you provide. You give them a list of your buyers or opt ins to create a custom audience and they go out and find other people who are similar.

I have a tutorial on custom audiences for Facebook here, and how to create Facebook lookalike audiences here.
If you have the data to create lookalike audiences it will give you a huge edge in your Facebook advertising results.
When you are using lookalike audiences you don't need to choose anything but the country you are targeting. The lookalike audience will do all the heavy lifting for you.
If you don't have the data (existing customers, email list, etc.) to create a lookalike audience you will need to start with other cold audience targeting options.

This article shows you how to use Facebook's free Audience Insights tool to find high-performing targeting options.
Lookalike vs. Geographic Targeting – When to Use What
If you have the data to set up a lookalike audience for Facebook ads, then most of the time the decision about when to use that audience will come down to how big of a geographic area your business serves.
For truly local businesses that aren't in massive metro areas, a lookalike audience is likely to narrow down your target audience too much. In this scenario, you are better off using geo-targeting only.
For businesses that operate in large cities or on a country wide basis lookalike audiences almost always deliver the best results.
The next thing you need to worry about is the conversion window (everything else in between targeting and the conversion window you can leave alone).
The conversion window has to do with how Facebook optimizes your ads. They will count all conversions within the conversion window as part of their optimization strategy for your campaign.
For most campaigns for small businesses you will want to leave it at the default 7 day click and 1 day view setting. If you think you will get more than 50 conversions a day then you should change it to one day click.
Conversion windows can be a bit confusing. That's why I've created a whole post on what conversion window to choose for your Facebook ad campaign where I go over the concept in detail. Check it out if you'd like more info on this concept.
Now it's time to move to the ad level.
Setting Up Your Small Business Facebook Ad – Ad Level
For small businesses in particular the offer – or what you put in your ad – is VERY important.
If you don't have a big brand like Nike or Puma, then you can't rely on your brand alone to sell for you.
People already know who Nike and Puma are. They know their quality, they know that they deliver and what they advertise. But they don't know you or how good your products and services are.
That's why to many businesses I recommend that you heavily discount your first interaction with a customer. You might give them:
A discount on their first haircut
Half off their first visit to your restaurant
Or 25% off their first order
The goal here is not necessarily to make a profit on that first interaction, but to break even.
If you are a service provider, you can get even more creative. You can give away part of your service for free.
For instance, in our agency, we might charge a new customer set up fees for their campaign. But we might give them the ad creatives for free.
You have to really think through your offer, what you can afford and then really go for it.
Remember, you only have to discount that VERY first offer. After your customer trusts you, then you can go back to regular price.
It's very important that you don't try to compete with the huge brands on their level. You have to do things differently in order to get ahead.
The ad level is pretty straightforward once you know your offer. You need an image or video and some copy and a headline. You pop them into the ad level and publish your campaign.
In this free 5-Part Facebook Ad Template you can see a number of high-performing Facebook ads we have created and use them for inspiration.
More Free Facebook Ad Training
There is nothing I like better than to see business owners increase their ROI with Facebook Ads. In order to help business owners succeed with Facebook ads I've created a FREE webinar training that you can register for here.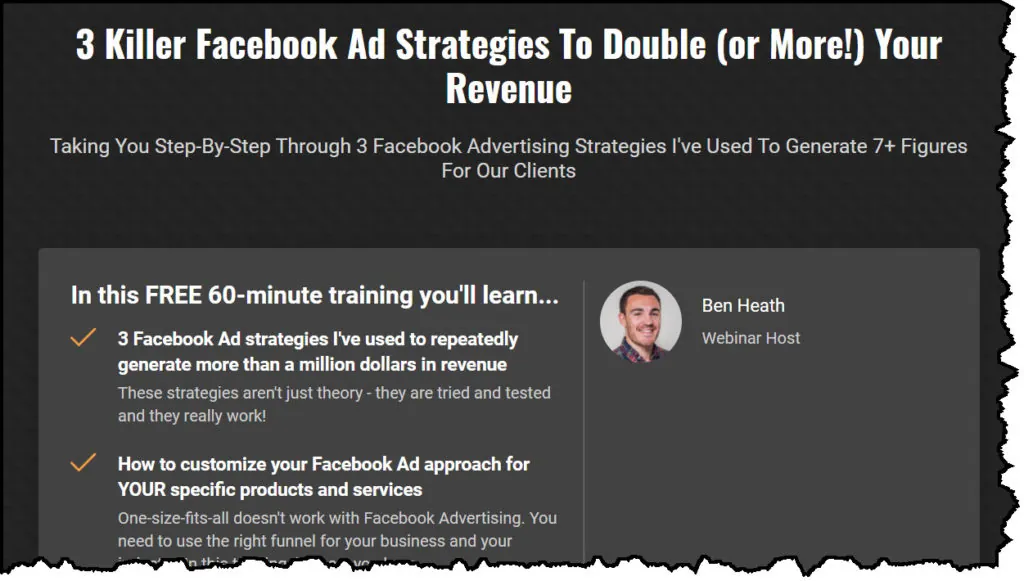 When you attend this webinar you'll learn:
3 different Facebook ad strategies that we use every day. These strategies have generated millions of dollars in revenue and are tried and proven to work.
How to customize the Facebook ads strategy to your particular business. There is no such thing as a one size fits all approach to Facebook ads.
How Facebook and Instagram have changed and how to adjust your ad strategy to what works in 2021.
Facebook Ads for Small Business – Video Tutorial
In this tutorial I provide a full example of running ads for small businesses on Facebook. If you don't watch anything else make sure you go to minute 9 where I explain in detail the kind of offer your ads should be making as a small business.
The Bottom Line on Facebook Ads for Small Businesses
Small businesses need to approach Facebook ads differently than their big brand competitors. You have to go for what you want to achieve – conversions or leads – and have an offer that stands out from the competition.
If you do those things many businesses will get good ROI with Facebook ads over time.