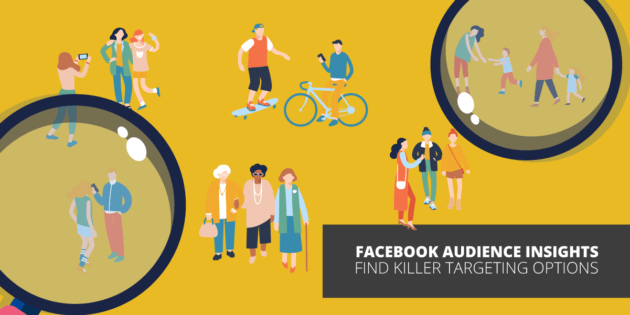 Facebook Audience Insights Explained – How to Find Killer Facebook Targeting Options
UPDATE: Facebook have retired their Audience Insights tool. This article provides you with a workaround: How to Find Facebook Targeting Options Now That Facebook Audience Insights Is Gone!
Facebook audience insights is a fantastic tool for finding targeting options to run ads to on the Facebook ads platform. But I find that not a lot of businesses use it or know how to use it well.
You may know that I'm a big fan of using lookalike audiences that are based off of previous customers, but not everyone has a list of 100s or 1,000s of previous customers to use to create a lookalike audience from. And that's OK.
Everyone has to start somewhere and understanding the audience insights tool in Facebook is a great place to find people to target while you build your buyer lists so that you can build powerful lookalike audiences.
How Does Facebook Audience Insights Work?
The way that the insights tool works on Facebook is to help you dig into the Facebook platform so that you can identify groups or pockets of people who might be interested in the product or service you have to offer.
Note: The Facebook Audience Insights tool has a ton of options. I'm not going to show you each and everyone of them because it can cause information overload.
What I am going to do is show you EXACTLY what we do for our clients when we first start working with them to get some great potential targets for them to run ads to on Facebook.
The 10 Minute Facebook Audience Insights Path to Killer Targeting
When people start out with us, we normally go through this 10 minute process to help figure out who to target on Facebook. I'll take you through it step-by-step.
Where to Find Audience Insights on Facebook
To get to audience insights you click on the three little lines at the top of the screen in your ads manager and select audience insights from the drop down box.
Setting Up The Demographics
Then you get the default settings for audience insights that looks something like this.
The very first thing you need to do is adjust the location to where YOU are going to advertise. If you aren't in the US, then take the United States out and add your location.
I usually recommend that you do this by country because generally you want a larger area, but you can also select cities or regions if you have a local business.
For the age and the gender I almost always leave this VERY broad and leave it at the default settings, because it's usually better to research this way.
The only exception is if your business caters to 90% male or female or the only people who buy your products are over or under a certain age. If that's the case then adjust these settings.
Interest Selection
When it comes to the interest selection you want to start with interests that are both broad and related to your industry. It's important to not go too narrow at first.
For example, in the internet marketing space I might start out with someone popular like Gary Vaynerchuck – he has a huge following and it's a very broad interest – you can see that 150 million plus people are in this audience.
But he's also got a specific point of view about marketing, so it works on both levels.
Important: When you start filling out your interest section you want a target that is both broad AND related to your industry.
These broad targets can include:
Influencers in your niche
Large magazines
TV channels
Big brands
Tip: Not everything you think of will have a Facebook audience associated with it. If it doesn't that's OK, just try something else.
This will turn up a ton of information for you – including what kind of people follow the interest you put in.
For example the audience that follows Gary Vaynerchuk skews more male than female and is younger than I was expecting.
This is all really interesting information, but it's also not what we're really looking for. Instead, what I want is under the page likes tab.
This is where the gold is.
The reason is that what we are trying to do here in this audience insights guide is to show you how to find targeting options that we can use in Facebook campaigns when we first launch them.
So what we do is go through the list of page likes and make a note of any targeting options that look like they might be good.
I do this in a spreadsheet.
In this page likes section I'm finding some great options:
Tim Ferriss
Facebook Business
Entreperneur
There are more, but you get the idea…
But not all of these interests listed under page likes are going to work. Things on this list like the UFC sports league and Dollar Shave Club might not be such good options because they don't match user intent – they aren't directly related to marketing.
You'll have to use your judgement and think through how related the suggestions that are given are to the business you are in. The closer the better.
Next you want to scroll down the page and check the affinity score section.
There will be duplicates here from the top of the page likes section, but there are also probably new listings. In my field of marketing I might also include:
Eric Thomas
Les Brown
Tony Robbins
Tip: If you don't recognize a name or brand in this list check out their page on Facebook. You should be able to quickly tell if the interest on the list is related to your business.
I wasn't sure who The Points Guy is, so I looked him up on Facebook and decided that although it's interesting that he helps people with travel points, he's probably not the kind of page I want to target to find people interested in marketing.
Digging Deeper
Once you have your initial list compiled on a spreadsheet, it's time to dig deeper. Take one of the topics that you've already picked and put it into the interest section (make sure to delete your original interest).
In this case I chose Entrepreneur magazine.
This gives me an entire new list of page likes and affinity pages to dig into.
Using the methods above, keep adding potential targets to your list and exclude things that aren't tightly related to your business.
Repeat this methodology until you have a nice, solid list that you can start with.
This entire process should take about 5 or 10 minutes to compile a list of initial targets on Facebook using the audience insights tool.
For extra credit you can do a deep dive into Facebook analytics to uncover interesting and useful insights if you've already been active on the platform.
Creating Your Ad Campaign
Once you have your list compiled from Audience insights, you'll want to set up your ad campaign.
Set up an INDIVIDUAL adset for EACH of the interests in your list.
Note: For this initial round of advertising, you'll want to narrow your list down to the 10 or 12 most tightly related options. Don't overthink it, just do your best.
Assign a VERY SMALL budget to each targeting option, because there will be a lot of overlap between audiences at this beginning stage. Don't worry about that.
What you're looking for are the audiences that perform the best. Some will perform better than others and that is completely normal.
Pause the ones that aren't performing well and add budget to those that are performing well.
If you find audiences that are working well, it's a good idea to start combining any smaller audiences you have in order to increase the longevity of your campaigns.
The Goal – Lookalike Audiences
Ultimately, interest targeting is helpful for getting started on Facebook, but it's really ONLY there to help you get started.
As soon as you have 100 or 200 purchases or optins (depending on your goals for Facebook ads) then you want to start creating lookalike audiences.
In my experience, lookalike audiences usually perform better than any other type of targeting you can do.
FREE WEBINAR: 3 Killer Facebook Ads Strategies To Double (or More!) Your Revenue. If you want better results from Facebook Ads – this is a must watch!
Facebook Audience Insights Tutorial Video
In this video I show you how to use Facebook lookalike audiences. At time stamp 5:46 I show you how to sort through the options that Facebook is presenting and how to choose the best ones.
The Bottom Line on Using Facebook Audience Insights
The Facebook audience insights tool can help you to turn up related interests on Facebook that you may not otherwise think of.
It's an important place to start when you are working on a brand new campaign and don't have buying data yet. Once you get the first 100 to 200 buyers, then you can create lookalike audiences to power up your campaigns.