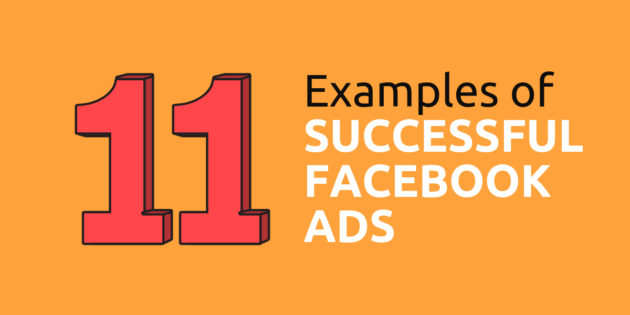 11 Examples of Successful Facebook Ads
Are you looking for inspiration for your next Facebook advertising campaign? It doesn't matter whether you are B2B or B2C – many businesses have found success in generating brand awareness, traffic, and engagement through the Facebook ad platform. In this post, I'll share eleven examples of successful Facebook ads that I have seen in my newsfeed or had shared with me over the last couple of weeks.
#1 Monday.com with 39.8M Video Views
This fifteen-second transformation of a project manager's chaos to order has the most video views, shares, comments, and reactions of any Facebook ad I have seen in a while.
Does that make it one of the most successful Facebook ads of the year? Quite possibly. The fact that this company continues to allocate funds to promote a video over a year old suggests that it has performed very well and delivered on the company's objective. Click here to watch the video ad.
#2 Square with 3.3M Video Views
The second most popular Facebook Ad in regards to video views that I've seen recently is from Square. It offers a free sign-up and no hidden fees for a small business point of sale tool.
The video views and social proof are impressive and the most relevant comments are positive. However, you might notice the top three reactions include angry – don't let this fool you…
If you take a closer look at the reactions you'll see that only 21 out of 1,429 reactions that are angry (hardly a big deal). In this case, they would only need an additional 16 laughs or 17 wows to fix it.
Here's the video ad in all it's glory 🙂
#3 LendingClub with 1.1M Video Views
Next on the list is LendingClub, (ad link here) that tries to turn stressful credit card debt into a lighthearted vacation.
While it's not a wholly popular topic of conversation in the comments, the Facebook ad itself has gotten LendingClub quite a bit of brand visibility.
#4 Hilton Honors with 1,100 Shares
While monday.com technically received the most shares of all of the Facebook ads I saw recently (over 5,000), we've already covered their ad, so I'll move on to Hilton Honors.
It's no surprise that Hilton Honors received so much engagement for this ad, considering it's a contest for a five-day getaway to the winner's choice of one of 30 destinations.
It's nice to note that you can receive lots of shares for your business's ad using a contest. Even if you cannot ask Facebook users to share the ad as a way to win, as per Facebook guidelines.
#5 Hershey's with 959 Shares
Want another example of giveaways that increase engagement? Here's one.
Hershey's offers five people a week the chance to win $50 worth of candy. And at the end of the promotion, one lucky winner will win the $500 grand prize (also candy).
This successful Facebook ad again proves you can get lots of shares as a trusted brand name by offering a great prize.
#6 NeuroStar with 739 Shares
Facebook users are not only sharing ads about vacation and candy giveaways. Over seven hundred shared this Facebook ad about an advanced depression treatment with their family, friends, and colleagues.
Considering over 300 million people of all ages suffer from depression globally, ads related to mental health awareness are worth a share.
#7 CenturyLink with 4.6K Comments
With over 4,600 comments, CenturyLink has done a fantastic job of generating comments with this Facebook ad.
While the first comments from Facebook users may not paint the most flattering picture, CenturyLink does make an attempt to redeem themselves with responses from their customer service team.
This is a great takeaway for businesses with a less than stellar reputation that want to advertise on Facebook.
Do not ignore negative public opinion – confront it head-on with your best customer support.
If your customer support rises to the challenge, your fans will also come out to support your business. Browsing further through the comments, I found more positive customer experiences.
CenturyLink customer service even rewarded satisfied customers for happy reviews of their service.
#1 (Again) Monday.com with 4,300 Comments
Revisiting the same ad from the beginning of the post. Monday.com's Facebook ad promoting a video published over a year ago has over 4,300 comments.
Monday.com's responses have been fun, friendly, and professional.
Monday.com's customer support team demonstrates both a "love" of their product and social media trends, using emoticons and gifs in their responses.
They also handle criticisms and references to their competitors well, which demonstrates confidence in their product to potential customers.
#8 Product Testers Club with 2.1K Comments
What happens when you launch your ad and something goes wrong with your product or people question your business's service? Create your own most relevant comments.
When the most relevant comments for this Facebook ad gave a negative impression of the Product Testers Club, they began adding comments to address people's concerns about the technical errors, payment methods, and violations of review guidelines for major shopping networks.
#9 RTIC Outdoors with 13.4K Reactions
While it may not have beaten the first ad on our list, RTIC Outdoors' Facebook campaign promoting a half off sale on overbuilt, not overpriced coolers made an impression on ad audiences. It generated thousands of reactions, comments, and a whole bunch of shares.
#10 AT&T with 10.4K Reactions
AT&T received over ten thousand reactions by pointing out how strong a smart speaker can be with a solid internet connection.
In three seconds, this video points out how any smart technology can be powerless without the backing of a consistent internet service provider.
Their ad comes after much discussion about ISPs throttling internet speeds while streaming content providers continue to increase the quality of their content.
#11 Smilelove with 2.3K Reactions
Everyone loves a great smile, but no one loves traditional braces or going to the dentist.
Smilelove advertises a service that allows people who want a better smile to get one with fewer visits to the orthodontist and clear aligners instead of metal braces.
Best of all, the cost is much less than what you would get at the orthodontist, assuming you qualify.
The pricing seems to vary, according to the comments, but overall, the reactions seem to be abundantly positive.
(IMPORTANT: Want better results from your Facebook Ads? Check out my free training called: 3 Killer Facebook Ads Strategies To Double (Or More!) Your Revenue!)
Let's Recap Our 11 Successful Facebook Ads…
So what makes a Facebook ad successful?
If you want more video views, make the content short, sweet and engaging
If you want more shares, make the product something people want or need (ideally in a giveaway)
If you want more comments, make the conversation a two-way street.
If you want more reactions, make the ad stand out.
Every view, share, comment, and reaction creates brand awareness.
Which of the 11 successful Facebook ads above is your favourite? How are you going to use them to help you get better results from your Facebook ads? Let me know in the comments below.