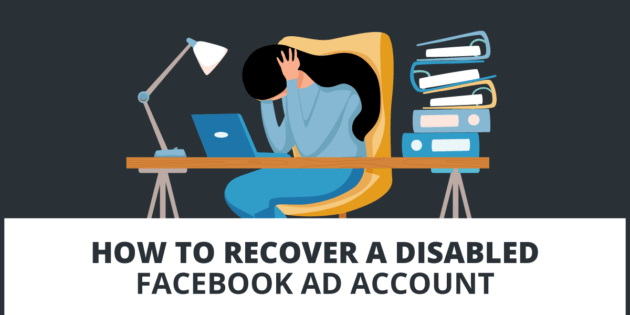 How to Recover a Disabled Facebook Ad Account
This is a question I get asked all the time. People want to know what to do when they get their Facebook Ad account disabled. Often they didn't break any of the rules or work out what went wrong.
Honestly, this is probably the worst part of Facebook advertising. Their ad disapproval process and their ad account disabling process are brutal.
And Facebook is far too keen and often too quick to disapprove ads and accounts that don't actually break any of the rules.
Now, this is something we deal with as an agency and we're not immune because of the scale that we operate at.
I would say at least once a week we have one of our clients' ad accounts disabled by Facebook.
The good news is that there are ways you can get your ad account back quickly provided that you haven't broken the rules.
Given how important this is for our business, we've come up with a number of ways of doing so.
Getting your ad account back up and running is probably really important for your business as well. These steps should help…
How to Recover a Facebook Ad Account
The first thing you need to do is fairly obvious and that's request a review.
When you go into your Facebook ad account and it's been disabled you'll see a notification that says your ad account has been disabled for policy violations.
That's what Facebook normally say. And frustratingly Facebook doesn't often give any more information than that or tell you what's going on. It's very annoying and very unhelpful.
Step 1. Request a Review
In Facebook's notification that your ad account has been disabled, you should see an option to request a review.
You want to click on that link and then go through the process that's described.
Here you can explain why you didn't break the rules and why your ad account should be reinstated.
If Facebook did provide a specific reason or policy violation, it's best to explain why you did not break that rule. If Facebook didn't provide more detail, you can say something like "I'm not aware of any policies that I've broken."
Important: The steps that I'm outlining here will usually work if you haven't broken any rules. But if you have broken Facebook's advertiser policies, you are probably not going to get your ad account back.
You are also likely to get your Facebook ad account reinstated if it's clear that you made a minor mistake and your ad account has only been disabled once.

Either way, after you have requested a review, you want to go through these steps.
Step 2. Live Chat with Facebook Business Support
As soon as you've requested a review, the next step is to go to Facebook.com/business/help
That link will take you to Facebook business help center.

Ignore the support link at the top and scroll down to the section that says "still need help? contact our support team."
I wouldn't worry about any of the other stuff on the page. Facebook are just trying to avoid you getting in touch with them, with standard answers to common questions.
Click on the Chat button if it's available. If it's not available then you need to fill out a bit more information.
First you select the asset that you need help with. In this case, that will be Facebook ad account that has been disabled.
Then select the issue that you're dealing with – in this case your ad account being disabled.
Then you can scroll down to "contact support."
Which will finally take you to the chat section.
Facebook don't make it easy for you get on live chat with them, but you can get to it if you know the steps.
With this you can typically get in touch with someone pretty quickly instead of waiting for weeks and weeks for a review.
You just fill out your phone number, type in the issue, and then start the chat.
When you do this you can often speed up the process massively. We've gone through this chat and have had accounts re-enabled in as quickly as 20 minutes or an hour or two.
Now, we don't break the rules in our agency. And we can't get this fixed this quickly in the middle of the night.
But if you explain your situation in a calm and professional way on the chat this will often work.
Pro tip: Some Facebook support team members are more proactive than others. If you get someone who isn't, sometimes it's best to politely end the chat and try again with a different person. What you're looking for is someone who will really look into the issue for you.
Please note that this live chat option is not available for all Facebook advertisers or in all locations.
Bonus Tip: If You Are Offered a Facebook Ad Rep ALWAYS Take Them Up On It
Another tip is that once you start doing some volume on Facebook, they will offer you a call with an ad expert. Always take them up on this.
That way if you run into problems with your ad account, you'll have someone you can contact who can help get it sorted.
This can really help expedite the process and sway a decision in your favour if your account got banned for a grey area issue.
More FREE Training on Facebook Ads
There is nothing I like better than to see business owners increase their ROI with Facebook Ads. In order to help business owners succeed with Facebook ads I've created a FREE webinar training that you can register for here.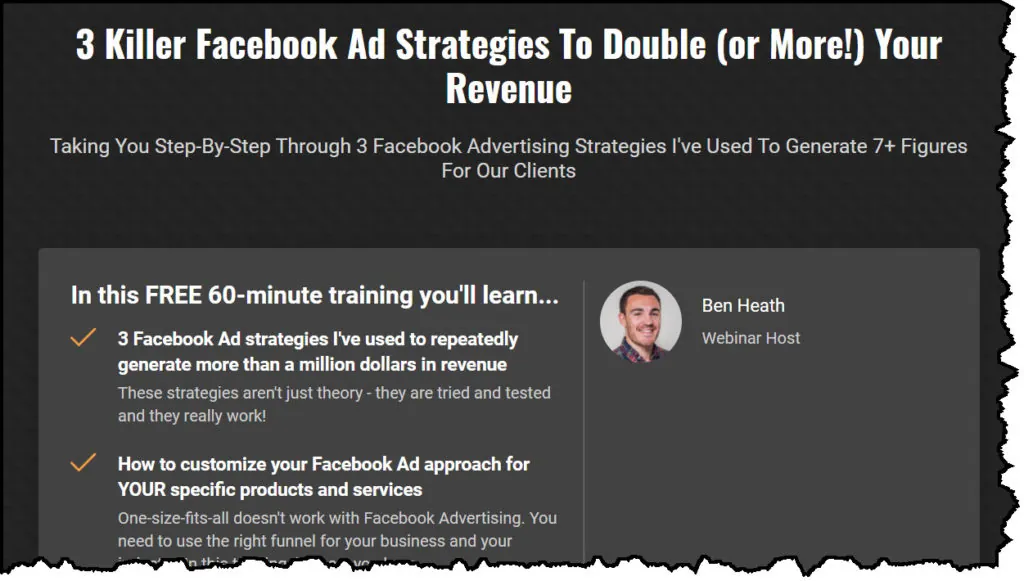 When you attend this webinar you'll learn:
3 different Facebook ad strategies that we use every day. These strategies have generated millions of dollars in revenue and are tried and proven to work.
How to customize the Facebook ads strategy to your particular business. There is no such thing as a one size fits all approach to Facebook ads.
How Facebook and Instagram have changed and how to adjust your ad strategy to what works in 2021.
Video Training on Recovering a Facebook Ad
In this video I go over the simple (but often hidden) steps to getting a Facebook support team member on chat to speed up the process of getting your ad account reinstated.
The Bottom Line on Recovering a Facebook Ad Account
Facebook doesn't really scream from the rooftops that they have chat support and you have to jump through a few hoops to get there.
But doing that can greatly speed up the process of getting a Facebook ad account up and running if they disable your account by mistake.
(Something that unfortunately happens all the time!)