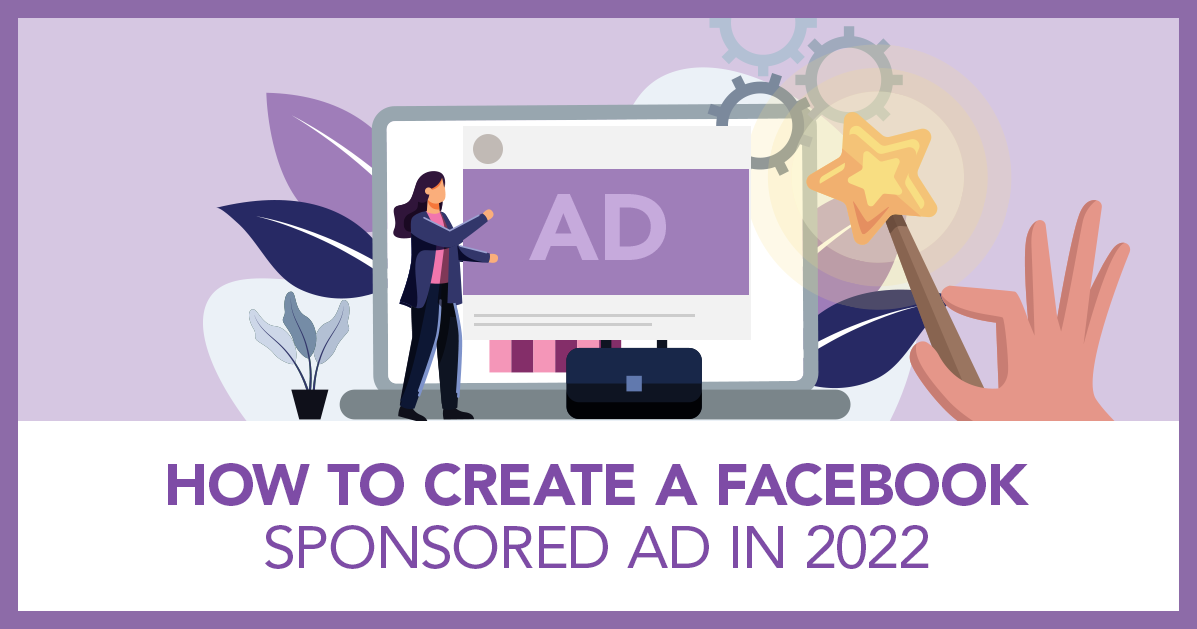 How to Create a Facebook SPONSORED Ad in 2022
Facebook sponsored ads are the posts that you see the sponsored tag on. These are paid ads in Facebook and Instagram. Since there are almost 3 billion people that use Facebook and Instagram every month, lots of businesses want to be able to use these sponsored ads and get their business in front of Facebook's massive audience.
In this guide, I'm going to show you how to get your products and services in front of people using Facebook sponsored ads to drive sales.
How to Set Up Sponsored Ads In Facebook (META) Advertising
The first thing you need to do when you're setting up Facebook sponsored ads (now known as Meta ads) is set up a business manager account. This is a simple process that you can do in just a few steps.
Resource: Click here for my guide on how to set up a Facebook business manager account. I go over how to do this step by step and include screenshots to guide you.
Once you are in your business manager account you will want to create a campaign.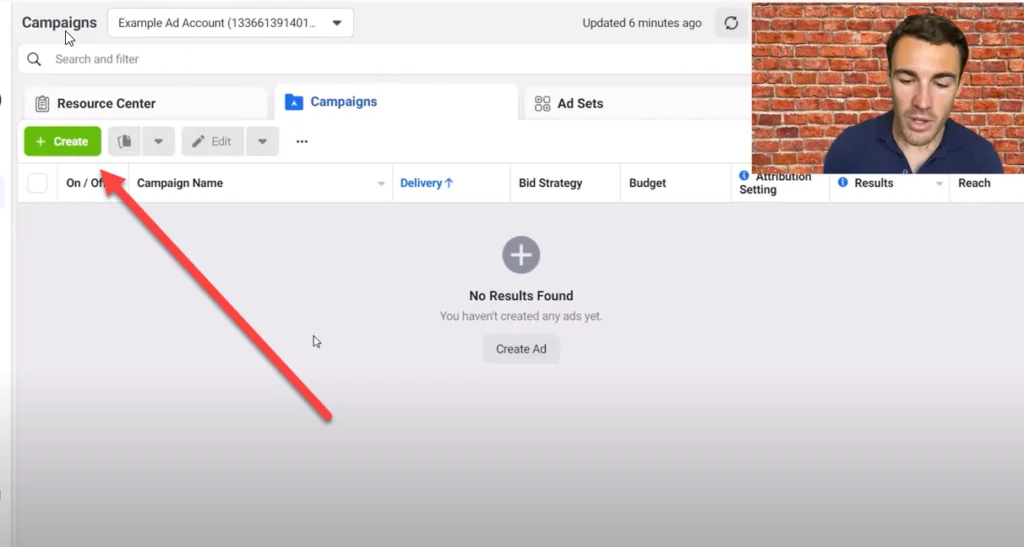 In most situations, the best way to create a campaign is to create a conversion campaign. In order to set up a conversion campaign, you will need to place a pixel on your website so that Facebook can track conversions.
Conversion campaigns convert better in 90%+ of situations and most business owners find that conversion campaigns give them the very best ROI.
Don't worry! This sounds much more complicated than it actually is. Placing a pixel is far easier than it seems and you can usually do it in a few minutes.
Resource: If you don't know how to place a Facebook pixel on your website, please see my step by step guide How to Install the Facebook Pixel on a Website (Including WordPress).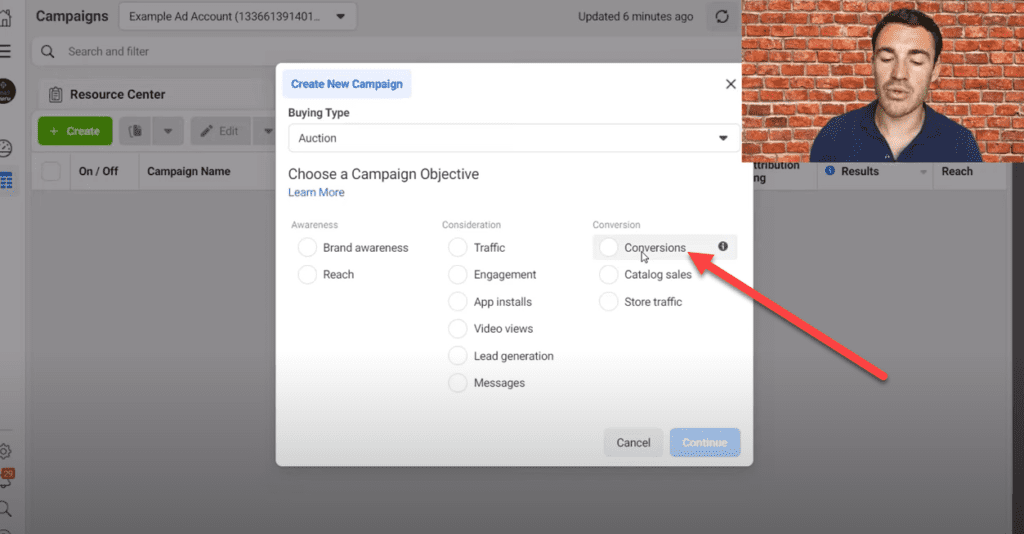 If you want to skip installing the pixel for now then you can go ahead and choose the traffic objective.
The next step is to give your campaign a name. You're the only one who is going to see this, so you can use whatever naming convention makes the most sense to you.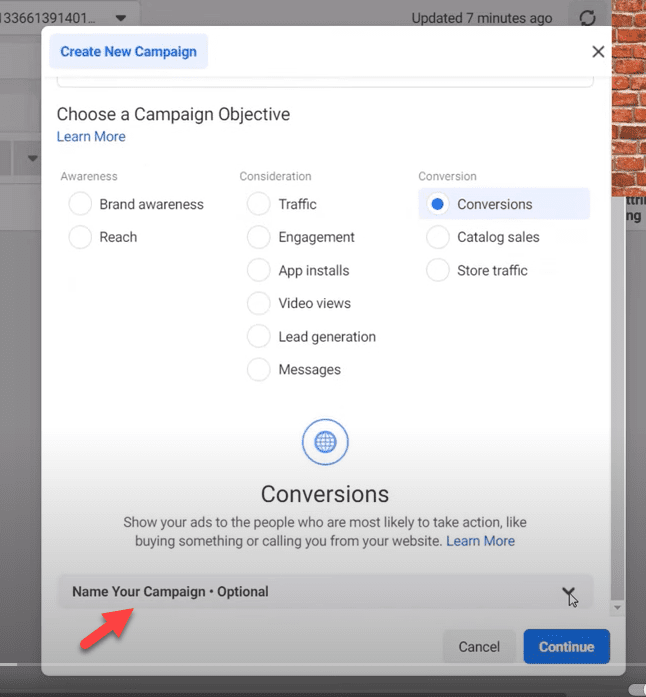 Facebook ad campaigns are organized into three sections or levels. You will have:
The campaign level
The ad set level
The ad level
The different levels govern the different parts of the sponsored ad.
Campaign Level Set Up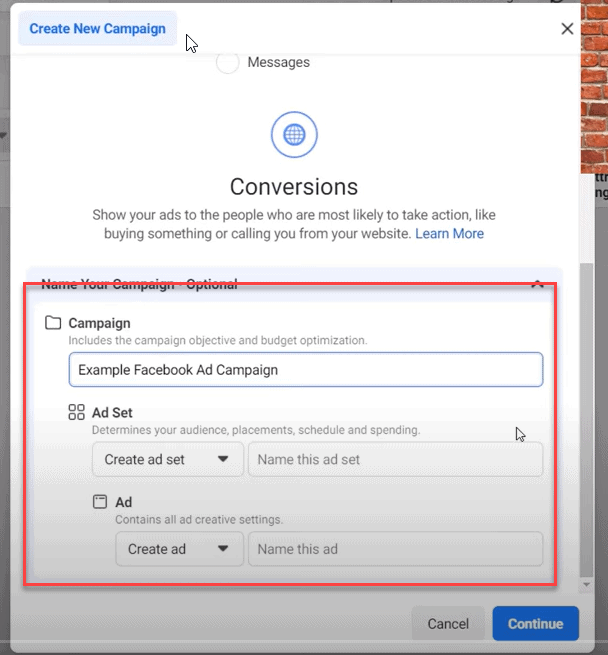 You start out by naming all three levels of your campaign. For this example, I'm going to keep it simple and call them example Facebook Ad Campaign, Example Ad Set, and Example Ad.
There are a ton of options available in the Facebook ad manager and I'm not going to cover everyone of them here. What I am going to do today is to focus on the details that you need to get right in order to run a Facebook sponsored ad. This will be very helpful if you are new to Facebook advertising or if your are running a Facebook ad for the first time.
For the campaign level, that's all you need to do for now.
Ad Set Level Set Up
Next you move to the ad set level.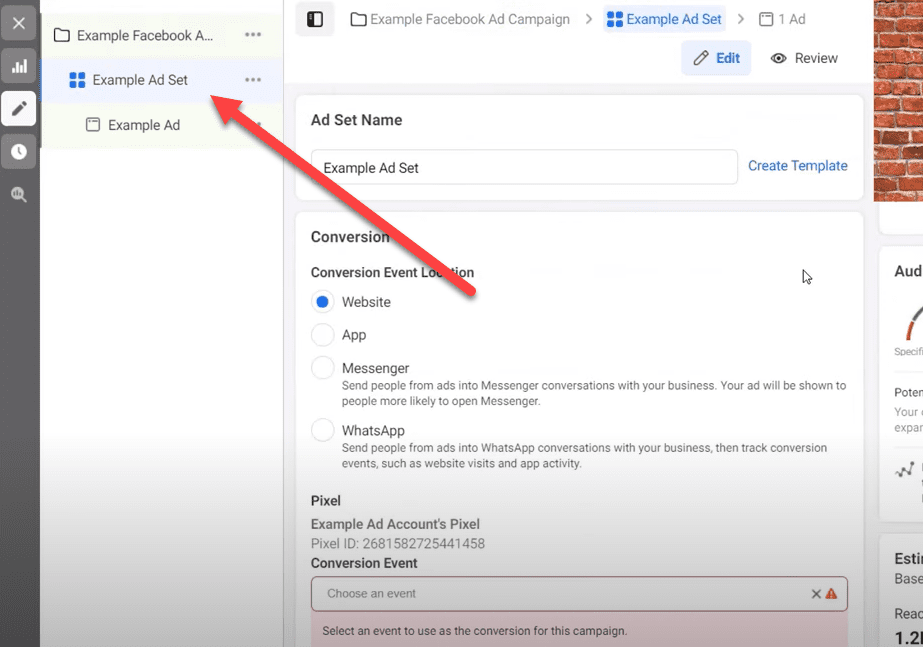 In the ad set level you will be selecting options for targeting who you're going to advertise to and the delivery settings that determine when the ads will run and where they will run on the Meta (Facebook) platform.
There are a lot of options in this section as well. If I don't cover them then you can skip over them in this initial set up.
Most of the time, you'll be sending audiences through to your website. That means that when a person clicks on your sponsored ad they'll be taken to your website.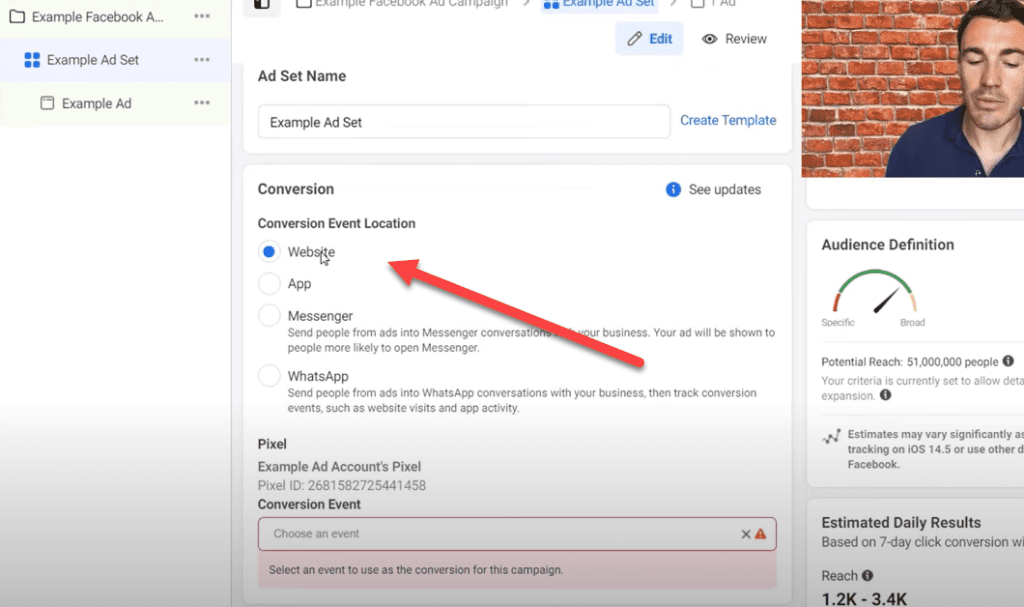 Under conversion events you will be optimizing for a specific event like purchase or lead.
What type of conversion you optimize for depends on the type of business you have. For example, an interior decorating business will usually optimize for leads because they typically have a longer sales cycle and higher price point, while an ecommerce business will usually optimize for conversions.
The next item to be concerned about is budget. You'll be using a daily budget for this as opposed to a lifetime budget. Typically daily budget campaigns will produce better results and are easier to scale.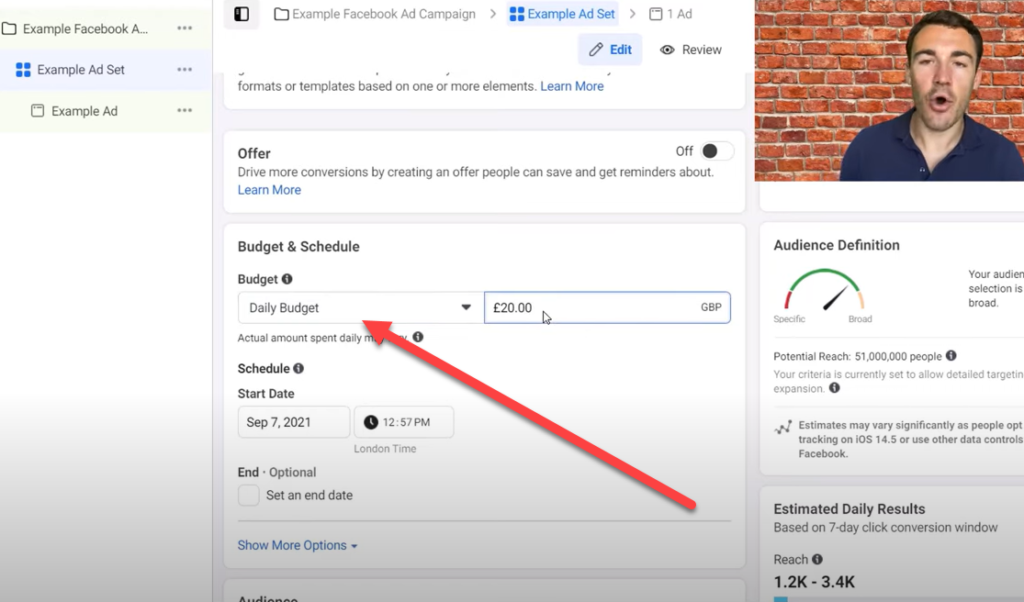 Resource: For details on WHAT to set your daily budget at, please see the post "How to Set a Facebook Ad Budget For Your Business."
Generally speaking you want to set a budget that is big enough that you'll check in on your sponsored ad, but not so big that it can make or break your business.
The next section that you'll need to look at is the audience section. Facebook offers powerful targeting options with custom audiences and lookalike audiences, but if you are just getting started I would recommend that you wait on those for a bit while you get your feet wet.
Next you'll set your location. This is where the majority of where your customers are from. If you are a local business then you can use the geo targeting options and target around the location you do business in. If you deliver products nationally or internationally then you can target every country you do business in.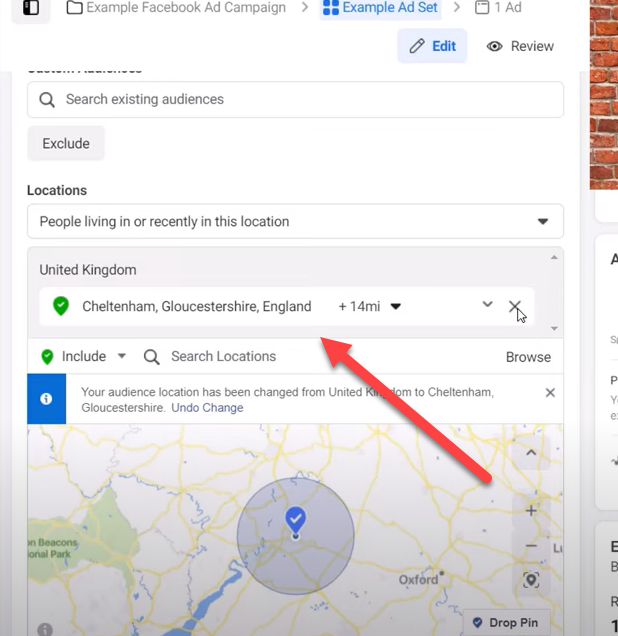 Don't overthink your location targeting. Just target customers where you do the vast majority of your business.
The next step is selecting your age demographic. With age, it's better to go broader than to go too narrow. That's because your advertising will perform better with larger audiences rather than smaller ones.
For example, if most of your customers are 30 to 45 then you may want to target a wider range of 25 to 55 in order to give Facebook's algorithm the best chance possible of being able to do what you need it to do – which is find you paying customers.
The section that you'll be filling in after location is detailed targeting. In this section you'll have a lot of cold targeting options. You want to start by selecting topics that are relevant to your business.
For instance, if you sell shoes you can type in shoes and then just start going through the list that Facebook gives you and find the subjects that are closest to your business.
Resource: I have a great resource on how to find targeting options for your Facebook sponsored ads here: How to Find Facebook Targeting Options.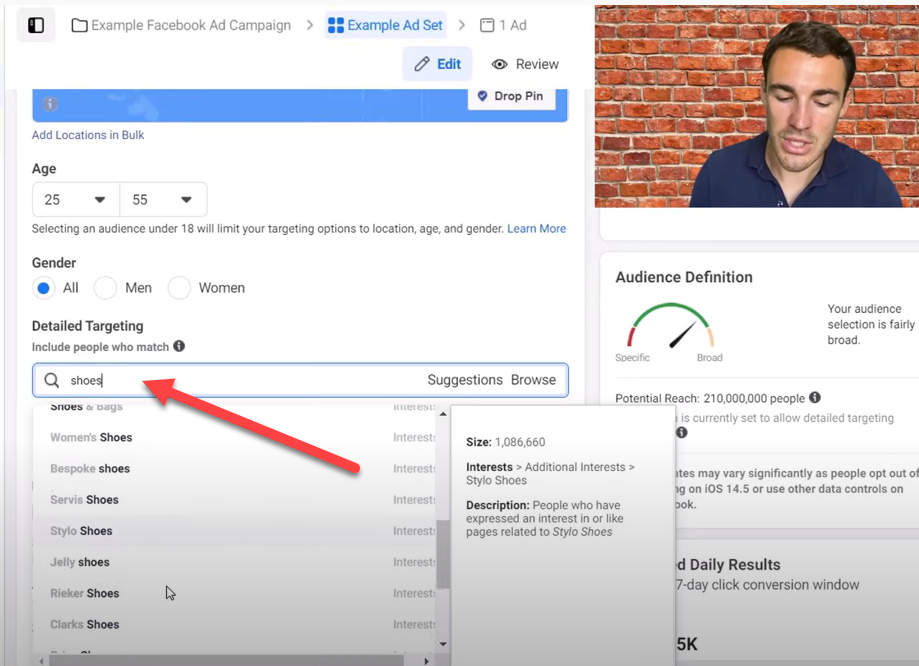 The big tip with targeting options is that broader is better than too narrow. When you target broader, bigger audiences it gives Facebook's algorithm a better chance at figuring out which customers will work the best for your business.
One thing that is important in the targeting section is to deselect the detailed targeting expansion. You want to uncheck the box and leave it unchecked while you are starting out. You can add it back in later once you have a winning ad campaign.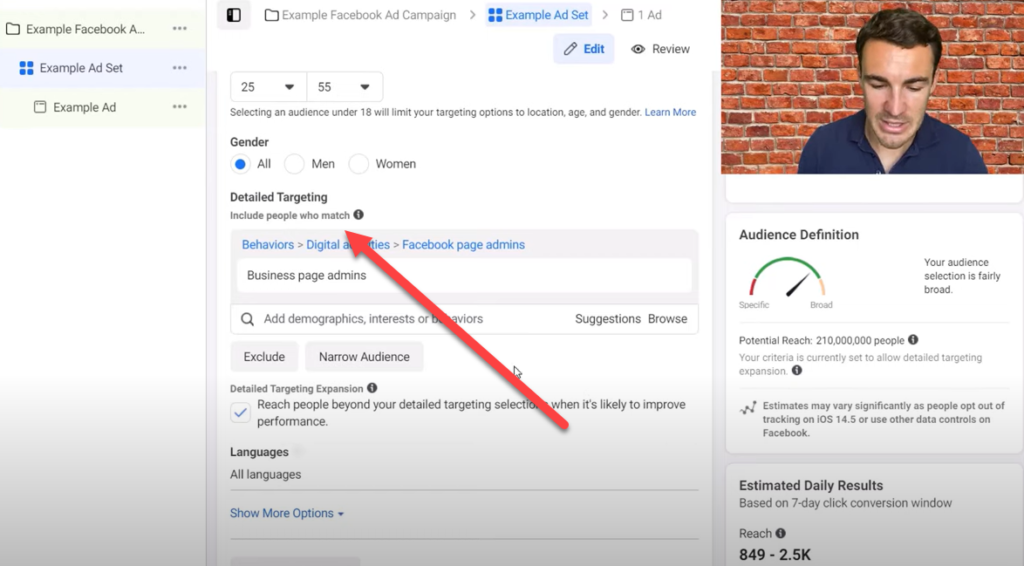 When you uncheck that box, you will get a fairly accurate audience size on the right hand side of the page. You generally want an audience size that is at least 250,000 people big. Several million people is also fine.
In this case the audience is 4 million and that is a perfectly fine audience to advertise to.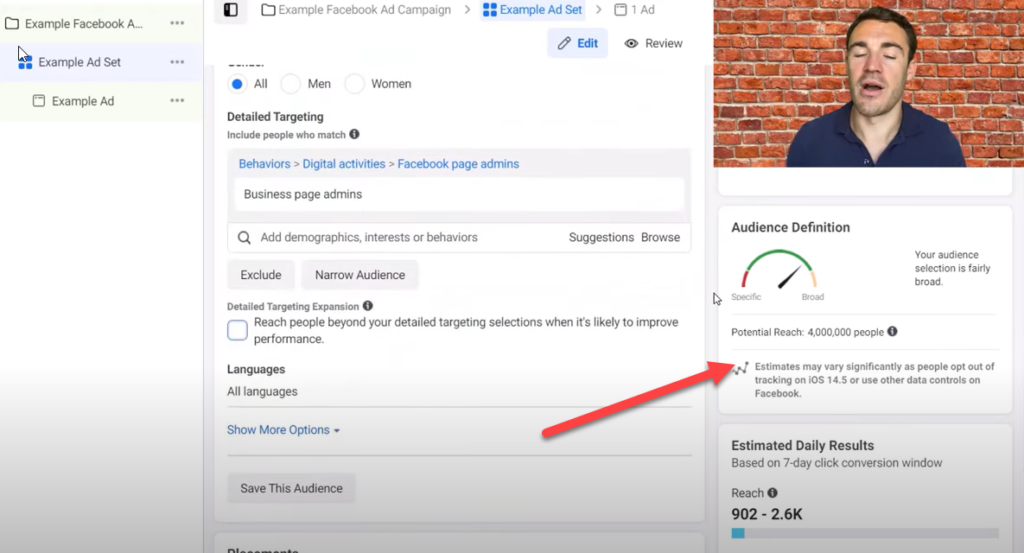 If your audience is smaller than 250,000 then you can add in extra location targeting if that works for your business or you can use broader detailed targeting or broader demographic targeting.
Sometimes very local businesses will always be smaller than 250,000 people. That's just the audience these small businesses serve and if that's the case for you, then that's OK.
Resource: For more information on ideal audience size please see this post: The Ideal Facebook Ads Audience Size.
For the language section most of the time you'll want to go with all languages. There are a few exceptions to this, such as if you are targeting only French speakers in Canada. Most of the time though all languages is the right choice.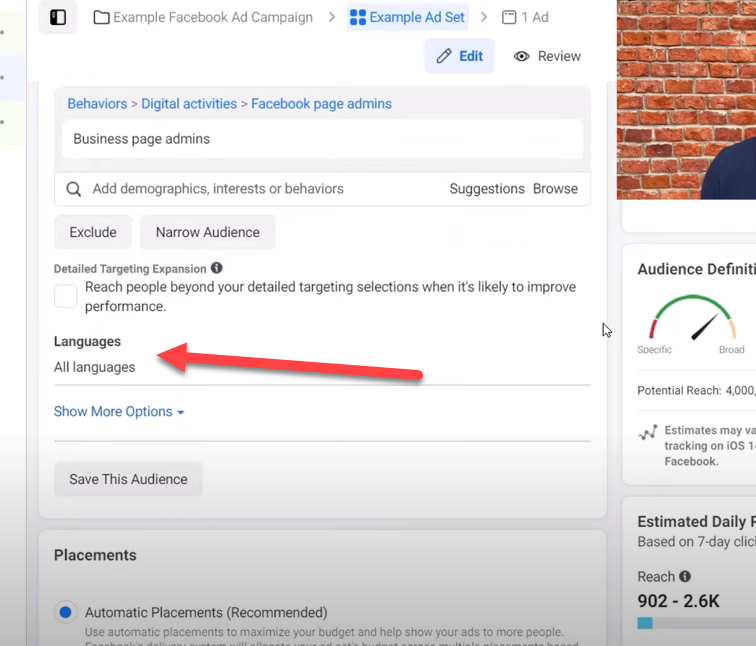 The next section you want to look at revolves around placements. Placements refer to where your ads are shown across the Facebook and Instagram platforms and the other ad networks that Meta (Facebook) uses.
The default here is automatic and if you are using the conversion objective, you can go ahead and use automatic placements. This works because with the conversion objective Facebook is going to work out where on their platform will deliver the best conversion data for you.
There are a lot of opinions out there when it comes to placements and there are a lot of options if you go manual, but generally speaking in conversion campaigns automatic placements will give you the best results.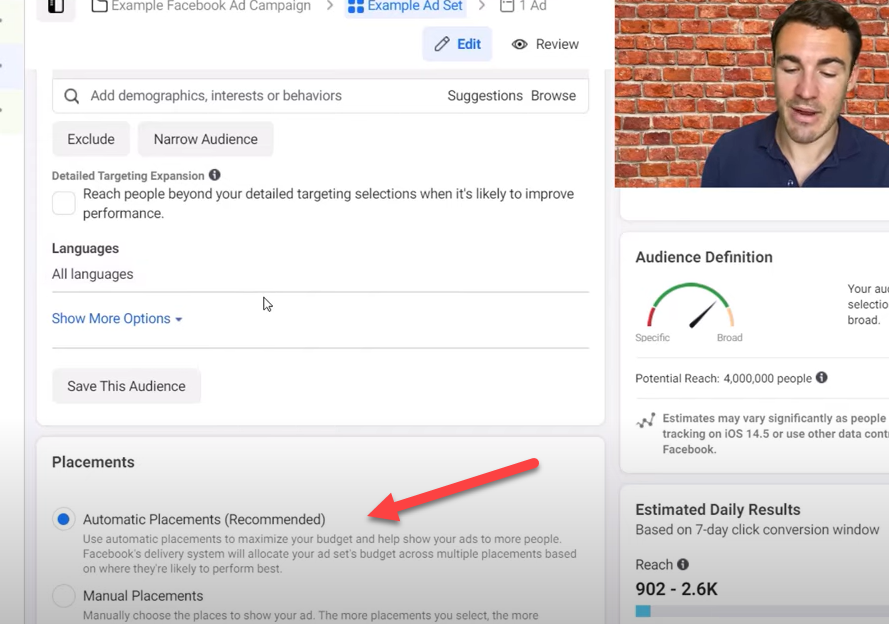 If you are using the traffic objective because you don't have the Facebook pixel installed, then you can use the manual placements setting instead of automatic placements.
You will want to select Facebook and Instagram feeds as well as the stories options.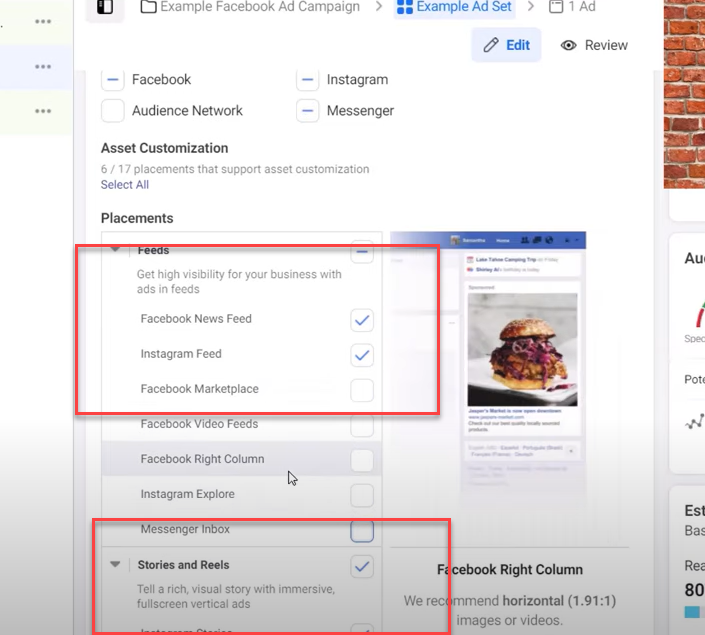 The reason that you want to narrow your placements with the traffic objective is because without the Facebook pixel data, Facebook isn't going to know who is converting and who isn't.
Ad Level
The next section that you'll need to set up is the ad level. This is the actual ad that your customer will see when you run a Facebook sponsored post.
The first thing you'll want to do is to turn off dynamic formats and creatives. This is something that you don't need when you're getting started and it really just complicates the entire process.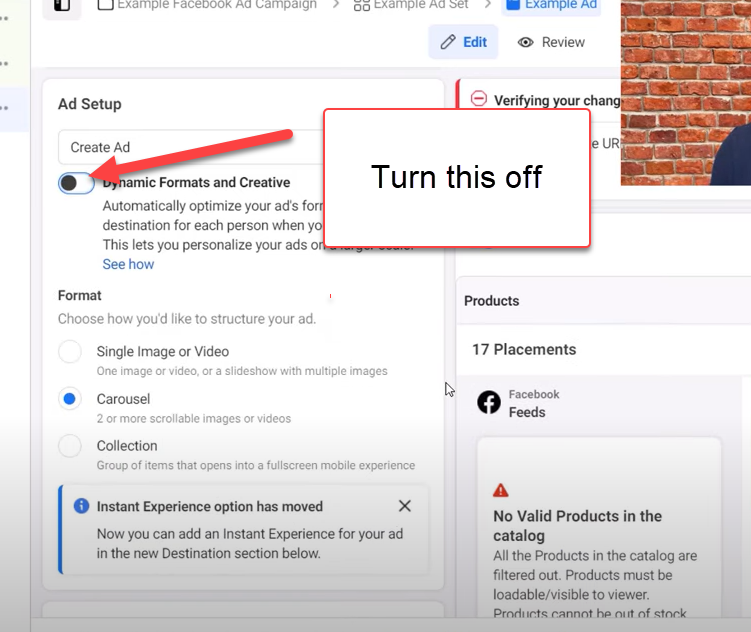 The easiest ad to set up is the the single image or video ad. Go ahead and choose that one.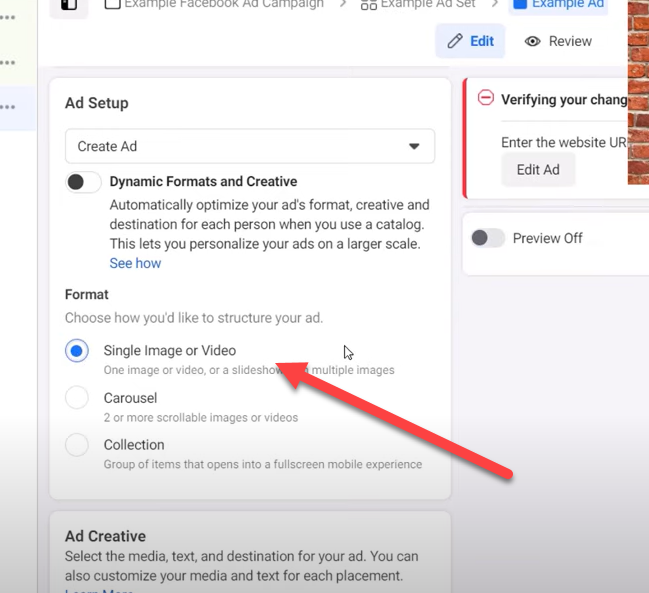 Then in the ad creative section you'll click add media. This is where you can upload your image or video or choose an image from the selection that Facebook offers for free.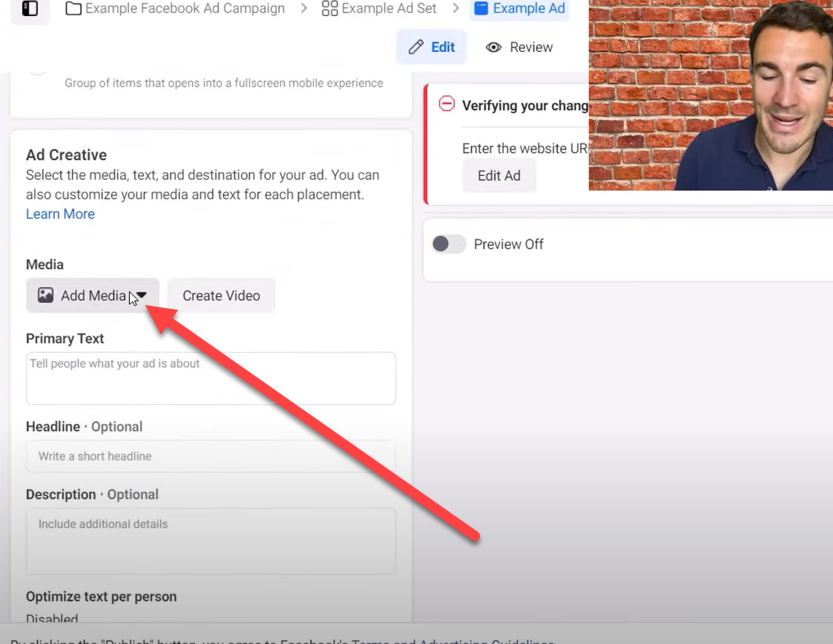 This is very straightforward. You want to try to choose an image or video that will grab people's attention as they scroll through the feed.
After you upload your video or image, Facebook will show you how your image will look in the various placement options. If an image looks bad in a specific placement then you can upload a different version of it that fits better for that specific placement. You can usually do this by cropping and editing the photo that you're using for the placements that look great.
After you ad your image it's time to add the text for your ad.
There are several sections here to fill out. In this case I've prepared all the ad copy in a document so that you can see how it works together.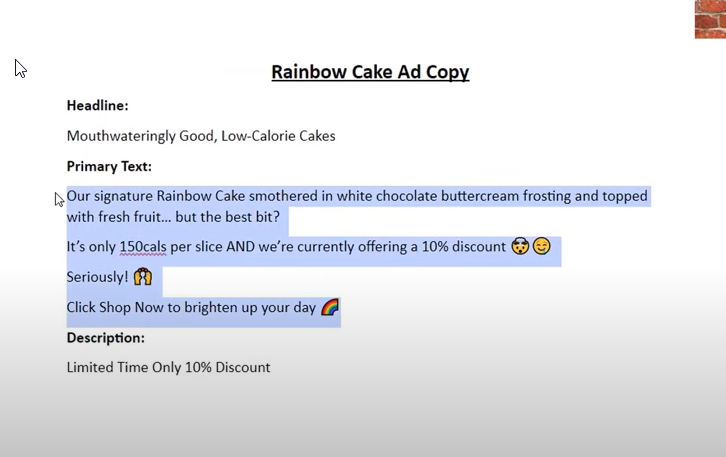 As you fill out the different sections for ad copy, I want you to notice that different ad placements will show the ad copy in different places.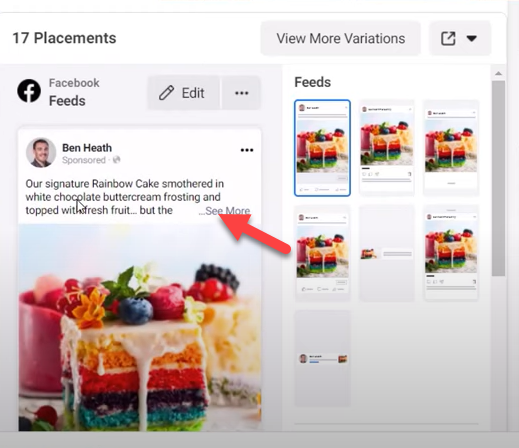 The primary text is the block of text that helps you to sell your product or service. You want to be really emotive in the copy and highlight the benefits of what you're selling.
Make sure you sue very descriptive words and try to give people an incentive to take action (in this case it's 10% off).
You don't want your ads to be stale and stuffy. They should be lighthearted and fun – especially on the Facebook and Instagram platforms.
The next piece of text you'll need is the headline. It's optional, but you do really want to use a headline.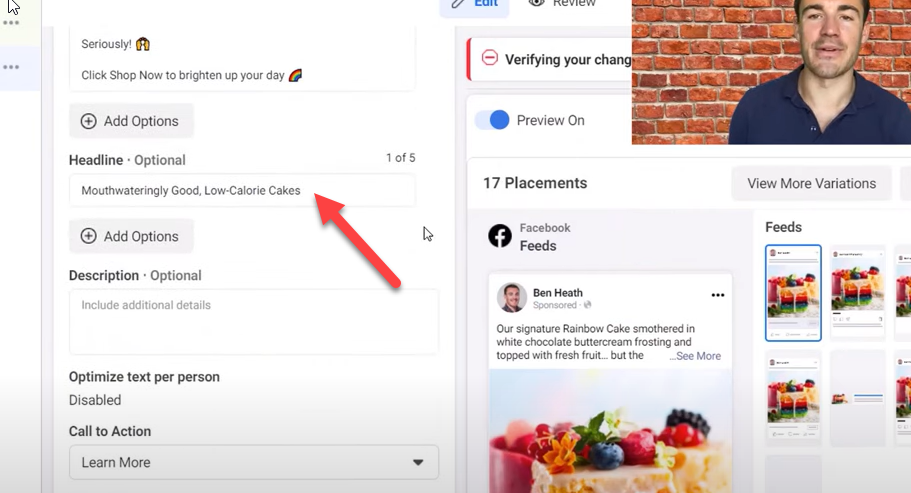 In the description you should put the incentive again. That helps people KNOW why they should take action now instead of just letting the offer pass on by.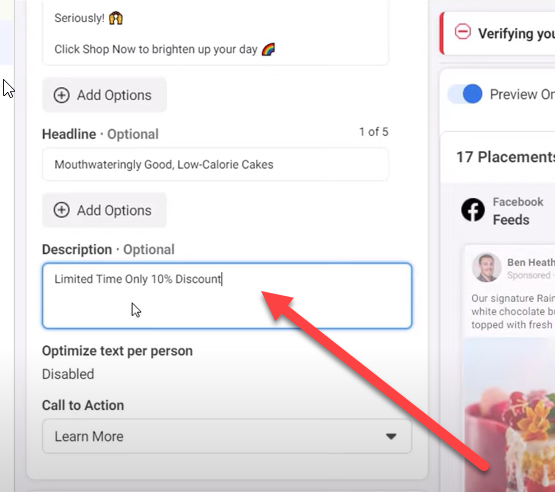 Next, you'll choose the call to action button. Don't overthink this. Just use the one that is the most applicable to what you are offering.
Usually Shop Now or Sign Up work well.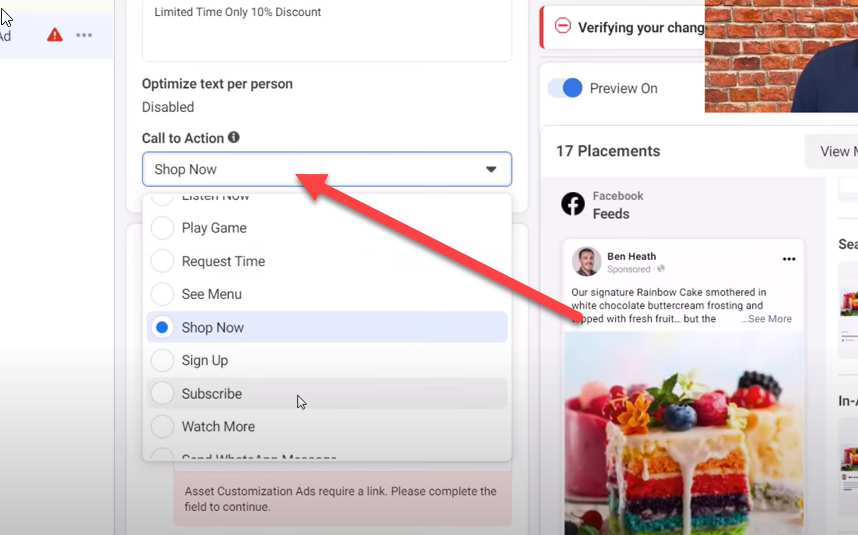 Remember to fill in the page that you are sending people to on your website. This page should be a close match to the ad so that when people get to your website they aren't confused.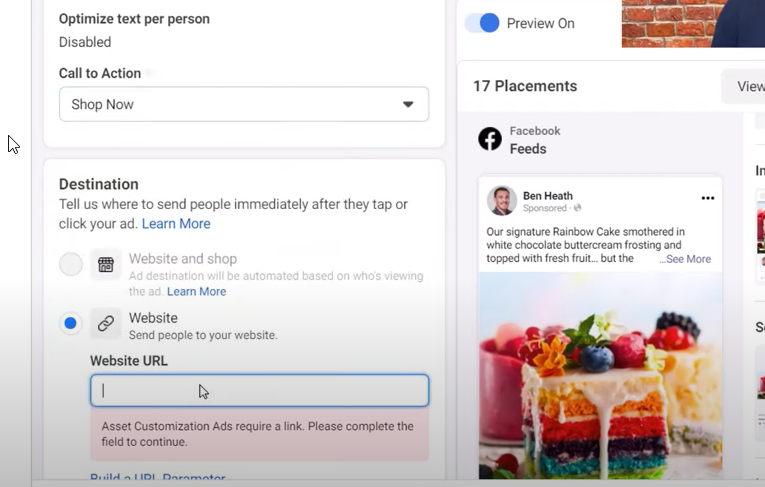 After you enter your website URL it gets into a ton of complicated stuff that you can just ignore.
Then you just do a quick check through of the ad to make sure everything looks ok and click publish.
It usually takes about 30 minutes to get Facebook to approve your ad.
Important! Make sure you are familiar with the rules for Facebook ad campaigns. If you break the rules your ads will be denied and you can potentially lose your Facebook account.
Another Awesome Free Facebook Training Resource
There is nothing I like better than to see business owners increase their ROI with Facebook Ads. In order to help business owners succeed with Facebook ads I've created a FREE webinar training that you can register for here.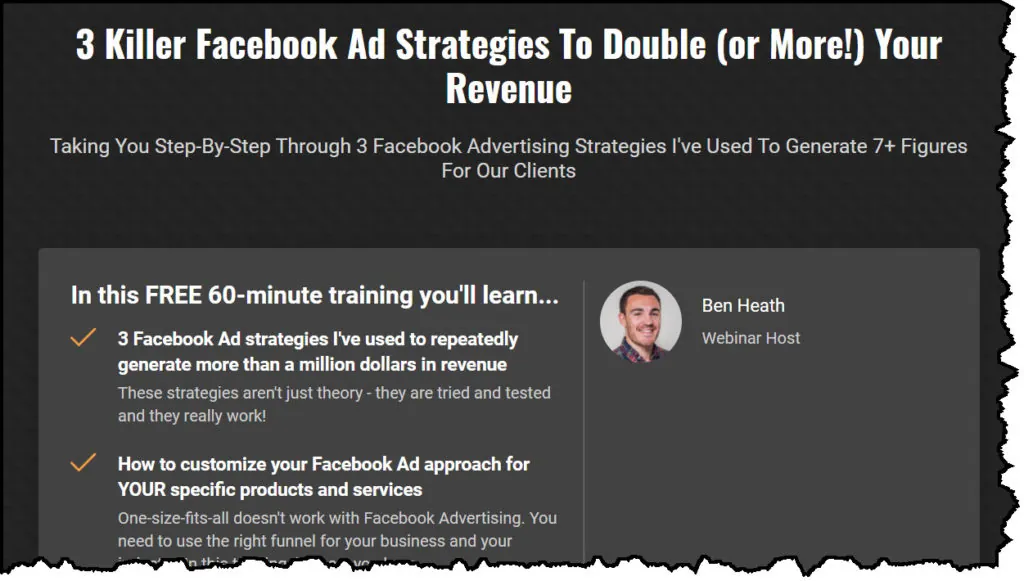 When you attend this webinar you'll learn:
3 different Facebook ad strategies that we use every day. These strategies have generated millions of dollars in revenue and are tried and proven to work.
How to customize the Facebook ads strategy to your particular business. There is no such thing as a one size fits all approach to Facebook ads.
How Facebook and Instagram have changed and how to adjust your ad strategy to what works now!
Video Tutorial on Setting Up Sponsored Ads in Facebook
In this thorough video tutorial I go over each step of setting up sponsored ads in Facebook.
The Bottom Line on Sponsored Ads in Facebook
The Facebook ads platform can be intimidating when you first start working in it. But you can set up sponsored ads easily if you follow the basic steps in this guide and ignore all the other options that Facebook puts in front of you.