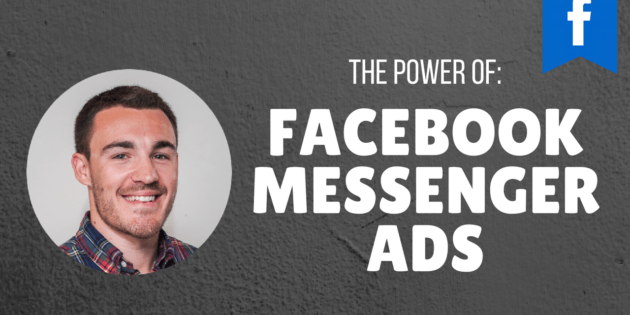 The Power Of Facebook Messenger Ads
Facebook Messenger Ads
If you've kept up to date with the latest Facebook advertising developments, then you'll have heard of Facebook Messenger ads.
And in this video I explain what they are, and why you should start using them RIGHT NOW.
Facebook Messenger ads are awesome and I'll explain why.
There are a few different variations of Facebook Messenger ads, but I'm going to focus on the comment to messenger Facebook ad.
So this is how it works. When someone comments on a post of yours, that could be an image or a video post.
They immediately receive a message in Facebook messenger.
The best way to understand this, is to see it in action.
So jump over to our Facebook page, and find this video post (it will be somewhere near the top of the page).
Because this video post in Facebook is a Facebook messenger ad.
And you can see how this works if you leave a comment on that post right now, with the word template.
If you comment on that post with the word template, then you'll automatically receive a message from us, so that can download our free 5-Part Facebook Ad Template.
So go ahead and do that now and whilst you're seeing how it works, I'll explain why this is such an exciting feature.
Firstly, it's a fantastic way to start a conversation with your prospects.
Start A Conversation With Your Prospects
And starting a conversation is such a key step in the sales process, particularly if you offer a product or service that your customer's might have questions about.
Once you start a conversation you can do a whole number of things. You can:
Direct them to content that they'll find useful.
Give them advice on which product or service they should buy.
Overcome any objections they have.
Etc.
Starting a conversation with your prospects is a massive thing, and it shouldn't be underestimated.
Provided you're not too pushy or salesy, and look to actually help them out. I guarantee you'll generate more sales.
The 2nd thing that's fantastic about these comment to messenger ads…
Is that once someone has responded to one of your messages, they can then be added to your messenger subscriber list.
Facebook Messenger Subscriber List
And a messenger subscriber list works in a similar way to an email list.
Which means you can broadcast to your Facebook messenger list to send them content, tell them about special offers and generate sales, just like you would with an email list.
But there's a big difference.
If you've done any email marketing, you'll know that open rates and click through rates are pretty low nowadays.
If you can get a 20% open rate and a 2% click through rate on an email, you're doing very well.
But with messenger broadcasts we're seeing open rates of 80-90% and click through rates of 40-50%!
A messenger subscriber is 25 times more likely to click on what you're sending them…
Which makes them around 25 times more valuable than an email subscriber.
That's huge!
Comment On The Video Post
So hopefully you've already commented on this video post in Facebook with the word template and you've kind of seen how this works.
But if you haven't yet, let me tell you why I think you should.
As I said previously, when you leave a comment you'll be sent a message so that you can download our free 5-Part Facebook Ad Template.
In this ad template we've included some of the best performing ads that we've created for our clients in a number of different industries.
And we've broken each ad down and explained what we've included in each one and why.
So if you're looking to promote your business on Facebook then you'll find this really really useful because you can model from the examples given.