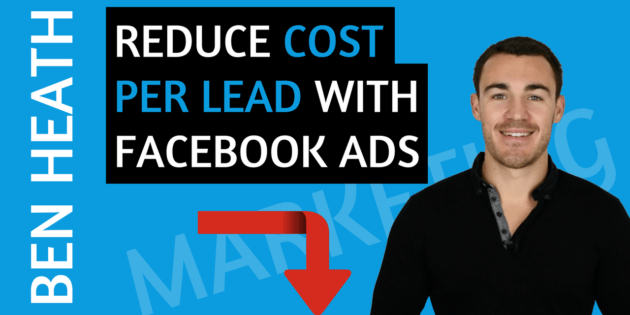 Facebook Ads Guide – How To Reduce Your Cost Per Lead (& Sale) Fast!
Want to know how to reduce your cost per lead and sale with Facebook ads? Then this step-by-step Facebook ads guide is for you.
In this short Facebook ads guide I'll show you how I recently reduced my cost per lead from £1.59 to just £0.70.
Specifically, you'll learn a new Facebook advertising strategy – the Exclusion Marketing Method.
First, I'll show you how the Exclusion Marketing Method overcomes a big issue with Facebook's targeting algorithms…
…and how you can use it to make sure you don't waste money advertising to people that have already converted.
Next, I'll show you how to install the Facebook Pixel, so that you can track the actions people take on your website.
Then, I'll show you how to create a Facebook custom audience so you can identify the people that have already converted.
And finally, I'll show you how to exclude these people from your Facebook ad campaigns.
When you've finished the video, leave a comment below to let me know what you think… and let me know if you've heard of the Exclusion Marketing Method before.
If you're looking to get more actionable Facebook advertising videos like this one, make sure to subscribe to my YouTube channel right here:
http://www.youtube.com/subscription_center?add_user=UC5Dv8i_vH5M9rB3HOZDCkng