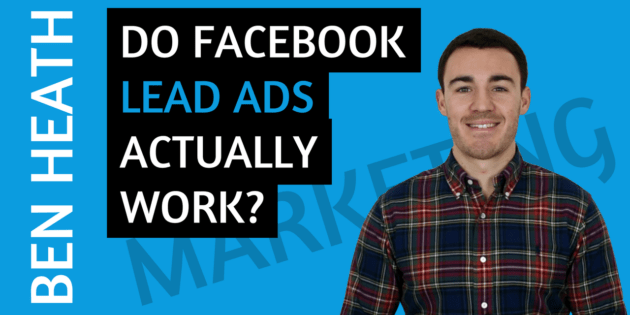 Do Facebook Lead Ads Work?
Do Facebook Lead Ads Work?
In this post, I'm going to answer a big question: Do Facebook lead ads actually work?
Let's start with what a Facebook lead ad actually is.
A Facebook lead ad is just like a regular Facebook ad but when you click on a Facebook lead ad, instead of being taken to a website, you stay within Facebook and are presented with a contact form.
Facebook will pre-fill that contact form with the user's contact information which makes it very easy for people just to click on the ad once and then click send.
Cheap leads
Because it's so easy for people to send their contact information and sign up as a lead via a Facebook lead ad, they are actually very effective at generating inquiries.
If you're looking to generate leads for your business then you'll almost certainly pay less per lead using a Facebook lead ad than you will if you do the exact same thing but send them to your website.
Facebook lead ads are great for generating a large quantity of leads relatively inexpensively.
If you are a service based business in particular then I definitely recommend testing alongside your other Facebook ad campaigns to see if they do perform better.
Worse quality
But, and there is a big but with Facebook lead ads, the leads that are generated through Facebook lead ads are consistently worse quality than the leads that are generated from an equivalent conversions campaign where people are sent to your website.
We have found that the leads generated from Facebook lead ads often won't respond when you follow up with them.
And we think that because it is so easy for them to submit their contact information, they're not as invested in the process.
They're not as interested as they would be if they actually came through to someone's website, checked out their portfolio or their previous work and then got in touch that way.
Require a phone number
If you are going to use Facebook lead ads, then make sure that in your lead generation form you require a phone number.
That'll make it much easier for you to actually make contact with the leads that come through the lead ad because you'll be able to call them as soon as they submit their details.
With someone's phone number, you can call them right away.
And calling them right away is definitely something that I would recommend.
The longer you wait after someone has submitted their details via a lead ad, the harder you'll find it to convert that person into a client.
Ideally follow up within the same day and maybe even within a couple of hours, and try to progress them to the next stage as quickly as possible.
Worth an experiment
Just because the quality of the leads generated through lead ads aren't necessarily that great, doesn't mean that they won't work really well for your business.
I have seen them work and there are businesses that are happy to trade quantity of lead for quality of lead.
You could test them with a very small budget and that way you have very little to lose.
If they do work for you really well, you'll be very glad that you took the time to run that experiment.
And if you are looking for help with Facebook lead ads or any other form of Facebook ad campaign, we can almost certainly help you with that.
Facebook Advertising Services
Lead Guru is a digital marketing agency that specialises in Facebook advertising.
We've run campaigns for many, many different businesses in many different industries.
Whether you're looking for leads, sales, webinar registrations, to build an email list, grow brand awareness, etc. We've done it before and we can almost certainly help you get what you're looking for.
If you are interested in working with us then you can let us know by leaving a comment below.
Or, you can get in touch via our Contact Page.
Hopefully I'll speak to you soon, but either way, best of luck with your Facebook lead ads.
Bye for now.