BLACK FRIDAY OFFER
Get Facebook Ads Insiders For Just $1,497 ($1,000 off regular price!)
Facebook
Ads Insiders.
Learn exactly how to create, optimize & scale Facebook Ad Campaigns that deliver outstanding results.
What's Included
Here's a very comprehensive list of what you'll get access to:
Module 1
Preparing For Success
To kick things off, we set really solid foundations. I show you how to set everything up for success, including Business Manager accounts, Facebook Pixel, Facebook Ads Polices, etc. I also show you how to prime your Facebook Page and make sure you look credible and reliable to your prospects on Facebook.
Module 2
Facebook Ads Strategy
Using the right Facebook Ads Strategy is crucial. In this module I detail a number of new and innovative strategies that consistently deliver great results for us and our clients. I show you exactly how they work and which strategy is best suited to your business and the industry you operate in.
Module 3
Facebook Ad Campaigns
Facebook Ad campaigns are split into 3 parts. In this module I cover the top level (the campaign level) in detail. Showing you how to choose the best Campaign Objectives, take advantage of Campaign Budget Optimization, use the right Buying Type for your campaigns and more.
Module 4
Ad Set Targeting
Specifically targeting your ideal customers is one of the things that makes Facebook advertising one of the best marketing platforms ever created. I cover it all here, including how to find winning targeting options, creating killer Custom Audiences, Lookalike Audiences, and a whole lot more.
Most Facebook advertisers think the ad set is all about targeting. But delivery can be just as important. In this module I show you how to get the most out of Facebook's many delivery options, including selecting the right Placement options, Conversion Windows, Optimization For Ad Delivery and more.
Module 6 covers the all important Facebook ad. I show you how to create high-converting ads in a number of different formats (including video). And I go through each part of a Facebook ad so that you know exactly what to use for headlines, creative, copy, etc.
Module 7
Sales Funnels & Retargeting
In this module we put it all together. We combine the best campaign settings with laser-focused targeting, ideal delivery options and high-converting ad creative. I also show you how to tailor your sales funnel for your industry and specific business model. This one's a lot of fun!
Module 8
Analysis, Optimization & Scaling
As a Facebook Ads agency, we spend more time analyzing, optimizing and scaling campaigns than we do creating them. Improving campaigns based on the data, can triple (or more) their effectiveness. It's key to generating outstanding results and I show you our exact process in this module.
iOS 14 has had a big impact on Facebook advertising. In this bonus module I show you exactly what you need to do, to make sure your Facebook ad campaigns produce the best possible results post iOS 14. I'll also be adding content to this module frequently as the Facebook ads changes are implemented, so you'll always be up to date.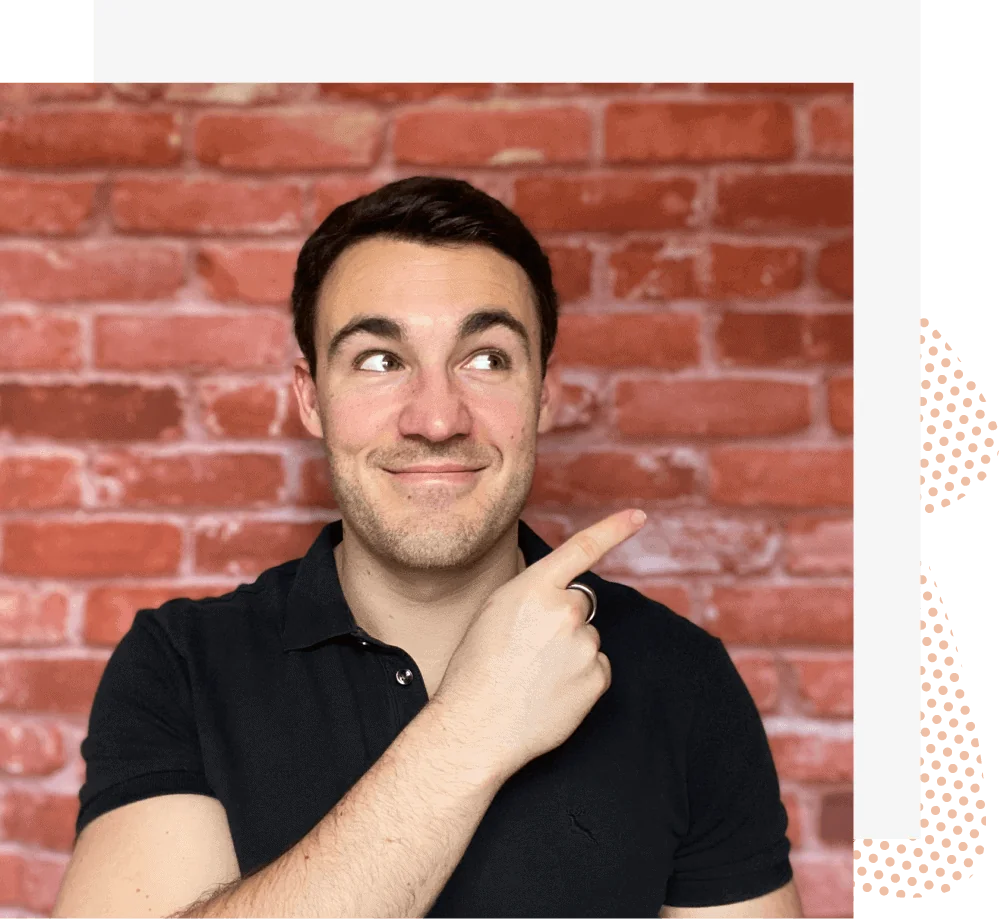 Also Included:
Exclusive access to me in my Facebook Group!
Value: $12,000 ($1,000/month)
Anyone can join my Facebook Ads Mastermind Group but as a Facebook Ads Insiders customer, you get exclusive access to me.
With 170,000+ members and 1,500+ posts and comments every day, I can only respond to a small fraction of it.
But every week there will be a special thread, where only Facebook Ads Insiders customers can ask questions, post ads for review, etc.
As long as you ask your questions in that thread, I guarantee I will answer them with a written response or a video.
My consultancy rate is usually $2,500 per hour, so the value of this over the months to come is huge!
Education + Experience = Success
"Nothing will help ensure your success with Facebook Ads more than 1-1 help from an industry leading expert. With this special bonus, you get to benefit from all my experience, alongside educating yourself fully with the course material."
Bonus 1
Advanced Strategies 1
Ever heard of the Instagram Profile Method? For certain product and service offerings, it's fantastically powerful. In this advanced strategy bonus module, I show you exactly how to turn your Instagram profile into cutting edge sales material and then implement finely tuned Instagram advertising campaigns to generate new leads and customers quickly and cost effectively.
Bonus 2
Advanced Strategies 2
The Lead Magnet & Webinar strategy covered in the core Facebook Ads Insiders modules is highly effective. But you can turbo charge that approach by adding the Tiered Advertising strategy to it. In this bonus module I demonstrate how I use the Tiered Advertising strategy to make our Facebook ad campaigns more specific, more targeted and as a result, more successful.
Bonus 3
Advanced Strategies 3
Want your Facebook advertising spend to go as far as it possibly can? This advanced strategy bonus module shows you how I accomplish that with my Omnichannel Marketing approach. Here I share the exact steps you need to take to become a powerhouse of a brand within your industry. Compounded over time, nothing is more effective.
Bonus 4
Instagram Ads Insiders
Instagram Ads is something we ignored 3 or 4 years ago, but not anymore. It has become a HUGE part of Facebook Advertising and is critical to success. In this module I show you how to add and assess Instagram as a placement option, customize creative for it and make sure you get the most out of this fast growing platform.
Bonus 5
Lead Magnet Masterclass
One of the strategies I feature in a lot of detail in the Facebook Ads Insiders modules uses a Lead Magnet. Lead Magnets can be incredibly powerful Facebook Advertising tools but you need to know how to come up with and create something irresistible for your target market. I show you exactly how to do that in this bonus module.
Don't have your own products or services to sell? No problem! In this bonus module I show you how to find awesome affiliate offers so that you can sell other people's products and services with Facebook Ads (and keep most of the profit). This approach to Facebook Advertising is a lot less effort and can be just as profitable.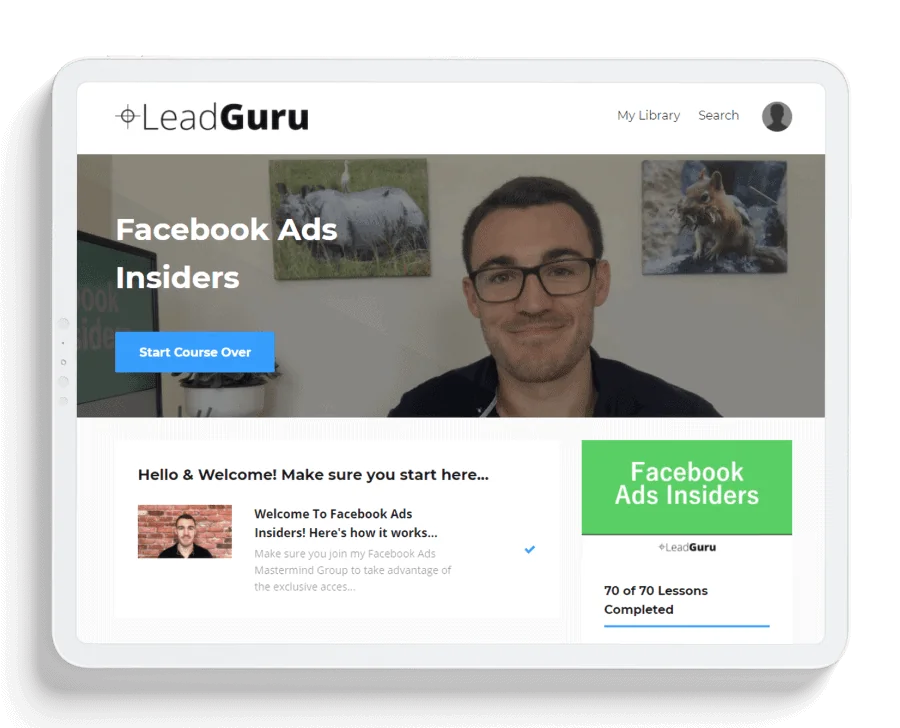 BLACK FRIDAY OFFER
Get Facebook Ads Insiders For Just $1,497 ($1,000 off regular price!)
1 payment of $1,497
Testimonials
What others are saying about Ben Heath's material:

satisfaction guarantee
Didn't Work For You?
If you invest in the Facebook Ads Insiders course and don't like it, simply let me know and I'll refund you within 14 days from purchase. Historically, my refund rate has been less than half a percent... I don't disappoint ????
Yes I'm In
Frequently Asked Questions
If you're looking at this section of this page, there's a good chance you're considering purchasing the Facebook Ads Insiders course. I've received a ton of questions about the program and I wanted to put together this FAQ to help give you the information you need.
Here's the bottom-line…
If you want to get fantastic results with Facebook Advertising and use it as a catalyst to skyrocket your business… this is the program you need.
Does Facebook Ads Insiders work after the iOS 14 changes?
It sure does! The strategies and techniques demonstrated in this course are ones we successfully use for our clients every day. There are some adjustments you need to make post iOS 14 and I've created a whole new bonus module to make sure you know how to implement them. I'll also be adding to the iOS bonus module as changes are implemented which will keep you fully up to date.
Is the Facebook Ads Insiders course for beginners or advanced Facebook advertisers?
I designed this course to be as comprehensive as possible. We start right at the beginning and I show you how to set everything up for success. And we go right through to advanced Facebook advertising strategies and retargeting techniques. So whether you have never run a Facebook ad before or have years of experience, you should find this course tremendously valuable.
I don't have a following, is that a problem?
Not at all. I detail a number of highly effective Facebook Advertising strategies that are suitable for different types of businesses at different stages of their development. I also explain which strategies will work best for your business so that you can focus on what will really move the needle for you.
Is this course for people who want to build a Facebook Ads Agency or advertise their own products and services?
Both. My audience contains a lot of agency owners and a lot of people that are advertising their own businesses – I designed this course with that in mind. It shows you exactly how to get fantastic results with Facebook Ads in a lot of different industries. You can implement that in your own business, or for clients.
What should my advertising budget be if I'm buying this program?
There is no minimum budget requirement to implement the strategies detailed in this course. Whether you are starting with $50 per month or $50,000, these strategies are likely to deliver great results. Of course, I provide budget recommendations in the course material but there are no minimum requirements.
Why wouldn't this work for me?
I've only seen two reasons why the strategies detailed in this course wouldn't work. 1) You are trying to sell a product or service that no one wants (it doesn't matter how good your Facebook Ads are, they won't be able to sell stuff there is no demand for). 2) You don't implement what I show you, or you implement it in a different way.
Why are you offering a course, now?
Over the past 5 years I have built a large and very engaged audience of over 325,000 people (I love you guys!). Only a small fraction of those people are in a position to use our Facebook Advertising services. With a comprehensive course a lot more people can benefit from the strategies we have developed as an agency, spending millions of dollars on Facebook ads, across hundreds of different industries.
What if I'm not in the UK or US?
No problem. This course demonstrates strategies and techniques that will help you create profitable Facebook Advertising campaigns all over the world. As an agency we work with both domestic and international clients and we're delivering great results for them.
It sounds very comprehensive, will I have time to go through everything?
I've made this course as comprehensive as I can. But I have developed it in a way that allows you to zero in on the strategies that deliver great results for your business, and the types of products and services that you offer. You can go through the whole course or focus on specific parts if you are tight for time. (You can also watch the videos in 2x speed, if you have no patience like me).
Is there a money back guarantee?
Yes, there is a 14-day money back guarantee. If you feel that the Facebook Ads Insiders course isn't for you, simply let me know and I'll process a refund. Historically, my refund rate has been less than half a percent… I don't disappoint.
What type of business is Facebook Ads Insiders designed for?
As a Facebook Ads Agency, we work with all types of businesses and this course reflects that. I demonstrate a number of different strategies that deliver fantastic results for different markets. Whether you're an ecommerce, service-based, agency, coach, local, app-based, consultant or digital business… this is for you 
Will the course material be kept up to date?
Absolutely! The Facebook ads landscape can change very quickly. I'm continually updating and adding to the course material to make sure you have the very best information and cutting edge techniques at your disposal.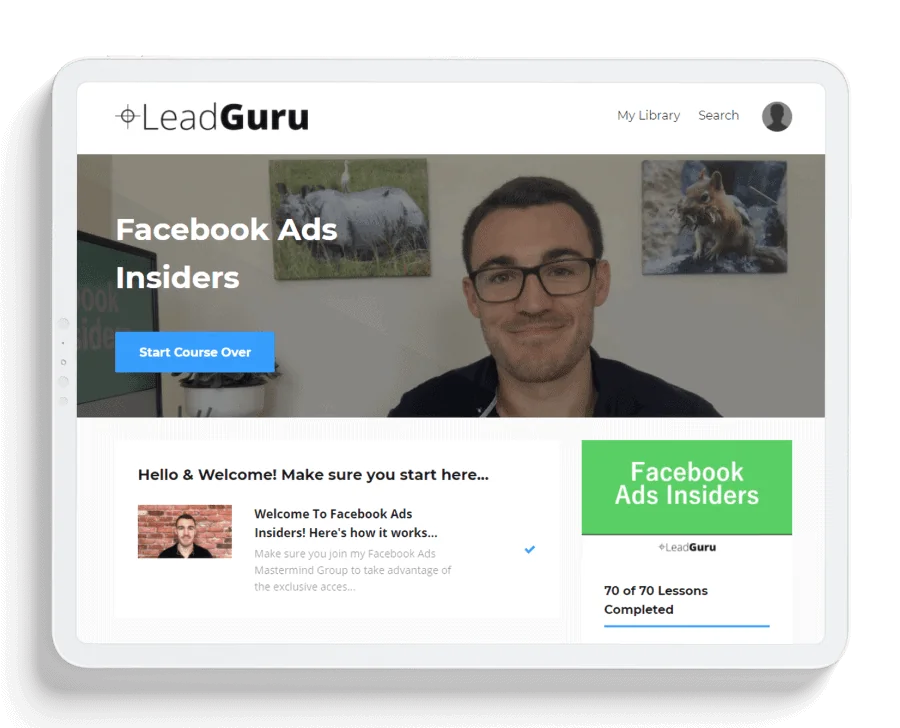 BLACK FRIDAY OFFER
Get Facebook Ads Insiders For Just $1,497 ($1,000 off regular price!)
1 payment of $1,497