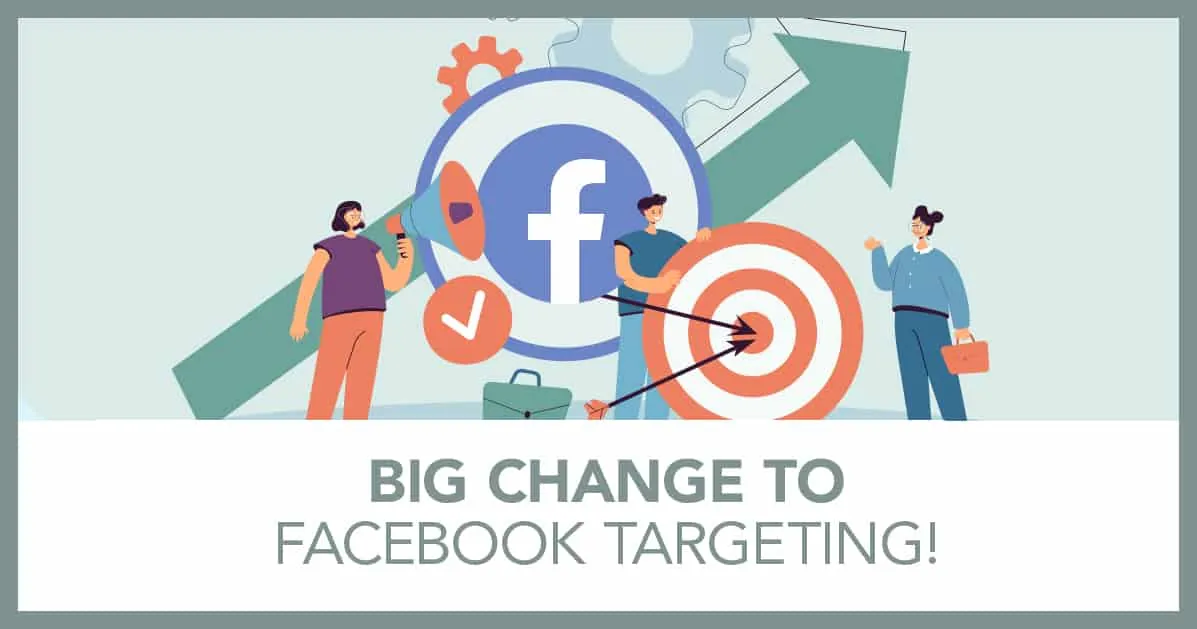 Big Changes To Facebook Targeting
Facebook has been making massive changes to their targeting systems over the last year. These changes are significant and they've been causing some people who market on Facebook to wonder what to do next as targeting option after targeting option has disappeared.
Because we manage so many ad accounts for clients, we've been able to see the problems that people are having and we've been able to work out solutions to those problems. So if you've been hit by these targeting changes, then make sure you go through this whole article because I'm going to show you how you can fix this problem right now.
Why Has Facebook Dropped So Many Targeting Options?
Back in November of 2021, Meta (Facebook's parent company) announced that they were dropping targeting options that relate to "sensitive" issues. This includes options for:
Health Causes
Sexual Orientation
Religion
Politics and social issues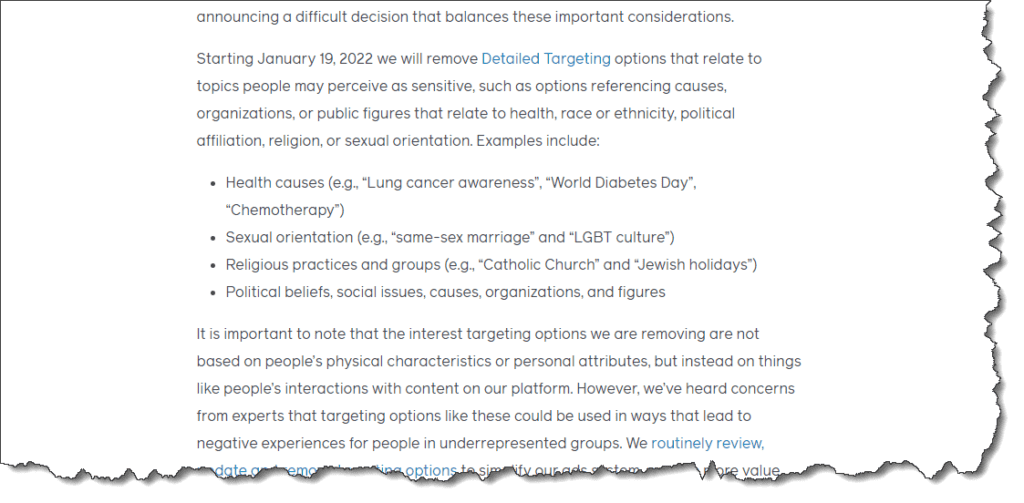 That means a lot of detailed targeting got dropped, and some of it was only slightly related to any of these issues!
Advertisers have been going into the detailed targeting section of Facebook and found that the targeting options that they were used to have just disappeared!
This has caused a lot of advertisers to wonder what to do next and to wonder if Facebook will still work for them as an advertising platform. I've found that the platform still works great, but you have to be able to think through how to find your audience with the lower number of targeting options.
Three Workarounds That Solve Facebook Cutting 1000s of Targeting Options
The good news is that the people that you were advertising to before these options went away are still on Facebook. You just have to figure out how to find them in the current environment. There are three workarounds that my agency has identified that can help you find the right audience for your offer.
Lookalike Audiences Based on Different People Than Usual
Lookalike audiences are audiences that Facebook identifies that are similar to an audience that you've developed in your own business. For example, you may have a list of 500 people who have bought from you. You can then take that list, upload it to Facebook and have Facebook find similar people to the ones that you want to target.
That's a lookalike audience that every business that has buyer data should use.
What we are doing here to make up for the more limited detailed targeting in Facebook is a little bit different.
We'll start with website visitors. For this audience I'm going to select all website visitors over a 180 day retention period.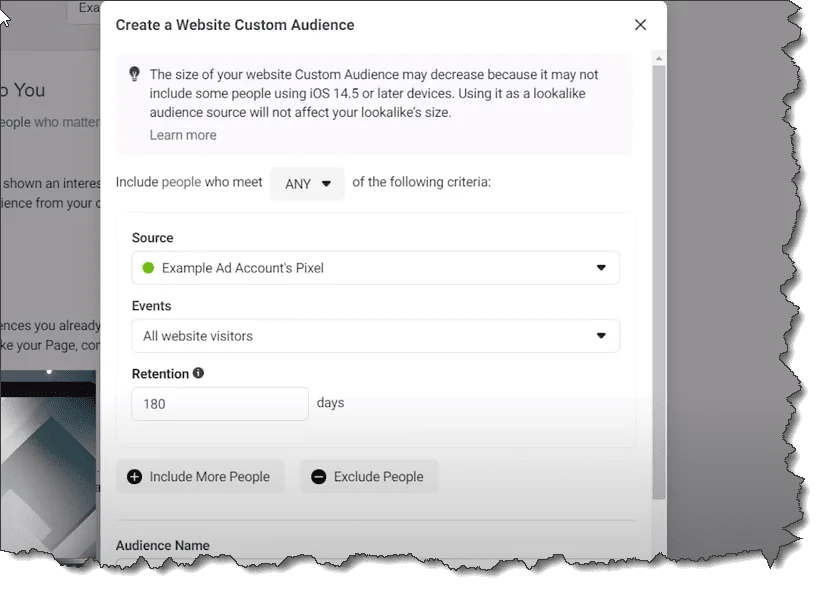 This custom audience is going to contain everyone that visited our website within the last 180 days.
We can then take this custom audience and create a lookalike audience for it.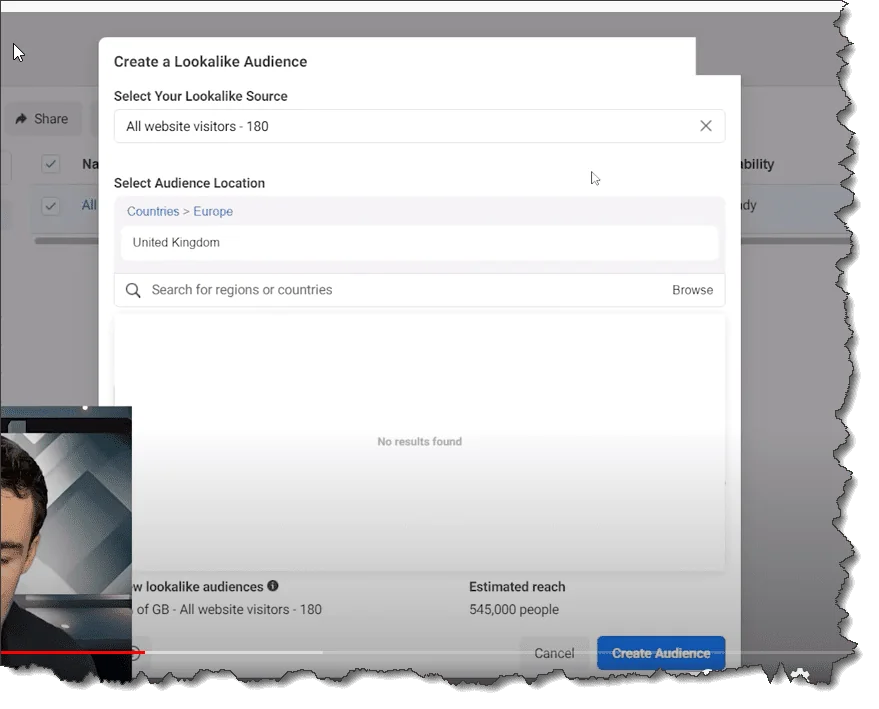 I like to use a 1% look a like audience when I'm building this particular type of look a like audience.
Resource: If you don't know how to create look a like audiences see my guide: A New Approach to Facebook Lookalike Audiences Since the iOS 14.5 Update.
This look a like audience is going to contain people who are similar to people who've visited your website. It's a great audience to target because people that have visited your website are usually fairly representative of your potential customer .
Next we'll talk about in app sources. You can now create custom audiences in Meta (Facebook and Instagram) that are based on actions that people take in app. If you've been running video ads on Facebook then you can target people who viewed your video. You can also target people who have interacted with a lead form, engaged with your Instagram account, or your Facebook page.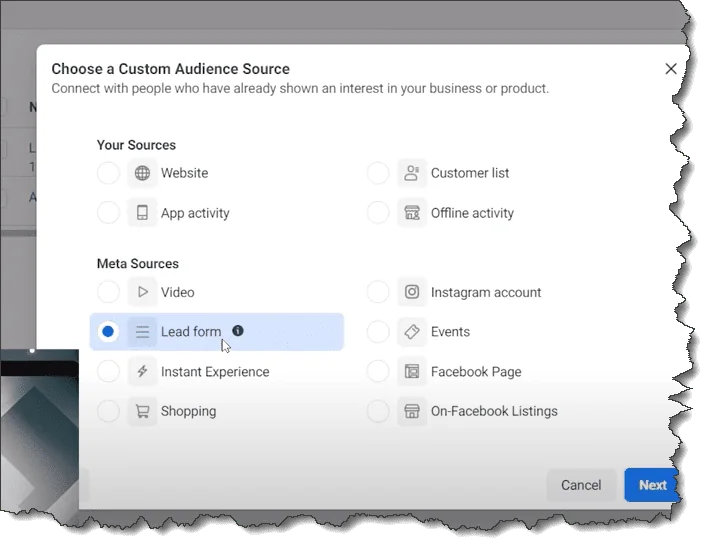 There's a number of different options, but lets take a look specifically at creating an audience of everyone who engaged with your page.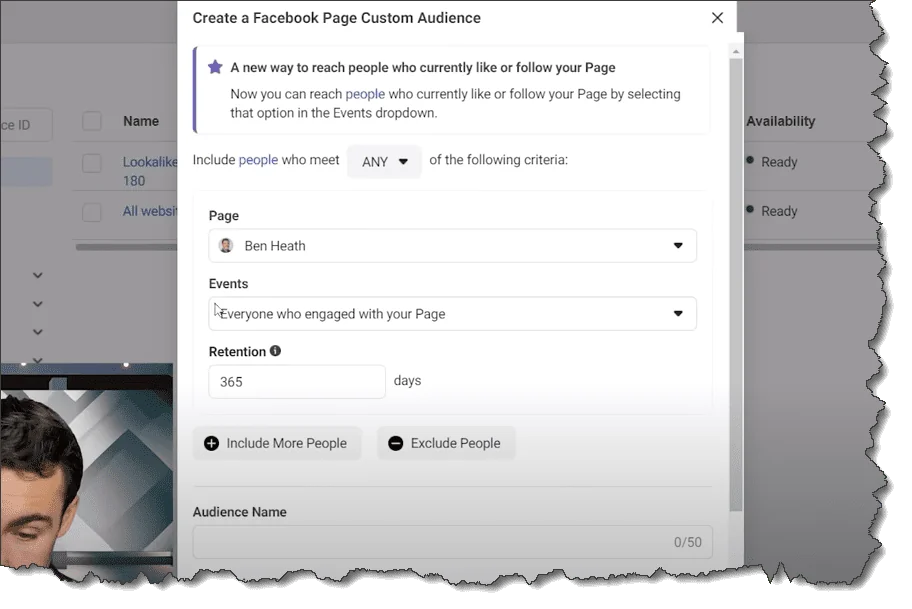 Under this there are a number of different options including people who engaged with your page.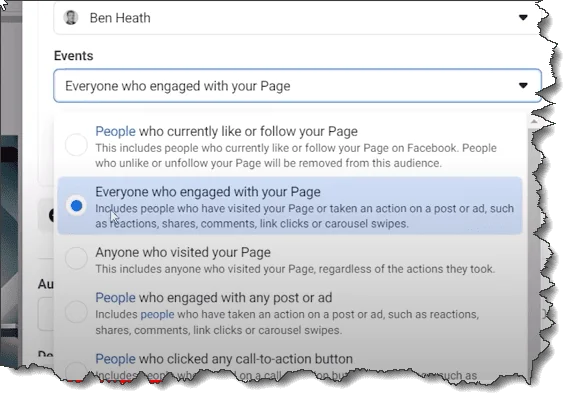 People who engaged with your page is a particularly good option to target because the iOS 14 update created lower visibility in Facebook about who is visiting your webpage. This audience is a good alternative to a website visitors custom audience.
Once this custom audience is created we can use it to create a 1% look alike audience.
When you have both of these look a like audiences created, you can then use them for targeting under the custom audience section in the ad set level in Facebook.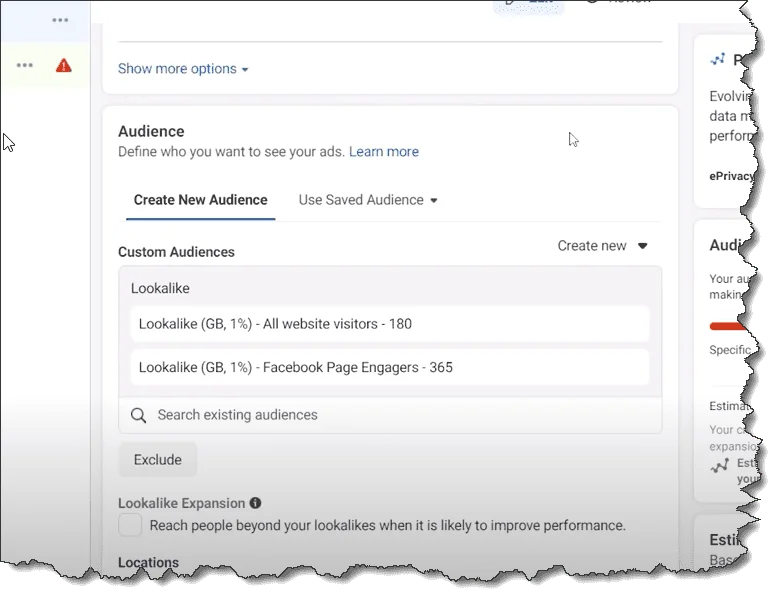 Broad Targeting
There are several names for this option. Some people call it broad targeting and some people call it open targeting. Whatever you call it, the idea here is to not put in any targeting other than a broad geolocation like the UK or the United States.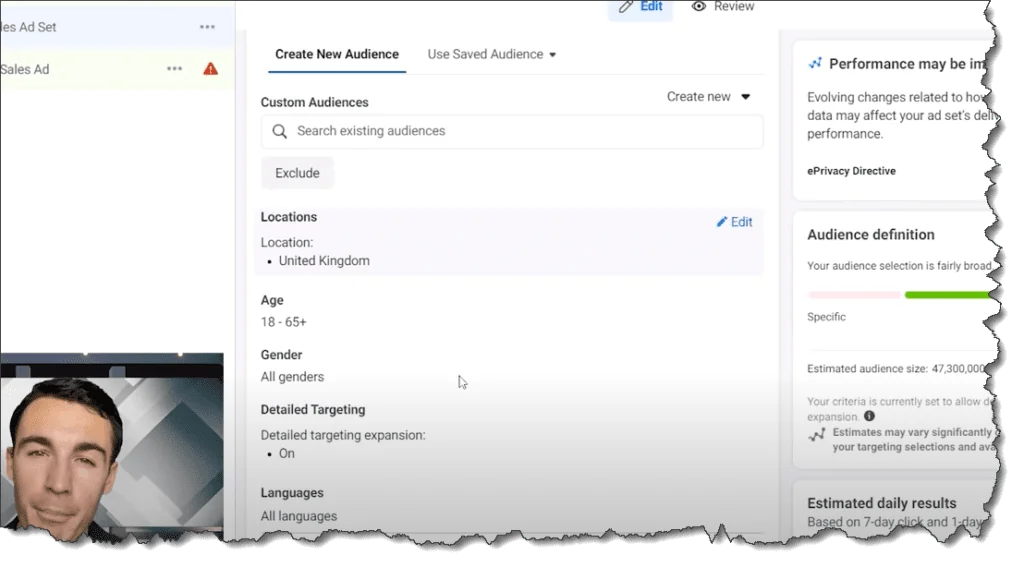 When you do broad targeting you are giving Facebook an enormous audience to work with. Broad targeting in the UK gives us 47 million to 55 million people. In the US it would be quite a bit bigger – over 200 million people.
I would only use this option if you have a product or service that has mass appeal and is not too niched down. Usually this includes things you use in your home or car or something like travel that appeals to a large group of people.
You also want to have a Facebook account were you've generated at least 500 conversions so that Facebook can work out who to show your ad to in this very broad audience. Facebook needs a lot of data to use broad audiences well. This doesn't work well on brand new accounts.
But if you fit the criteria, then you can potentially target an extremely broad audience and get good results.
Come at Your Targeting From a Different Direction
Another way that you can get around all the targeting options that Facebook has dropped is to come at your targeting from a different direction.
Remember that the people you want to reach are still on Facebook. They haven't gone away.
You can often still find the groups you want by thinking about the media that they consume. The media targeting options are often still on Facebook and they can work very well to target the right kind of people for your products or services.
For example, if you are looking for a more conservative group you may target Fox Broadcasting Company, but if you were looking for a more liberal group you may target NPR.
Thinking through the media that is consumed by your group of people can be very helpful in getting your targeting back on track.
More Free Facebook Ads Training
To help business owners succeed with Facebook ads I've created a FREE webinar training that you can register for here.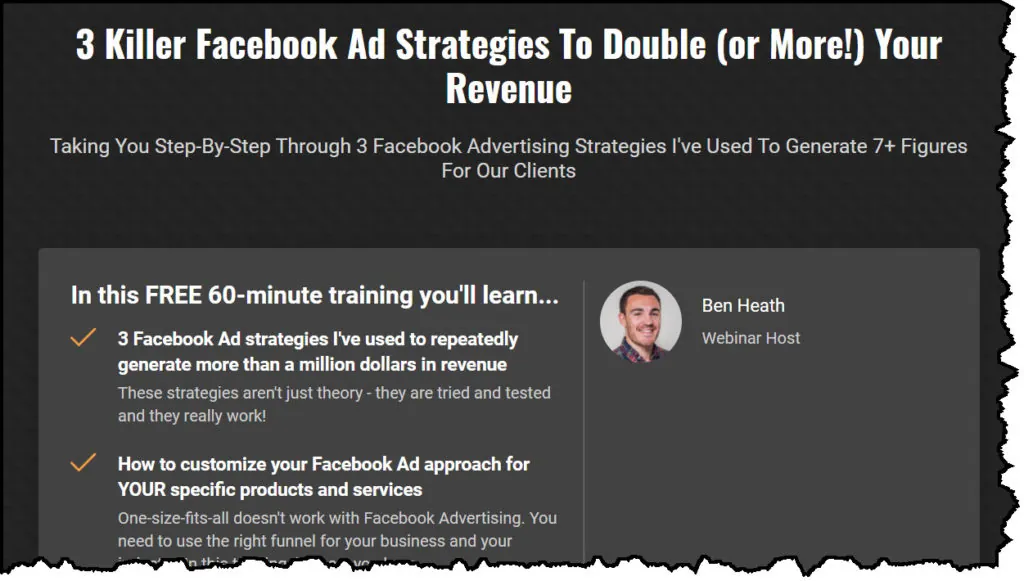 When you attend this webinar you'll learn:
3 different Facebook ad strategies that we use every day. These strategies have generated millions of dollars in revenue and are tried and proven to work.
How to customize the Facebook ads strategy to your particular business. There is no such thing as a one size fits all approach to Facebook ads.
How Facebook and Instagram have changed and how to adjust your ad strategy to what works in 2021.
Video Tutorial: Three Unique Strategies for Dealing with Facebook Targeting Changes
In this video I go over how Facebook advertisers can workaround Facebook dumping 1000s of detailed targeting options and still come out ahead.
The Bottom Line on Facebook Ad Targeting Now
Facebook is always changing and refining their platform. When you are advertising with Meta (Facebook's parent company) you have to adjust when they change things. At my ad agency we are always testing new approaches and the three approaches to getting around reduced targeting options in Facebook are ones that I know work for my clients.
Try them out and let me now how they work for you!