Facebook Ads Agency
Client Acquisition Masterclass
Sick and tired of wondering how to get new Facebook Ads clients?
These Strategies, Scripts & Campaign Setups Will Help You Generate More Demand For Your Facebook Advertising Services Than You Can Handle...
And Skyrocket Your Business Past 6-Figures, 7-Figures and Beyond!
Tired of wondering where your next Facebook ads client is going to come from?
Tired of cold calling, cold emailing or sending people LinkedIn messages without getting a response?
You're not the only one.
Facebook's popularity as an ad platform has exploded over the past 6 years. With that, there is more demand than ever for high-quality Facebook advertising services.
In fact, there are more than 7 million businesses advertising on Facebook right now.
There is undoubtedly demand for your services, but there is also A LOT of competition.
Standing out from the competition and rising above all the noise is harder than ever.
Now don't get me wrong, a Facebook Ads Agency is still a fantastic business to start and succeed with in 2022. Having built a 7-figure agency, I know that much better than most…
But it does mean that the strategies and techniques that you use to find new clients, have to set you apart and have a meaningful impact on your prospects.
Cold Calls & Cold Emails Are Not Enough!
The majority of Facebook ads agency owners are cold calling, cold emailing and sending cold LinkedIn messages to try and generate new clients.
And honestly…
That's just not going to work.
How many other agency owners are doing the exact same thing?
Your prospects receive dozens of unsolicited emails, messages, calls, etc. from people pitching their services…
It doesn't matter how good you are at generating results… those people aren't going to even start a conversation with you.
To really succeed with a Facebook Ads Agency you need to differentiate yourself from your competition, deliver value to your prospects and start a dialogue with them.
And because I've spent the last 6 years fine-tuning our client acquisition strategy, I can show you how you can do that in just…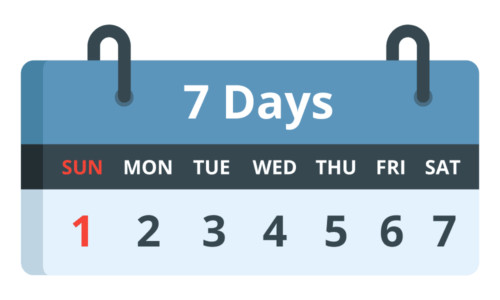 7 days isn't a lot of time at all. It's not usually possible to achieve a whole lot in 7 days.
But to us, 7 days is a lot.
Because we know that within 7 days it's possible to convert completely cold prospects into paying Facebook ads clients.
And how do we know this?
Because we use the exact strategies detailed in this masterclass to generate dozens of high-quality leads every single week, many of which go on to become high-value clients.
So here's what that means…
By this time next week you can have a full pipeline of high quality Facebook ads prospects…
AND…
Start receiving healthy set up fee payments (and signed monthly retainer contracts).
Once you're producing fantastic results, you can continue to run that client acquisition strategy for months and even years to come.
And the good news is that it's a lot easier to get started than you think, especially when you follow our proven system.
Facebook Ads Agency Client Acquisition Masterclass
6 years ago there were far fewer businesses offering Facebook advertising services…
As the competition increased, we knew things were changing and we had to come up with a solution.
So we got to work and started experimenting with dozens of new client acquisition strategies.
We also got together with a number of other successful Facebook ads agency owners to establish best practices for generating high-quality leads for our Facebook advertising services.
When we were finished, we had developed a simple, easy to follow 12-step plan.
Here's what you'll get immediate access to when you get the Facebook Ads Agency Client Acquisition Masterclass:
Do NOT Try To Get Another Facebook Ads Client Without This Masterclass!
Seriously… don't do it. In just a few hours you could be generating high-quality leads for your Facebook Advertising services…
And within 7 days you could have a full pipeline, new paying customers and a system in place that will take your business to the next level.
Why risk making costly and time-consuming mistakes when we've already done all the hard work?
At Lead Guru we've made all the mistakes and we've found out what works (and just as importantly what doesn't).
This masterclass is proven and simple to follow…
…you just need to use the training and examples given to guide you in the right direction.
And we've made this a no-brainer for you, because you can have access to the "Facebook Ads Agency Client Acquisition Masterclass" for just $497.
Literally, you'll get that back twice over, when you sign up just one new client for just one month!
With this masterclass…
You can save countless time, money and headaches by going after clients the RIGHT WAY the first time.
Avoid potentially embarrassing "rookie" mistakes that will leave you feeling demoralized and burn through your budget in no time at all.
Finally learn how to tap into the enormous demand for Facebook advertising services and profitably and reliably acquire high-value clients.
Click the "Add To Cart" button below right now.
Here's The Bottom Line...
As a Facebook Ads Agency owner, your client acquisition strategy is the SINGLE most important component of your business…
Get that wrong, and you're dead in the water…
Get that right… and the sky is the limit ????
(Millionaires are being created in this industry all the time).
This masterclass shows you exactly how to implement PROVEN client acquisition strategies. (They are all strategies I have developed and used myself).
So if you want to STOP WASTING TIME with ineffective approaches…
And START GROWING REVENUE…
Grab this masterclass right now!
satisfaction guarantee
Didn't Work For You?
If you invest in this Facebook Ads Agency Client Acquisition Masterclass and don't like it, simply let me know and I'll refund you within 14 days from purchase. Historically, my refund rate has been less than half a percent... I don't disappoint ????
Yes I'm In
Frequently Asked Questions
If you're looking at this FAQ section, there's a good chance you're considering purchasing the Facebook Ads Agency Client Acquisition Masterclass. I've received a lot of questions about this masterclass and I've put together this FAQ to give you the information you need.
At the end of the day... if you want to consistently and reliably generate new clients for your Facebook advertising services... this is the program you need.
Is this for beginners or more experienced Facebook Ads Agency owners?
Both. The techniques, scripts and strategies detailed in this masterclass can be used by complete beginners and more established and successful Facebook Ads Agency owners. No matter where you are on your Facebook Ads Agency journey, you need effective and reliable sources of new clients. That's what this masterclass gives you.
I only work with clients in one niche, will this work for me?
Yes. There are adjustments that need to be made if you only want to work with clients in one niche. I show you what those adjustments are in this masterclass and how you can use these strategies to see fantastic results.
Why are you offering a masterclass on this now? Doesn't that create more competition for you?
Because I fully implement the strategies detailed in this masterclass, there is far more demand for my agency's Facebook advertising services than we can handle. Also, there are more than 7 million businesses advertising on Facebook. It takes just 35-40 clients to have a 7-figure business – so there are plenty to go around!
I don't have any clients yet, is that a problem?
Not at all. Everyone starts with 0 clients. In this masterclass I detail highly effective client acquisition strategies that you can use if you are just getting started. I also explain how to communicate with prospects and handle any objections so you'll know exactly what to say at the right time.
What if I'm not in the UK or US?
No problem. This masterclass demonstrates strategies and techniques that will help you generate Facebook ads clients no matter your location. I've consulted with agency owners in 6 different continents and seen them successfully acquire clients with these techniques – they work!
It sounds very comprehensive, will I have time to go through everything?
I designed this masterclass to include everything you need to get new Facebook ads clients and just as importantly – nothing you don't need! There are tons of ineffective client acquisition strategies (like cold calling and cold emailing) and I don't waste your time with them in this masterclass. It will take around 3 hours to go through all the material.
Is there a money back guarantee?
Yes, there is a 14-day money back guarantee. If you feel that the Facebook Ads Agency Client Acquisition Masterclass isn't for you, simply let me know and I'll process a refund. To date, less than 1 in 200 people have requested a refund for my courses and masterclasses… I don't disappoint.
Why wouldn't this work for me?
I've only seen two reasons why the strategies detailed in this masterclass wouldn't work:
1) You aren't committed to building a proper business and expect unrealistic success overnight.
2) You don't implement what I show you, or you implement it in a different way.